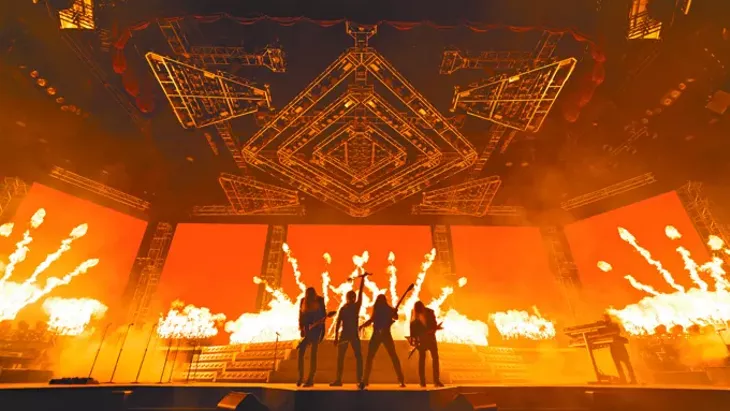 Jason Douglas McEachern
Trans-Siberian Orchestra's The Ghosts of Christmas Eve continues an 18-year tradition. | Photo Jason McEachern / provided
To the man who's served as musical director for both, holiday favorite Trans-Siberian Orchestra's stage show is not dissimilar from nightmare-inducing shock-rocker Alice Cooper's.
"It's no different than what I did with Cooper," said Al Pitrelli, who worked as a guitarist and musical director for Cooper's Trashes the World tour and has filled a similar role for Trans-Siberian Orchestra since 1995. "[TSO]'s just a lot more involved and a lot deeper musically."
Trans-Siberian Orchestra (TSO) is scheduled to perform its multimedia stage show The Ghost of Christmas Eve at Oklahoma City's Chesapeake Energy Arena 3 and 7 p.m. Dec. 10. Pitrelli — who has also played with Megadeth, Asia and Twisted Sister's Dee Snider — said the musical complexity of TSO's progressive rock has kept the interest of audiences since the 1996 debut of Christmas Eve and Other Stories, a concept album conceived as part of a holiday trilogy by the group's founder and Pitrelli's Savatage bandmate Paul O'Neill, which has since sold more than 3 million copies and combines classical and rock influences.
"It taps into every side of my musical background," said Pitrelli, who studied at Boston's Berklee College of Music. "I've been a student of music since I was a little kid. I've studied jazz, classical, I grew up in the Motown era. I was a teenager in the '70s when AOR radio came out and we were first introduced to Led Zeppelin and Aerosmith and The Allman Brothers and Lynyrd Skynyrd. I've never been like one style of guitar player; I've always just been a guitar player, you know what I mean? … So when I first got involved with Paul O'Neill back in 1995, one of the first things that struck me about his music, it wasn't very genre-specific. It was kind of all over the place, almost like a film soundtrack would be. Depending on what part of the story we were in and what character we had to underscore, I was able to tap into everything I was familiar with as a musician, and that was exciting because I was never just doing one thing."
Pitrelli first held a guitar at the age of 2, when he saw the Beatles on The Ed Sullivan Show in 1964.
"They just said that I was absolutely transfixed to the TV," said Pitrelli, whose grandfather handed him a guitar so he could play along. "That's the power of what the music is and was. I had no comprehension other than there was something very magical on TV. … The sound of the instruments, the look of it, the performance, I guess the excitement that was coming through the old black-and-white TV at the time, and it grabbed me by the innermost part of my soul and my heart and has never let go."
Christmas Ghosts
Combining reworkings of classic holiday songs and original compositions from Trans-Siberian Orchestra's first two albums,
The Ghosts of Christmas Eve
originally debuted as a TV movie in 1999. Two songs from the production, "Christmas Eve/Sarajevo 12/24" and "The Christmas Canon," are included in Nielsen SoundScan's list of the top 10 best-selling holiday singles of all time. Pitrelli said the special has since become a seasonal staple in many households, transmitting musical magic through the television to a whole new generation.
"It's become like a perennial favorite for people," Pitrelli said. "It's become this generation's Miracle on 34th Street or It's a Wonderful Life or something like that. Watching all this as I'm watching my kids grow up from infancy to adolescence to young adulthood, it's insane to me that it's just exceeded all our expectations and just become something of its own. It's taken on its own life."
The special and the touring stage show it was adapted into are so meaningful to people, Pitrelli said, because of the clarity and relatability of O'Neill's original concept. The story features an orphan on the night before Christmas seeking shelter in an abandoned theater where the ghosts of performers still play.
"That's Paul O'Neill," Pitrelli said. "The genius and brilliance behind everything people come to see and hear is the man's mind and his ability to create stories and characters that people can relate to. See, that's the thing. It's not like he's creating this fictional character that you couldn't even fathom being. All Paul's stories, you can insert your name, your situation into the story and it becomes about you. I think that at the center of everything is what makes it so accessible to everybody and why it's gained such popularity."
Though O'Neill died in April, TSO continues to perform, hoping to continue his legacy and even expand on it.
"We suffered a tragic loss to all of us both professionally and personally with Paul's passing back in April, but his family is still at the helm of the ship," Pitrelli said. "And that's no different than Disney as a company and also as an art form. When Walt passed, the family just kept moving forward, which was Walt's vision, which is Paul's vision. He wants this to last forever. We all were hoping it was going live far past all of us, and now it has begun to. … I'm excited to see where we end up."
---
Trans-Siberian Orchestra
3 p.m. and 7 p.m. Dec. 10
Chesapeake Energy Arena
100 W. Reno Ave.
405-602-8700
$42-$75
Print headline: Merry rock; Trans-Siberian Orchestra brings its The Ghosts of Christmas Eve show to OKC.