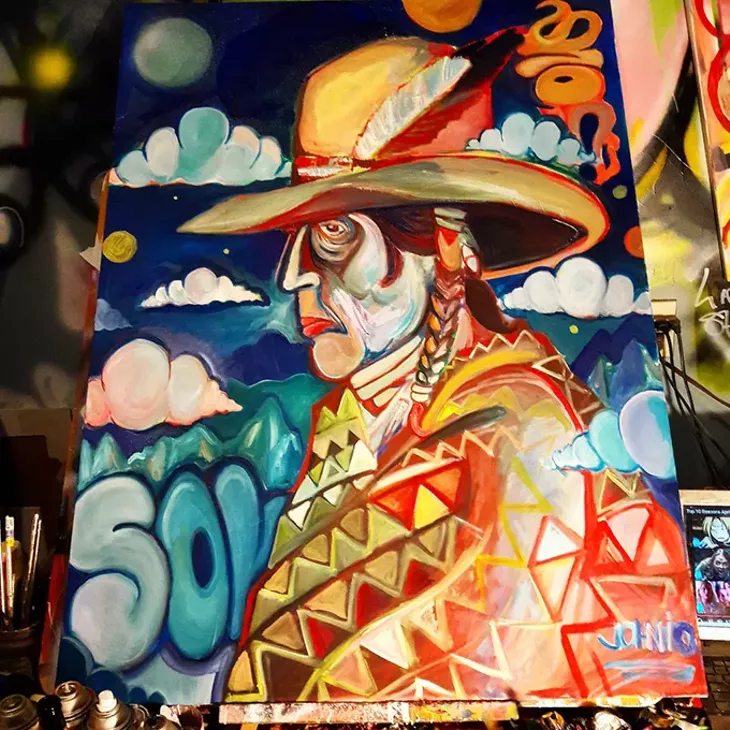 Exhibit C / provided
"Cheef" by Josh Johnico
Transitional periods for artists can be complicated. Changing styles or even mediums is difficult and sometimes even risky, but making a transition as an arts patron can be as simple as changing a frame of mind. Transitions, an exhibition on display at Exhibit C art gallery, 1 E. Sheridan Ave., Suite 100, in Bricktown through the end of June, features the work of three Native American street and mural artists, giving viewers a chance to see their work in a different context.
"We really thought that it would be a new exploration of outdoor mural and street art by bringing it into the gallery," said Paige Williams Shepherd, director of corporate development and tourism for the Chickasaw Nation, which owns Exhibit C. "Art gives such a personal interpretation, and in a lot of forms, when you bring it inside, you're placing it in a different environment and the interpretation of what you're seeing varies."
Transitions features the artwork of Yatika Starr Fields, Hoka Skenandore and Josh Johnico, three painters inspired by the aesthetic of graffiti art who Shepherd said are in three distinct career phases.
"We are really pleased with this show and how it's inclusive of an artist who is just starting out, one who is pretty comfortable in their position and getting their masters and then a third artist who is intentional in his aspiration to where a lot of artists want to be," Shepherd said. "So it's not only a transition from outside to inside but it's a transition of artists and where they are in their professional careers. ... These three artists have taken their artwork outside and promoted it on large landscapes and mural capacities, but they have now brought it inside and they're transitioning, which is an exciting path to be able to join each of these three artists on."
Fields, an internationally renowned mural artist named a Tulsa Art Fellow in 2017, attended the Art Institute of Boston from 2001 to 2004 and received a fellowship from New York City's Urban Artist Initiative in 2009. Skenandore graduated from the Institute of American Indian Arts in Santa Fe, New Mexico, and is currently a masters' student at the University of Oklahoma. Shepherd described Johnico as a "mostly self-taught artist."
"When you speak with each one of these artists individually, where they come from as an artist varies greatly," Shepherd said, "and they all have a distinct look and a distinct background and reason as to why they enjoy mural art or, in some cases, street art and some refer to it as graffiti. It's really a personal interpretation of themselves."
Shifting focus
While the exhibition gives viewers a chance to see street- and landscape-inspired art inside a gallery and reconsider Native American art in a more contemporary context, Transitions also allows the artists an opportunity to show works in different mediums from what they might be typically known for.
"The interesting thing that these artists also did as they're transitioning is they pushed themselves and they challenged themselves to do something that they've never done before," Shepherd said. "So, for example, Yatika had never done anything in the past like taking a traditional Native element such as the war club and then making it into a contemporary piece of art. And we have a bunch of fantastic war clubs that he has created that are for display in the gallery. So not only does it challenge the viewer, but it challenged the artist to create something for an indoor space when they're used to working with massive landscapes."
Fields' work often features vivid color schemes, mixing abstract and surreal imagery with sometimes politically charged themes such as his series of paintings inspired by the Dakota Access Pipeline protests at Standing Rock. Skenandore paints on not only canvas but vinyl records, combining traditional Native American imagery with graffiti lettering and pop culture elements. Johnico's portraits often feature Native American figures, but he has also painted rappers and cartoon characters.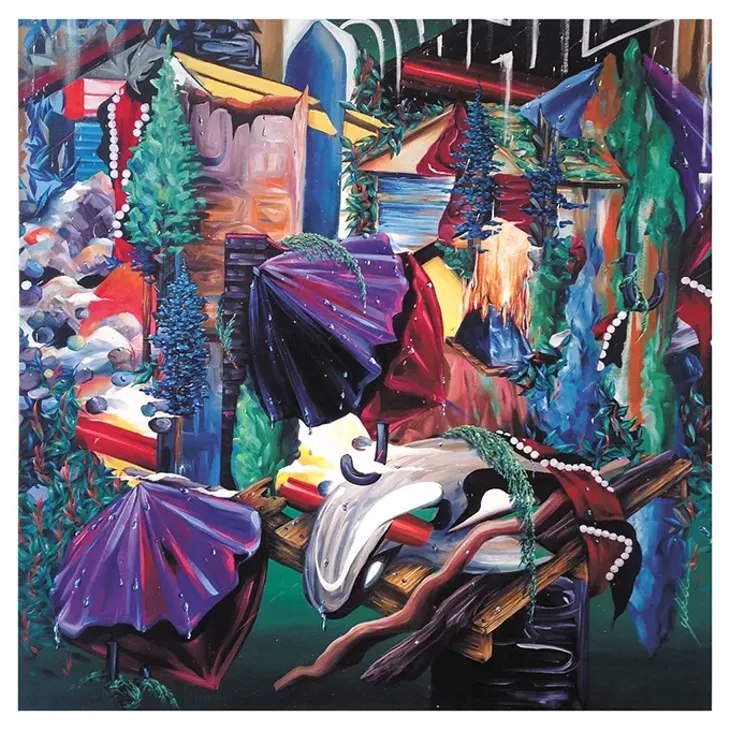 Exhibit C / provided
"Divided by the Jungle" by Yatika Starr Fields
Native immersion
Exhibit C opened in 2014 to display and sell works by Native American artists, and Shepherd said the gallery attracts locals and tourists from other countries. Traditional artwork and artisan crafts such as clothing and jewelry are always for sale, but Shepherd said the artists featured in Transitions give visitors a chance to see a different kind of Native art, and the gallery is arranged to exhibit it accordingly.
"When you come into Exhibit C, it's an immersive experience," Shepherd said. "There's art hanging from the ceilings. There's art on the walls, there's art standing on pillars. It really is presented in all different mediums, depending on the art itself. So we encourage individuals to come in and check out this artwork. One of the things that we love about our store and gallery is that everything is for sale. So when you come in, you can buy anything off of the walls, and it's our mission as Exhibit C to promote Native artists and to give them a forum to not only Oklahoma but to the world."
Exhibit C is open 11 a.m.-8 p.m. daily. Transitions runs through June 30. Admission is free. Call 405-767-8900 or visit exhibitcgallery.com.