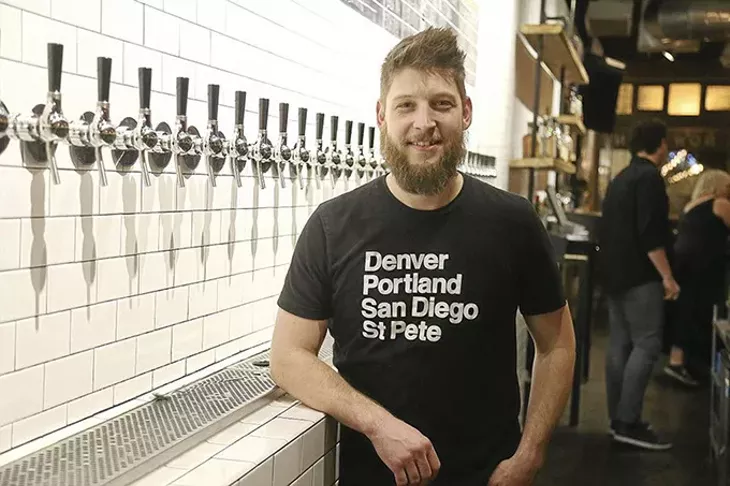 provided
Micah Andrews is owner of Oak & Ore and an organizer of Oklahoma Craft Beer Summit.
When Oak & Ore owner Micah Andrews hosted the inaugural Oklahoma Craft Beer Summit at his Plaza District gastropub in 2016, the intention was to get the word out about the needs of Oklahoma's nascent craft beer industry to the general public and legislators.
As Andrews helps organize the third Craft Beer Summit Saturday at Tower Theatre, 425 NW 23rd St., he's able to reflect with pride on the tangible steps the Oklahoma craft beer industry has made over the last two years.
Oak & Ore, 1732 NW 16th St., was filled to capacity for the first beer summit as brewers from across the state turned out for the event. It moved to Tower Theatre last year and will continue there this year, beginning with a 9:15 a.m. panel discussion on what modernization means to Oklahoma craft beer consumers, and the day will include Q&A sessions, keynote speaker Neil Witte, a brewers association quality ambassador, provided lunch from Your Pie, plenty of afternoon trivia and beer tasting sessions and an after-party at Oak & Ore beginning at 5 p.m.


State Question 792 made it legal for craft breweries to sell their products directly from onsite taprooms, and Oklahoma has made an incremental jump from the 50th state ranking in breweries per capita to 49th, Andrews said.
"At the point of the first summit, the taproom bill was sort of dead," Andrews said. "Not that we think it was about anything that happened here, but it was fun to see the taproom bill revived. For a lot of breweries in Oklahoma, that was maybe the most important thing to happen."
Andrews said that the taproom model lowered the barrier of entry for enterprising brewers because under the old setup, a brewery had to produce enough product to sell solely through distribution. The taproom model allows new breweries to use its own property to reach customers directly and grow its brand without being solely at the whim of distributors and retailers.
"We've seen across the nation as taprooms are exploding, as a retailer, I get questions like, 'Do you think taprooms are going to hurt your business?' I think it is quite the opposite. I've talked to many breweries across the United States, and those taprooms become the epicenter and their brand grows concentrically outside the brewery."
Oklahoma City is home to taprooms currently onsite at Stonecloud Brewing Co., 1012 NW First St.; Prairie Artisan Ales, 3 NE Eighth St.; COOP Ale Works, 4745 Council Heights Road; and Anthem Brewing Company, 908 SW Fourth St.


Additional breweries are under construction for Elk Valley Brewing, 1212 N. Hudson Ave.; Vanessa House Beer Co., 118 NW Eighth St.; COOP's 87,000 square-foot facility at the 23rd Street Armory, 200 NE 23rd St.; Angry Scotsman Brewing, 704 W. Reno Ave.; Roughtail Brewing Company, 220 W. Memorial Road; and Black Mesa Brewing Co., 3901 N. Flood Ave., in Norman.
"We see a lot happening in the urban core, which is exciting. I think it will be fun to get two or three breweries in a walkable area," Andrews said. "With the streetcar in the Midtown and Automobile Alley, you'll have Twisted Spike [Brewing Co.], Prairie Artisan Ales, Vanessa House and Elk Valley all within walking distance."
Andrews hopes to come up with lessons for Oklahoma City's craft beer industry during the summit's keynote Q&A session with founders from Texas-based Austin Beerworks.
"They will have great perspective because they know what it's like to grow a brand and enter a market like Oklahoma," Andrews said. "I know they put out on social media that they had seen chatter about some of their former employees that started a new brewery and how it might cause cannibalization."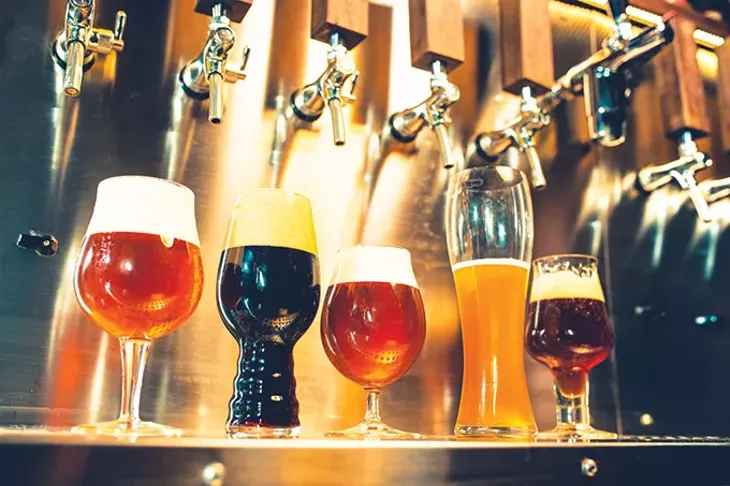 bigstock.com
Oklahoma Craft Beer Summit is 9 a.m.-5 p.m. Saturday at Tower Theatre.
Ultimately, craft breweries shouldn't be in competition with each other, Andrews said. They should be trying to increase exposure to customers that exclusively drink beer from large corporations. Craft beer sales increased nationally by 5 percent in 2017 while the overall beer market declined 1.2 percent in 2017, according to the Brewers Association. Craft beer accounted for 23 percent of the $111.4 billion overall beer market in the U.S.
"[Austin Beerworks has] grown 25 percent since those two members left, and they helped the other brewery open because collaboration is the theme of craft beer," Andrews said. "Craft beer sees their long term vision as convincing more customers to drink craft beer, not getting one craft brewery to take another craft brewery's handle."
Andrews said craft beer's strength in the market is variety. Oak & Ore changes its selection almost daily by updating its giant, erasable board behind the bar.
"If someone walks into Oak & Ore and says, 'I like red wine or cider or whiskey," he said, "most of the time, I can find a beer on our board that they're excited about because craft beer is incredibly diverse in ingredients and process. The innovation in craft beer in the United States is insane."
The overall theme for Saturday's beer summit is that of innovation, building from last year's theme of quality. The summit will host an innovation and experimentation in brewing panel at 1:15 p.m. Saturday.
"You can experience the industry even if you don't know much about it," Andrews said. "There will be tastings for different beers locally and outside of Oklahoma that aren't necessarily distributed here. It's not just for people that are real geeky and in the industry."
Tickets are $75. Visit oklahomacraftbeersummit.org.