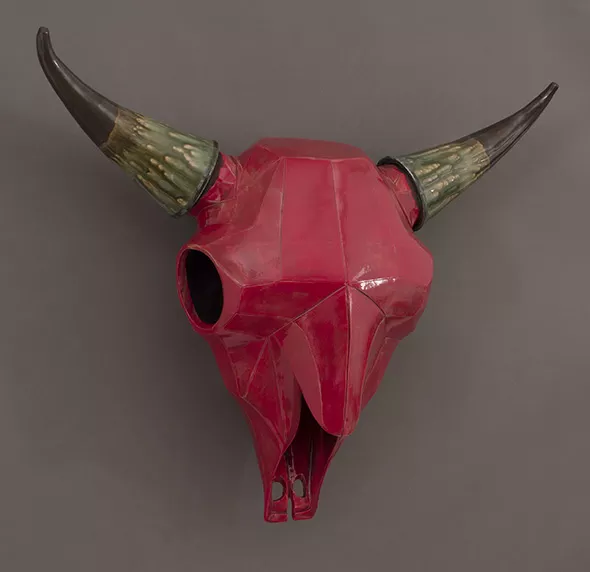 Exhibit C / provided
"Without Silence" by Cannupa Hanska Luger
Nov. 1, Exhibit C opened its doors to Post Plymouth, an exhibition showcasing Native American life in a contemporary fashion of cultural persistence in the wake of assimilation.
Four Native American artists — Roy Boney, Jr.; Daniel McCoy; Cannupa Hanska Luger; and Addie Roanhorse — present their works in a 4,000 square-foot gallery space dedicated to the stories told through their art.
"It's really focusing on Native American culture thriving in the face of assimilation — how we've gone through all these trials and tribulations but we're still a thriving and vibrant culture," said Exhibit C manager Tom Farris.
Farris knows the artists personally and invited them to be part of the show, an endeavor he spent the better part of a year organizing. Of the artists he was hoping to recruit, his top four agreed to participate — a rare occurrence for curators.
"I'll be in good company," McCoy said, referencing the other artists he is working with.
Exhibit C / provided
"ᎠᎹ ᎤᎵᏍᎨᏗ" ("Water is Life") by Roy Boney
An Oklahoma native, he described the opportunity to come back to Oklahoma as "a great honor."
McCoy began making art at age 15 when he was enrolled in Sequoyah Schools, the Cherokee Nation boarding school in Tahlequah, where he worked with a teacher who encouraged him to continue creating. As a child living in an artistic setting, it wasn't long before he fully embraced his creativity and began working in that environment.
"I was really lucky being around lots of art shows and saw the power," he said. "I just gravitated towards it."After traveling around Oklahoma for some time, he finally lucked out and found steady work painting billboard ads.
"I was really young and it was very difficult to just jump right in feet first," McCoy said of his earlier days. "We worked for everybody. We didn't know the word no. … You name it, we painted it."
This was an influential time for his work, which taught him a skill set different from that of the fine art world — one to which he would eventually become accustomed. However, his work painting billboards had a lasting impact, as "it added to the aesthetic of things."
With this show, he hopes to send a message of his own while engaging the theme of the gallery. He chose pieces that depict his current life living in Santa Fe, New Mexico, in addition to some that illustrate his childhood growing up Creek. He also chose some experimental works that show just "how far [he] can go with the painting." Though he refers to the latter as some of his less marketable works, he enjoys the freedom that comes with their preparation.
"That's where I really enjoy it, where it's ultimate freedom," McCoy said.
The paintings are typically the product of a deep conversation he has had with his wife or friends. He admitted to sometimes taking up to a year deliberating and conversing the matter before finally translating the thought to a production on canvas, allowing him to produce paintings with meaning.
And this isn't too different from other artists in the show.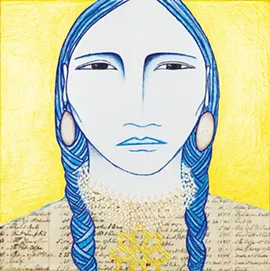 Exhibit C / provided
"Letters Home" by Addie Roanhorse
Deep connections
Addie Roanhorse also inserts her own stories into her paintings, which typically employ the use of texture and mixed media. She describes her style as "more contemporary than your traditional painters."
Growing up mostly in Santa Fe, her mother, Gina Gray, was a successful artist. Roanhorse said she essentially lived in her mother's shadow and made the decision early on to pursue art as a career. Now living in Pawhuska, the Osage traditions she was raised in and continues to practice are still very much a part of both her life and her work.
"I have a deep connection to my people," Roanhorse said. "It definitely defines who I am. … You carry your history with you."
Often, she paints portraits of modern Osage women who still have "this history but [are] still moving on and continuing on." These girls still have "the same eyes and the same clothing and the same values and the same heritage as they did 200 years" ago.
Her background in graphic design influences her process when creating these images, allowing Roanhorse to be more particular with her work.
"Everything kind of has to be a certain way and lined up, and there's a lot of measuring and making sure everything fits before I start applying each layer," she said.
The magic happens when Roanhorse adds color to her paintings, which is how she breathes life into her art. After beginning the linework, the people in her paintings "start to literally come off the canvas."
"That's when they start to really jump out at me," she said.
Large paintings being her preference, one of her favorites is one she painted and subsequently submitted to the gallery.
"She's definitely off," Roanhorse said describing the woman in her painting. "It's still the same style, but it's just the colors are electric … so I think she's pretty cool."
Multiple disciplines
In addition to Roanhorse and McCoy, Luger and Boney will also have their works on display. Luger, however, often takes a different approach. Defined as a multi-disciplinary artist, it's not uncommon for him to use ceramics, audio and visual components and materials like paper or fiber.
Farris describes him as an artist and advocate whose work often deals with the themes at hand, though it also encompasses "a lot of other native advocacy avenues, specifically the kind of troubling issues with Native women being victims of abuse."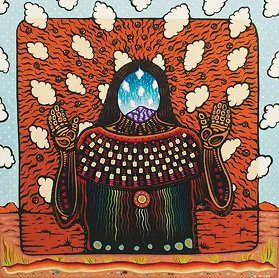 Exhibit C / provided
"Shoshone Madonna No. 2" by Daniel McCoy
Boney is another established artist and member of the Cherokee Nation, a part of his life which has arguably become the cornerstone for his work.
"A lot of his work centers around Cherokee language, and it's used in kind of a contemporary fashion," Farris said.
He also said Boney is one of the people responsible for adding Cherokee syllabary to iPhones.
With such a diverse set of artists working separately to present their work together for the purpose of the same overarching message, the event is likely to raise questions and provide insight to curious viewers.
"The most important thing that we're trying to convey at the exhibit is that Native people and Native culture in general is thriving and is contemporary," Farris said. "A lot of times, Native people and Native culture are framed in a very historical context, and I think it's important to remember that we're still here. … It just gives us an opportunity to kind of present our perspective on being here now."
Visit exhibitcgallery.com.