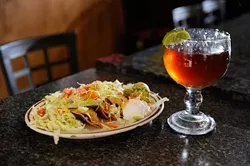 Garett Fisbeck
Cueva's Old Fashion Tacos at La Cueva Grill in Oklahoma City, Friday, Dec. 12, 2014.
Sometimes, a man wants a crispy taco.
Oklahoma City has been blessed from on high by the Lord of Taquerias. Yea verily, he came down with his divine feet and walked among the suburbs, a new truck or storefront opening 'ere his holy toes touched the earth.
You want carnitas or asada or pollo in a pair of tiny corn tortillas with a sprinkling of onion and cilantro on top? OKC has you covered. But as heavenly as taqueria food is, I cannot deny the mortal appeal of an enchilada covered in sour cream sauce or the human delight of beef, lettuce and cheese inside a fried shell.
If you sometimes crave these earthly treasures, then I invite you to worship with me in La Cueva Grill, 409 N. Walker Ave.
Nestled near one of my favorite sandwich shops (Hobby's Hoagies) in the fertile crescent of the Arts District is a little restaurant making pleasantly simple renditions of all your old Mexican food favorites.
If you are in a mind for breakfast, then the huevos rancheros ($8.95) are a solid bet. Two eggs over easy, tortillas, beans and a hefty dose of flavorful sauce will make you think twice about even needing lunch. And for gluttons like me, $2.75 adds a healthy dollop of carne asada steak, which is both tender and filling.
How do you feel about melted cheese? That's what I thought. Then you, my friend, will be pleased to learn that La Cueva cooks up the kind of nachos ($6.25) you wish your mom knew how to make. A big plate of tortilla chips is covered with refried beans and a pile of Monterrey Jack cheese before going under the broiler. The result is gooey, stretchy, cheesy bliss.
The addition of fajita chicken ($2.75) transforms this appetizer into a meal — one I intend to enjoy on a regular basis.
What is there to say about chicken enchiladas ($8.95) that hasn't been said multiple times through my friend's stuffed-full mouth?
"Mmmlfllff. Mmyou triefld thleesem? Smmoo goold."
The shredded beef is another solid option, though it comes covered in a spicy chili sauce. And both options come with rice and refried beans, because of course they do, because you wouldn't accept anything less.
That same seasoned, shredded beef is the centerpiece of one of my favorite dishes: Cueva's Old Fashion Tacos ($9.95). What kind of outdated clothes is this trio of tacos wearing? you might wonder. Why, the most glorious coat of freshly fried corn tortillas, of course.
There are few things more lovely than seeing a taco that has just been fried closed around a mound of shredded beef. It is also a dangerous invitation to a burnt mouth, since that beef tends to soak up the lava-hot oil, waiting to erupt on your unsuspecting lips.
(The trick is to cut them in half, let the grease run out or cool down and then add pico de gallo, guacamole and sour cream. You're welcome.)
For something that'll take you back to your childhood, the crispy tacos ($9.95) come to you as a plate of four with seasoned ground beef, lettuce, tomatoes and cheese. It is a struggle not to get these on a daily basis.
There is a right way and a wrong way to make tacos. The wrong way is to not make them. The right way is when someone says, "You want tacos?" and you're already waiting in the car, with your seatbelt on, because even if you get in a wreck on the way there, you'll survive and then ... tacos.
Print headline: Lord of the tacos, True Mexican taco fans should join me at the altar of La Cueva Grill.