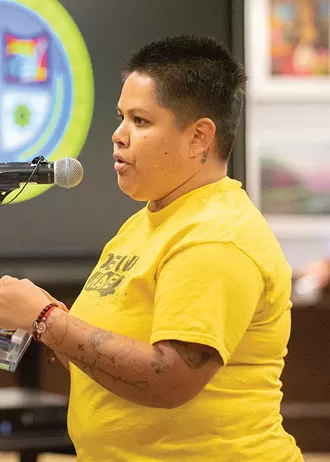 Miguel Rios
Cynthia Garcia, United We Dream deportation defense manager, said she wants more elected officials who fight for black and brown constituents.
Immigration advocates continue pushing for conversations on the roles law enforcement and Immigration and Customs Enforcement (ICE) serve locally. Several community members attended the two most recent Oklahoma County Criminal Justice Authority (jail trust) meetings to request trustees kick ICE out of the county jail.
Since 2015, two ICE agents have been stationed at the county jail on alternating shifts Monday-Friday. Activists say the practice does not make the community feel safe and contributes to the "deportation machine."
"The conversation was a step forward in the right direction for the community. Considering how the Oklahoma County jail is already a very toxic place for Oklahomans, to be able to dissect that and still bring up the ICE agents there, it was great," said Cynthia Garcia, United We Dream deportation defense manager. "It was pleasantly surprising to see so many community leaders from different backgrounds come together and call out that the Oklahoma County jail does not need to have two active ICE agents."
The jail trust, which was created about two months ago, is expected to sign an official lease with the county in the next few months. Until then, it can only gather information and make recommendations to county commissioners; it cannot make official decisions itself.
Ben Brown, one of nine trustees, added the discussion regarding ICE officers at the jail to the July 22 agenda, citing mayor David Holt's July 14 tweets in which he asserted Oklahoma City was diverse and welcoming to all people.
"The last two police chiefs have indicated that the police department also would not be part of any deportation efforts. It's my understanding that there are maybe two ICE officers who maybe are stationed at the Oklahoma County jail," he said at the July 22 meeting. "That seems counter to the kind of welcoming city that the mayor wants, and it's even counter to the welcoming city that I would want."
Sheriff P.D. Taylor's general counsel Danny Honeycutt, along with two jail administrators, characterized ICE's role in the jail as "clerical." Honeycutt said the jail does not have a 287(g) agreement, which allows ICE to deputize local officers, and does not participate in another similar program in which it would hold individuals for 48 hours at ICE's request.
"The ICE individuals in the office are strictly for identification purposes. They facilitate it quicker, the identification process, for anyone that's booked into the facility, and so we don't take it a step further than that," Honeycutt said. "Once the citizenship status is identified, then we complete the booking process. ICE at that point will make a determination whether they want to place a hold or not. … Once the state charges are completed with whatever that remedy is, we will notify ICE if there's a detainer and they've got until we cut that guy lose to come get them. We will not hold that individual longer than necessary."
Though he could not cite it during the meeting, one of the jail administrators referred to a statute requiring "reasonable effort shall be made to determine the citizenship status of the person so confined."
Official response
Miguel Rios
Danny Honeycutt, sheriff's general counsel, characterized ICE's role at the jail as clerical because they do not actively seek undocumented individuals.
District 1 commissioner Carrie Blumert told Oklahoma Gazette she is against having an ICE presence in the county jail.
"What I want to prevent is just sending people to ICE custody," she said. "Having ICE agents in our jail just creates more fear, more mistrust between the community and law enforcement, and I want to build trust between community and law enforcement."
District 2 commissioner Brian Maughan and district 3 commissioner Kevin Calvey both support having ICE agents at the county jail. Maughan made a post on his personal Facebook account stating his support.
"The ICE agents working with the Sheriff's Office are not there to nab jaywalkers for immigration violations," he wrote. "Where they initiate deportation action, it is linked to crimes committed here by illegal immigrants. Do these protestors really think it makes sense to allow burglars, robbers and others who pose a danger to our community to remain here with impunity? I am also concerned with the ongoing effort by some on the extreme political left to demonize ICE and with their calls for its abolition, which would result in an irresponsible and costly open borders policy."
Calvey, who also serves as a trustee on the jail trust, said July 22 that he has empathy for people fleeing violence to other countries but still supports ICE presence. He asked for more feedback via his Facebook page, where he responded to most comments. In one he wrote, "These protesters just hijacked the Trust meeting to make a forum out of it to get media."
Garcia said both posts aim to "other" and discredit the "political left" while highlighting and mirroring the national rhetoric surrounding immigrants — that they are criminals.
"It's the othering of people as a way to discredit the hard work that comes from organizing families that are affected," she said. "That's another instance of, 'How do I trigger a reaction of people who continue to be in alignment of white supremacy and nationalism? Because 'hijacking' is a terrorism term. But I think Oklahoma spoke for itself this last weekend. We're tired of elected officials that tiptoe around the same language as the federal narrative. Oklahoma is tired of being seen as a dumphole of racism, especially when there's several organizations locally that do heavy lifting to push for more fair and equitable conditions for everyone regardless of status. … I think our elected officials continue to see us as uneducated in politics, and I think that is offensive to everyone who puts in so much work. But also it's also offensive to the constituents. … We have some overturning to do as far as who represents us."
Community response
Miguel Rios
Sara Bana, a local activist, organized a coalition of individuals to show up to jail trust meetings.
At the July 22 meeting, about 20 people signed up to speak, all of whom requested the jail trust remove ICE agents from the jail. Though ICE presence at the jail was not on the July 29 meeting agenda, more community members attended to speak on the topic. This time, about a third of the speakers expressed their support for ICE agents, saying they should receive the same respect as police officers and that laws need to be enforced.
Sara Bana, a community activist, organized the coalition of speakers who took to the microphone. When it was her turn to speak July 22, she said she was disturbed by the sheriff's representatives, who were unprepared to answer questions about immigration hold numbers and a federal statute.
"Their lack of awareness in the reality of what is happening to people like me, people in my family, people within my neighborhoods and people within my communities, people of color being segregated and separated from their families, being put in cages," she said. "To have those three gentlemen come up here without having done their homework to know and give you the numbers that you're asking for and to try to create this façade that everything is normal, it's disturbing to someone like me."
While holding her naturalization papers, Bana spoke about her 15-year process to become a legal citizen. She said she carries her documentation with her so she is not accidentally put into detention centers, which recently happened to Dallas-born U.S. citizen Francisco Erwin Galicia, who was detained for three weeks.
"Sheriff Taylor, I've got a lot of respect for you. I know the conditions there aren't well, and I know it's almost impossible to do well with the conditions that you've got going on. But I beg of you, I plead with you, get those ICE officers out of your county jail now," she said. "Remove them. We don't need them doing clerical work as … your representatives called them."
On July 29, the jail trust also passed a motion for trust chairwoman Tricia Everest to request $100,000 from Board of County Commissioners for independent financial analysis, legal services and consulting services.
The next jail trust meeting will be a facilitated planning session 1 p.m. Aug. 5 at Oklahoma City University School of Law, 800 N Harvey Ave.