Luis LeBron / provided
The Nghiems play Friday at 51st Street Speakeasy with Teflo Dollar and Foxburrows.
Carrying amplifiers for a Ben Kweller show got The Nghiems booked on their first gig in 2007, and getting the attention of Broncho's Ben King at that gig resulted in an invite to record at a storied local studio.
"It went from having no opportunities at all to being in the studio recording at Blackwatch in Norman," said drummer James Nghiem. "Being in Blackwatch was like being in a holy place. I couldn't even fathom being in there. So it went from nothing to everything, and I had to get a lot better in a short amount of time."
Pretty much nothing since then has come so easy. Nghiem, whose drumming experience was mostly limited to playing in a "weird metal band in high school," soon felt out of place in a professional recording environment.
"While I was in the studio, there was a lot of playing with a metronome," Nghiem said. "I was out of my element, and it was really tough for me. I was working at a pho restaurant in Norman down the street from the studio, driving a shitty car. The sunroof was busted, so every time it would rain, it would collect water but it wouldn't fall into the car until it moved. So I would work all day, go and record in the studio at night, and the first forward motion of my car, the water would just dump all over me on the way to the studio and I would feel like such a piece of shit."
Recording for The Nghiems' debut LP, The Pine Tree, The Mushroom, & the End of the World, took "at least two years, maybe even three."
"Part of the reason is that we were in and out of the studio, at night or off hours," Nghiem said. "Sometimes a big band with a lot of money would bump us, and we'd just be shit out of luck. We didn't have a big budget, so we took what they could give us."
Lyricist, vocalist and keyboardist David Nghiem recalls losing some of the album's home-recorded demos during an ice storm and having to start from scratch in the studio. When the album was finally recorded, a publishing deal the band signed delayed its release for another year until 2011. While the Nghiem brothers were waiting to release their album, their father died.
"The way our dad passed away was sudden," David Nghiem said. "We found out he had lung cancer, and it had already advanced to his brain. I rode with him to the hospital December 26, 2009. He passed away January 2010. We found out it had moved to his brain, so I moved back home from Norman. I stayed with him and my mom and helped take care of him. He was starting to have balance problems. He was on medication to shrink the tumor in his brain … and one day, he decided to stop taking the medicine. But it was terminal, you know? He was gone in about a week. It happened so quick, just about a month."
For a couple of years after that, music didn't seem to matter as much.
"That kind of put things in a different perspective," David Nghiem said. "We kind of didn't want to play those songs as much. … I think I just got really depressed and stopped caring about stuff."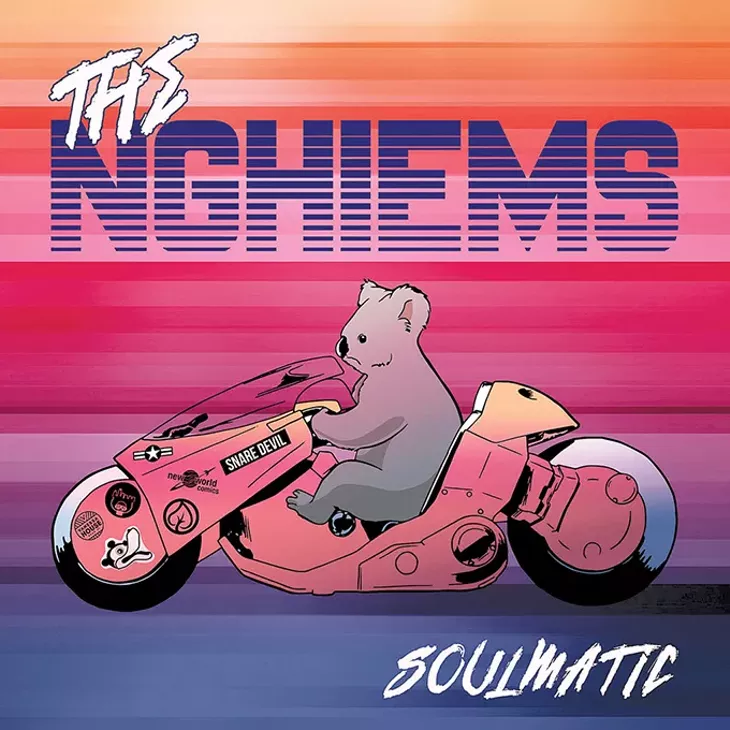 Mike Allen / provided
Soulmatic was released online earlier this year, but a limited-edition vinyl run will be available Friday.
Finding control
David Nghiem moved in with his mother and began taking care of her and his grandparents. He "slowly started writing again" in 2013. The Nghiems made a deal to record three songs at a studio in Fort Worth but became so dissatisfied the with the process they only finished two.
"We didn't like the producer," David Nghiem said. "We thought it would be an OK match, but it wasn't. He was changing the songs. … We wouldn't have been able to play these things live. He wanted us to record a certain way, and he would add his own keys over it. He had a session musician come and put some weird string arrangements on it, and our band members couldn't make it that way. We just felt like they were taking over our record, and it was a very bad feeling."
The Nghiems ended up scrapping the recordings all together and starting over. James Nghiem moved to Los Angeles to pursue standup comedy but returned for more recording sessions, which were ultimately lost.
"When I moved back from L.A., we just didn't have any access to them," James Nghiem said, "which I think was good for the record because we had to take our time and not rush it. The songs have grown as we have grown."
The Nghiems began recording sessions for what would ultimately become their sophomore album, Soulmatic, at home with bassist Mike Allen.
"We thought we had learned enough recording at studios and watching people that we could try to do it on our own," David Nghiem said, "and if it sounded really bad, that's just how it's going to be. I bought a few keyboards we had seen in the studios, some we hadn't, and tried those, and James learned to mix on the fly."
For James Nghiem, having more control over the album's sound was a mixed blessing.
"It's positive and negative," James Nghiem said. "I got to a point where I thought this record was never going to come out. I almost gave up a lot because we just kept going back and forth revising and revising. It's hard to know when you're done. Sometimes you need someone to be on your case about it."
David Nghiem, meanwhile, said he had trouble spending several years dwelling on the album's lyrical themes — which deal symbolically with the passing of his father and his grandparents, who died while the album was being recorded — but he's relieved that it's completed.
"It kind of makes you go crazy," David Nghiem said. "Especially this kind of record makes you more depressed having to stay in that place. … I think when we finished the record, we started to feel a lot better. It just felt like it was a record we had to make if we were going to make another record and then we could make something totally different after this, but to do that, we had to finish this first. It felt like so many setbacks while we were recording it, so it felt really good to finish it and finish it the way we did."
The Nghiems will celebrate Soulmatic's vinyl release 9:30 p.m. Friday at 51st Street Speakeasy, 1114 NW 51st St., before leaving for a short Texas tour.
Visit 51stspeakeasy.com.