Elizabeth Weinberg / provided
Lucy Dacus performs 9 p.m. Monday at Opolis.
Lucy Dacus creates music that's alive. It breathes, expands and exposes itself in new ways each time you listen to it.
So what might first seem like a straightforward, angry song about evading an ex like "Night Shift" will eventually reveal its layers of sorrow and dark humor, with observations on existence that are achingly raw and relatable.
"You don't deserve what you don't respect," Dacus sings in that opening track. "Don't deserve what you say you love and then neglect." It's a song that builds to an explosion of emotion, both crushing and liberating.
Local music fans will get the opportunity to enjoy Dacus' songwriting prowess when she plays a Monday show at Opolis in Norman, 113 N. Crawford Ave.
Widely hailed as one of indie rock's best new artists and often described as wise beyond her years, Dacus burst onto the scene in 2016 with her first album, No Burden, which stunned listeners with its lyrically complex reflections on life and relationships.
Her follow-up, Historian, came out last year and landed on many best-of-2018 lists. Rolling Stone and Billboard had the album in their top 10; NPR's Bob Boilen put her at No. 1.
While grateful for the recognition, Dacus, who released a cover of Edith Piaf's "La Vie en Rose" on Feb. 2, said she hopes these kinds of rankings don't foster competition between musicians.
"I feel like the best way to reflect on those things is just to be grateful when you are recognized and to just not really care if you aren't recognized," she said.
Despite the acclaim, Dacus remains grounded, carrying over the easy energy that began her career in the first place. She wrote songs for herself and started playing casual gigs during her senior year of high school but didn't view music as a viable career path.
"I never thought this was a real job that actual people had," she said. "It just seemed super out of reach."
After high school, Dacus enrolled in the film program at Virginia Commonwealth University, thinking that the various artistic elements of moviemaking would satisfy her creative urges.
"In retrospect, I think I didn't want to make a choice to limit my creativity," she said. "All the while having no designs on doing music and just doing it anyway."
Shortly after starting school, Dacus had an opportunity to travel abroad, so she decided to take a semester off, fully intending to return.
"I was like, 'Well, if I'm going to take a semester off of school, I might as well make a record in that time, as well,'" she said.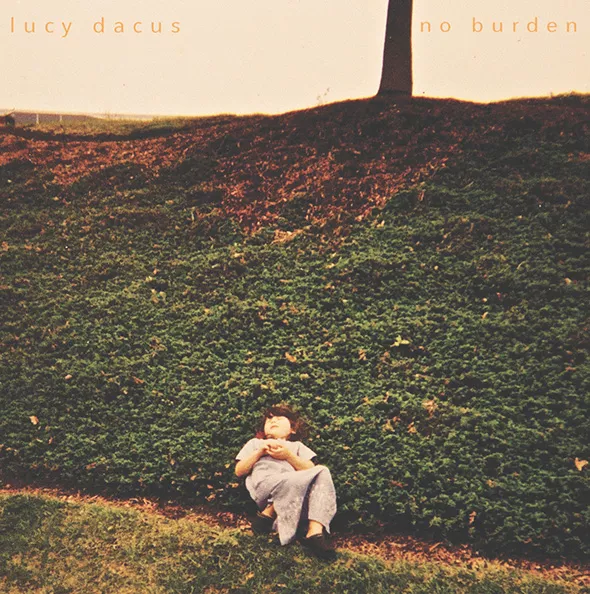 provided
No Burden
That record was No Burden, which was recorded in roughly 20 hours as part of a school project with friend Jacob Blizard, who is now Dacus' guitarist.
Being thrust into the spotlight basically overnight has forced Dacus to make some adjustments to how she lives, works and approaches relationships. Where before she had a 9-to-5 job and delineation, now the lines between work and play are blurred.
"Now, I much prefer doing music, but it's sort of pervasive," she said. "I don't really have off hours because my job title is 'Lucy Dacus,' which I can never stop being. It's definitely more loosely structured, but it's still good. Whenever I say that, it sounds like I'm complaining, but I'm not. It's just different."
Suddenly being in the world of professional music was "rattling," she said. Everyone warned that she should watch out for people wanting to take advantage of her. She was able to weed out the corporate interests who were responding to the hype instead of her music, and she landed at Matador Records in 2016.
Although her writing is astute and poignant, she described her creative process as a bit more rough-and-ready, something out of her control.
"It kind of feels like throwing up," she said. "I know that's gross, but I thought about that recently, and it kind of is the most accurate summation. It really just feels like, 'Oh, God; what's happening?' And then I start writing, and then I stop, and then I get to look at what it is."
In 2018, Dacus joined with artists Phoebe Bridgers and Julien Baker to form a supergroup, boygenius, and they released a critically acclaimed self-titled EP in November. Those songs took just four days to complete. Clearly, Dacus works fast.
"I value my first impulses," she said. "I think your first impulses have a lot to do with your taste and your personality and the truth of the moment."
Trusting those impulses while working on her albums allows her to fly through the creative process. She prefers when songs take little or no time to complete.
"It's nice to get things done quickly, too," she said, "because while the music is meaningful to you, it has this elasticity. I feel like the longer a song sits, it just kind of sets, and you can't go back to it or you start to get married to ideas that you weren't happy with."
While Historian was a reflection on breakups, death and the end of things, Dacus said she's working on a new album that pivots to look at beginnings.
"Not necessarily a coming-of-age time, but pre-coming-of-age," she said. "Like when you're learning about the world at the very beginning and how it's really hard to shake those perceptions throughout your life."
For her Opolis gig, Dacus said she's happy to take song requests via Twitter.
"I just don't like being that guy that comes to town and doesn't play somebody's song that they came to hear," she said. "I always feel really bad when that happens."
The 21-and-up show is 9 p.m. Monday and also features the band illuminati hotties. Doors open at 8 p.m.
Visit lucydacus.com.