Garett Fisbeck
Hamachi-Kama at Okura Sushi in Oklahoma City, Wednesday, Nov. 11, 2015.
Let's cut to the chase.
Hamachi-kama, also known as the collar of the yellowtail, is a delicacy.
It's not a staple of many menus around here, but you can find it at Okura Sushi & Grill, 7508 N. May Ave., and I suggest you find yourself there soon.
Okura flies under the radar in the Oklahoma City sushi discussion, though I'm not sure why.
It's clean, if a bit lovingly worn. The ambiance is intimate. The teppanyaki grill is kept in back, so it doesn't have the circus feel that sometimes permeates Japanese restaurants.
The service is prompt, but understated. You never feel like someone is breathing down your neck, but you also don't have to worry about an empty glass of water begging for a refill.
More to the point, the food is great.
If you like sushi and Japanese food, you're probably going to like Okura. I certainly did.
At the top of the list is the Hamachi-kama ($9.95). This is a piece of fish that requires work. There is bone to dig around. You might request a fork to aid you in discovering each delicate pocket of moist, flavorful fish.
The outside of the collar is glazed, but the real joy is the delicate meat within. It has that perfect oiliness, rich and silky, that melts against the tongue. You do not chew this appetizer so much as you let it fall apart against your teeth.
If you're tired of miso soup — which seems like a crazy thing, but OK, it's just us talking; this is a safe space — maybe you'd like the O-Suinono soup ($4.95) with its clear, mushroomy broth, onions, scallions and tender bits of shrimp.
But let's not put off the inevitable any longer. You want to know about the sushi, and, by god, I want to tell you about it.
Specifically, I want to tell you about the Toro-Tartar hand roll ($7.25).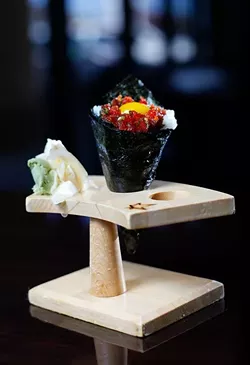 Garett Fisbeck
Toro-tartar hand roll at Okura Sushi in Oklahoma City, Wednesday, Nov. 11, 2015.
Have you ever eaten an ice cream cone, except the cone was made of seaweed and the ice cream was diced tuna with ginger, soy, sesame oil, green onions and a quail egg? Because that's the Toro-Tartar, and it's kind of glorious.
My only concern is I'm pretty sure I dipped the tip of my nose in egg yolk a few times.
The ahi tower ($14.95), if not specifically sushi, is sushi-esque. Rice, avocado, crab salad and fresh tuna are stacked high before you, practically daring your inner 8-year-old to topple and devour it. It's big enough to share but good enough that you probably won't want to.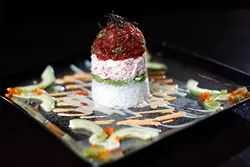 Garett Fisbeck
Ahi Tower at Okura Sushi in Oklahoma City, Wednesday, Nov. 11, 2015.
The BadAss roll ($13.95) is in the category of delicious sushi rolls that are far from traditional. Inside is crunchy shrimp tempura and cucumber. On top is thinly sliced tuna and avocado.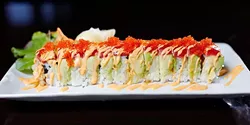 Garett Fisbeck
Badass Roll at Okura Sushi in Oklahoma City, Wednesday, Nov. 11, 2015.
You will shove this delightful concoction into your mouth as quickly as possible.
Like those at many of the other top-tier sushi restaurants in the metro, Okura's sushi chefs delight in presentation.
Everything set before you is a little work of art, like a Monet or a Renoir, but edible. I mean, I guess you could try and eat a painting. But that seems like a waste of good canvas, especially when there's sushi to be had.
I was a little disappointed in the vegetable teppanyaki dinner ($10.95), which was underseasoned and underwhelming.
Usually, the teppanyaki grill imparts a deep brown, flavorful caramelization to foods, but the blend of onions, broccoli and sprouts seemed wan and watery.
Oh, but that Hamachi-kama. What a joy to find that on the menu at a little sushi restaurant nestled in the upper reaches of May Avenue.
With skilled sushi chefs, quick service and a quiet, relaxed atmosphere, it is a wonder that the restaurant has flown under the radar as long as it has.
Some secrets, though, are too good to be kept.
Print headline: Okura avenue, Okura Sushi & Grill is a hidden gem on May Avenue.