Bigstock
Two bellini cocktails with hearts on the white background
Maybe Cole Porter got kicked in the head when he was writing "I Get a Kick Out of You," because anybody who says, "I get no kick from champagne" must have a mouth full of busted taste buds.
As Valentine's Day draws ever nearer, some are searching for finishing touches to make the holiday extra romantic. Few beverages say love more than champagne.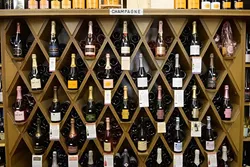 Garett Fisbeck
Freeman's Liquor Mart is expanding its selection of Champagne and other sparkling wines in advance of Valentine's Day.
Bottle service
En Croute beverage director Drew Tekell knows his bubbly, whether sipped from a flute or mixed in a cocktail.
"When I am looking for bubbles for either consumption or to put into a cocktail, I look for a variety of things," he said.
If he's enjoying a bottle by itself, he looks for champagne that is "leesy" — having the scent and taste of the sediment or "lees" of the grapes and yeast it's made from. He prefers sparkling wines with notes of lemon and apple that are more acidic and have a lingering taste.
"Basically, good juice," he said.
He recommends Pierre Gimonnet & Fils blanc de blanc, a Champagne made using only Chardonnay grapes. For a more mineral-focused flavor, he chose Champagne Gaston Chiquet.
In the United States, champagne has become a catchall term for sparkling wines, but the real stuff comes only from the region of France bearing the same name.
Other countries have their own versions, including Spanish Cava and Italian Prosecco.
Freeman's Liquor Mart, 4401 N. Western Ave., is dramatically expanding its sparkling wine selection, said sales consultant Brett Fieldcamp.
When customers ask for a high-end bottle, he recommends Veuve Clicquot vintage Champagnes in the $140 range. Most don't have a vintage, but higher-priced bottles bear the marking of their years of production.
Australian-made BK Wines' Petillant Naturel, a blanc de blanc sparkling wine that shares some of its taste profile with sour beers, is much lower in price. Fieldcamp recommends Hush Heath Estate's line of British sparkling wines, which are growing in popularity.
Garett Fisbeck
Freeman's Liquor Mart sales consultant Brett Fieldcamp explains the variety of international sparkling wines good for drinking or using in cocktails.
Mixed success
Sparkling wines can be great alone, but Tekell said they also make an excellent ingredient in cocktails.
"The cocktail needs to be the focus," he said. "The champagne is an ingredient; it needs to play well with the other kids at the party."
When used to sweeten a cocktail, he often uses a fruitier Italian sparkler called an Asti. If the wine is there to add saltiness, he uses a more traditional, drier champagne.
"As for the production methods, again, it depends on the cocktail," Tekell said. "If the champagne is the main focus, then I tend to go with something produced with méthode traditionelle because I want the citrus and toasted notes."
Méthode traditionelle champagnes are fermented in the bottle. When Tekell is adding bubbles more than flavor, he might use a wine that is fermented in the tank, called the Charmat method.
"The Charmat method also tends to produce a sparkling wine that is fruitier than the traditional method, so I also take that into consideration of what other ingredients are going in the finished product," he said.
Fieldcamp said most people wanting champagne cocktails make mimosas — a blend of sparkling wine and orange juice popular at brunch.
"We get a ton of people who come in here on Saturdays and load up for mimosas," he said. "Normally, you don't want to do something too expensive."
Both he and Freeman's wine manager Ashley Skinnell recommend Spain's Jaume Serra Cristalino Extra Dry.
"I use it for everything that calls for sparkling wine," Skinnell said. "I honestly think it's great on its own."
At $12 a bottle, it's the right price for mixing.
"If you want to go a step up, in the $15-$20 range, it's possible, but I think Cristalino is delicious," Skinnell said.
print headline: Bubble wrap, Champagne experts recommend the best sparkling drinks for Valentine's Day.