The centerpiece of the Gathering Place is like the playground monstrosities that you lost skin (and maybe teeth) to during your childhood. Remember that bonk on the head from third grade? Or when you saw a childhood pal eat it and come back with a cast? Expect some of those memories to come flooding back.
A sign inside the Adventure Playground says it best: "There is inherent risk involved in all elements of play; please conduct yourself accordingly and exercise discretion."
Imagine a serious amount of swim-at-your-own-risk meshed perfectly with art and some additional safety features (the padded ground in most of the play areas absorbs a lot of force) and you have a pretty good idea of what you might get into if you wander into the pseudo-wilderness that makes up this park along the Arkansas River.
Lauded around the world and for good reason, this expansive project is the result of private donors banding together to create a sprawling and gorgeous recreational environment.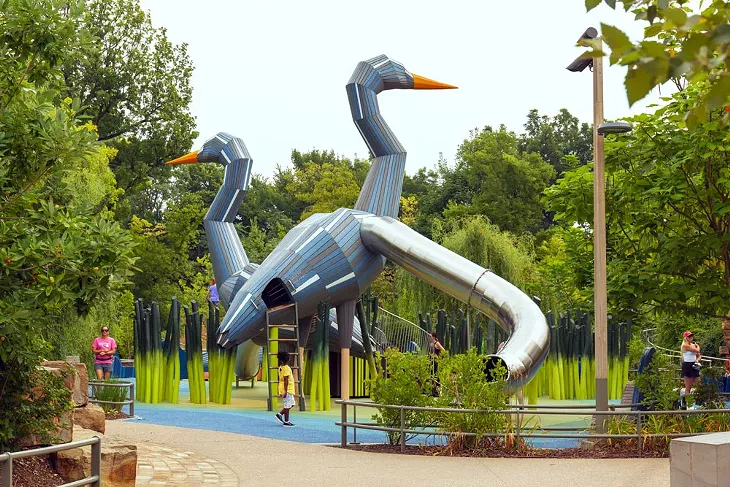 The park itself, 2650 S John Williams Way E, is currently open from 9 a.m. to 9 p.m. daily with the sports courts and the skate park remaining open for an additional hour. There is no admission price to the park itself, the biking trails and for parking. You're welcome to bring your own food and water (no glass bottles) and leashed dogs are allowed on Wednesdays. So, there you go. You have no excuse not to visit.
When you do, there's something for everyone. If you don't have kids (I know it's tempting to charge into one of these big toys yourself, but please don't), there are more than 6,000 trees, 11 different ecosystems and more than three acres of water in the park. If you do have kids, the lodge provides free access to themed backpacks filled with prompt cards, hands-on activities, educational games, and toys based around geology, engineering, and nature exploration. Leaving a piece of identification with the staff is required to check one out.
There are two more phases planned. The current park sits at 66 acres, and the second phase is focused on the opening of the Discovery Lab, a 50,000 square foot building that will house 20,000 feet of exhibit space and can seat about 250 people at its amphitheater. Completion of Discovery Lab is expected at the end of this year, after delays.
Also on its way is the reconstruction of the pedestrian bridge crossing the Arkansas River with additional park features to be announced on the far side of it. A renovation of the adjacent Zink Dam is also expected to be complete in a couple of years. For now, visitors can get close to, but not to, the riverbank of the Arkansas. However, a walking trail nearby will give you a fabulous view of the retro Public Service Co. of Oklahoma sign on the far side of the river.

There's plenty more to say about the park, but words just won't do. See it for yourself.