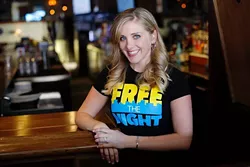 Kathleen Thomas wants to help Oklahoma businesses learn more about the dangers of secondhand smoke.
She is campaign manager for Free the Night, a Tulsa-based nonprofit devoted to encouraging venue owners to voluntarily restrict smoking in their establishments.
"We are not working on laws [or] bans," she said. "All we are trying to do is present the facts to bar and club owners and hope that they make the best decision for the health of their customers, employees and entertainers."
Free the Night uses statistics to illustrate the added costs of allowing smoking in bars and night clubs.
"Studies consistently show that it doesn't hurt bar patronage or profits to go smoke-free," Thomas said. "Cleaning costs are lower and employee productivity is higher."
According to a Free the Night poll, 79.6 percent of Oklahomans prefer smoke-free bars and clubs.
Eight city venues have gone smoke-free since February. Thomas said Free the Night's most recent addition is Baker St. Pub & Grill, 2701 W. Memorial Road. Management chose to change its smoking policy after a decade of accommodating the habit.
"We feel the decision allows us to present a more comfortable, healthy and clean option where our guests can socialize and enjoy our ambiance," said Steve Riley, chief operating officer of Hospitality USA, the venue's parent company.
Although some bands won't play venues that let patrons light up, some, like Oklahoma City-based Red City Radio, play just about anywhere. Garrett Dale, the band's guitarist and lead singer, said no one in the band is a smoker.
"It's a non-issue," Dale said. "I never have a problem playing in front of anyone who has paid to see me play."
Dale has mixed feelings about the initiative, however.
"I believe segregation of any type is wrong, but second-hand smoke hurts people," he said. "That's what's great about this city: If you don't want to be [in] a bar full of smoke, there are plenty … that are nonsmoking."
Bartenders who work with secondhand smoke are 20-30 percent more likely to develop cancer than those in smoke-free environments, according to cancer.gov.
Chuck Pritchett, former OKC Farmers Public Market employee, believes bans are bad for business.
Insurance rates spike for smoking venues, but so do liquor sales, he said.
"I will always choose a higher insurance rate than have people not want to come to my venue," he said. "People will come to see your band, regardless if it's smoking or nonsmoking."
So far, 22 Oklahoma bars and clubs have joined the Free the Night movement.
Learn more at freethenightok.org.
Correction: In the print version of this story (Oklahoma Gazette, Sept. 23) we stated that a Free the Night poll found "79.6 percent of Oklahomans say they do not smoke." The sentence now reads "79.6 percent of Oklahomans prefer smoke-free bars and clubs." The number of smoking adults in Oklahoma, according to the Department of Health, is actually around 23.3 percent.