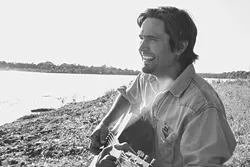 Songwriters find their way to constructing lyrics in many ways. For Dan Martin, the roots of songwriting began while attending Tulsa's Memorial High School, changing the lyrics to songs he liked. Martin then discovered the guitar in 2010, where he said "songwriting happened almost immediately."
His growth with the guitar coincided with playing football for Arkansas Tech University in Russellville, Arkansas, between Fort Smith and Little Rock. But when football ended, the guitar became the answer for Martin.
"After my last season, I had such a void," Martin said. "I had so much of 'What do I do now?' I had such an amount of energy to give to something that I couldn't give to one thing anymore."
Martin, now 29, has over two years of live performances in Tulsa venues as well as recent time on the road that included a large loop through Texas, New Mexico, the San Diego and San Francisco areas and Colorado. In early January, two of his live shows happen in Norman 9 p.m. Saturday at The Bluebonnet Bar, 321 E. Main St., and 8 p.m. Jan. 12 at Red Brick Bar, 311 E. Main St.
According to Martin, the solo version of his set "will be a lot of original music and assorted covers from the likes of Townes Van Zandt, Guy Clark and John Prine. I'm a huge Townes Van Zandt fan. I know probably more of his songs than anyone else's."
Martin said that, for him, Van Zandt and Clark are pillars of songwriting, and he described Clark as tangible and Van Zandt as galactic. Therefore, his own songs, from his own admission, are a product of these influences.
"There are no boundaries," Martin said of his lyrical subjects. "I have songs about real obscure descriptions — a feeling. It reflects my influences from Townes; it would be my more obscure, poetic and artistic, hard to put your finger on. Then there's that Guy Clark influence. I've got a song called 'The Fly Fisherman.' It's all about that [subject]. It's very clear on what I'm singing about."
In 2014, he recorded a demo with musicians Cody Woody, Kevin Smith and Jacob Flint. Instead of a demo, an album came to the surface. It's titled Hoka Hey, and the Lakota phrase usually translates as "It's a good day to die." Martin's lyrics, guitar and harmonica blend with mandolin, fiddle, bass and three-part harmonies.
His full performances can be found on YouTube, a strong example of his songwriting being "You Don't Know That Town Like Me." The lyrics paint a portrait of verisimilitude within any small American town, where some people live vicariously through its Friday night heroes.
"We got a new coach with some 2A rings / He don't know the words when the fight song sings / That shit don't fly when you're 2 and 3." Other lyrics in the song talk of struggles for survival: "She's a daydream lost in the dollar bin / Ain't seen her out since she had twins / Food stamps only come with custody…"
Another Martin performance from YouTube, "I Don't Do That Anymore," is a metaphor of heartbreak or any other type of loss. The line "I got splinters in my fingers holding a door" has a feel reminiscent of Bob Dylan's "It Ain't Me, Babe."
With Martin's songwriting process, he doesn't worry about whether or not an audience will like his music. However, when he does perform, "it often results in a song that is more appealing to people."
For this reason, he works on staying humble to expand his art.
"If you get too caught up in people saying 'good job,'' he said, "you lose the essence you had when you created those songs."
Visit danmartinband.com. Listen to and purchase Hoka Hey at hortonrecords.bandcamp.com.
Print headline: 'No boundaries,' Tulsa singer-songwriter Dan Martin brings his one-man set to Norman.