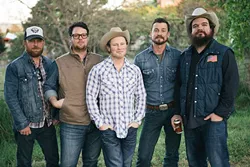 Kyle Nix grew up around fiddles. His paternal grandfather made fiddles, so they were all over the house, taking up chairs and couches and floor space.
"I wasn't allowed to touch them when I was a kid," Nix said. "They were an 'adult thing.'"
Nix, a Stillwater native, was raised in nearby Perry, and when he turned 9, he received a fiddle. He started learning how to play it that same day. Now, he's the fiddle player for Turnpike Troubadours, a Red Dirt band from Oklahoma.
"I sort of snuck into the band right as John Fullbright was leaving," Nix said. "We all knew each other, and I had been in another band, so we had all heard each other play."
Fullbright went on to pursue a solo career, which included a Grammy nomination for his first studio album. The talent in and around Stillwater is remarkable when compared to other towns its size across the U.S. Thanks to its proximity to Bob Childers' childhood home, Stillwater is widely considered the home of Red Dirt country, and the Turnpike Troubadours certainly fit within the category.
"I don't mind the Red Dirt label," Nix said. "We like many of the bands in that genre, and some of our influences, including Jason Boland and Cross Canadian Ragweed, fall into the category. It also speaks of a sound from Oklahoma and Texas, but at the same time, we just talk about making good music."
The band will be in Oklahoma City with Jason Boland to do a show at The Zoo Amphitheatre, 2101 NE 50th St., Thursday. Nix said he counts Boland an influence because of his songwriting skill and his wealth of information about music and the task of being a musician.
"If you're going to do Americana or country or roots music, it should come from the perspective of people who live it," Nix said. "Jason does that, and he writes good country songs that provoke emotions; his songwriting is just great."
As part of this tour, the band will be promoting its new album due to be released September 18. It was recorded in California in April. Nix said they took a month off from the road to record it and the project was produced by guitarist Ryan Engleman and producer Matt Wright.
"We all chipped in during the process, but Ryan spent most of the time in the chair," Nix said. "We have already released the first single to a couple radio stations."
The single "Down Here" is a meditation on how good it is to be back home "after getting your butt kicked on the road." The self-titled album also includes two tracks from the band's debut EP.
"These are songs we play regularly live, and they are fan favorites," Nix said. "We had a list of about four to choose from, but we didn't want to overdo it with remakes."
Drummer Gabe Pearson is the only member of the band who does not live in Oklahoma.
"The other guys are all scattered throughout the state, but Gabe has settled in north Texas," Nix said. "We like to refer to it as Southern Oklahoma though."
It's a fitting joke for a band that plays within a genre that takes the best of both states' musical pedigrees — roots, swing, country, Americana and bluegrass — and makes something new and fiercely alive while paying homage to the past.
Print headline: Road worn, Turnpike Troubadours will play songs from their upcoming album at Saturday's Zoo Amp blowout.