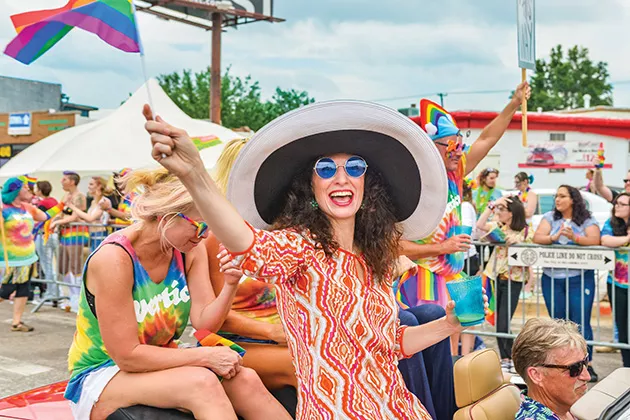 Nick Marek Photography / provided
39th Street District hosts Pride on 39th June 12-14 in the historic gay district.
Oklahoma City will be home to two Pride celebrations this year.
Board members from Oklahoma City Pride Alliance and 39th Street District Association decided to host their own events after they could not agree on a unified vision for Pride 2020.
"There is a little confusion, and hopefully as we move through the next couple months, some of that'll sort itself out," said John Gibbons, president of district association and owner of The Boom! "They're Oklahoma City Pride Alliance, but they use OKC Pride. We're the 39th District Association but use OKC Pride on 39th.
"We totally and completely support their endeavor. We're going to do everything we can to promote it. We wish them the best of luck with it. … They just wanted to do something different than we wanted to do."
39th Street District hosts Pride on 39th June 12-14 in the historic gay district. The block party and festival culminate with the traditional parade along 39th Street 6 p.m. Sunday June 14. Nickolas Potter, 39th Street District director, said they will also have some events around the city, which will be announced soon.
"The biggest thing with moving the main event off the strip is that our history is here. Angles has a history with the police, and that really got the gay community in Oklahoma City to band together and to fight and to really work towards equal rights," he said. "A lot of people feel it should stay here where the history is and where we in Oklahoma City began really. That was really one of the big factors."
Pride Alliance kicks off its Pride Week with opening ceremonies June 15 at Tower Theatre. The festival is June 19-21 in downtown OKC, with the parade 10 a.m. Saturday. Other events throughout the week will be announced.
"Even within marginalized communities, I don't think that disagreements are a bad thing. I wanted to be very diplomatic about things as well. That's really all we can do," said Hannah Royce, Pride Alliance president. "Being pragmatic and honoring the fact that we celebrate Pride differently is OK. That's alright, and that's an exciting place to be in 2020 in one of the reddest states in America. … There's always had to have been those disagreements, I think, for communities to evolve and grow outside of what they have always known. If we're not having those disagreements, we're potentially complacent, we're potentially stagnant in what we have been doing forever."
In 2019, Pride Inc., the organization that had been hosting pride for decades, was dealing with the fallout of an embezzlement scandal that ultimately caused the group to fall apart. Because of that, 39th Street District almost hosted the 2019 Pride festivities. But due to the group's 501(c)(4) status, former district director Lauren Zuniga stepped down to form the 501(c)(3) nonprofit Pride Alliance, which fully organized the official Pride events in 2019. Zuniga now serves as the organization's secretary.
Last year's celebration has been touted as the most successful Pride in the city, with a 120,000-person attendance at the parade and festival, according to reports from police. Mayor David Holt made OKC history by proclaiming the third week in June to be Pride Week in the city and by being the first mayor ever to walk in the parade. Notably, several other elected leaders like Congresswoman Kendra Horn, State Rep. Jason Dunnington and the city's newest councilmembers James Cooper, JoBeth Hamon and Nikki Nice also walked in the parade.
Nick Marek Photography / provided
Pride Alliance kicks off its Pride Week June 15 at Tower Theater with the festival and parade June 19-21 in downtown OKC.
Royce said her group wanted to host the parade and festival in the district again but there were several things the two groups could not agree on, one of them being the parade on Saturday, which was done last year for the first time to encourage higher attendance.
"[It was] things that just have historically been tradition that we kind of shook up," Royce said. "Sunday parade was one of the biggest things, but I think the most exciting thing now is that we get both. People have the ability to attend the 6 p.m. parade on 39th Street, but we're also going to give them a downtown parade at 10 a.m. Saturday."
Pride on 39th
Gibbons said Pride on 39th will be what people have come to expect and hopes the district's leadership will develop the events into a sustainable annual celebration.
"We're going to do it like we have always done it, like we will always do it, and that's really it in a nutshell," he said. "The community knows what to expect; that's why they're coming. There's going to be great music, there's going to be great entertainment, there's going to be great foods, there's going to be shows in all the bars. It's going to go on all day long."
Registration for vendors and parade participants will open by March 15 when the website goes live. If interested in volunteering or providing feedback for Pride on 39th, email director@39thdistrictokc.com.
"Our community overwhelmingly is passionate about this event happening on this street," Gibbons said. "We're hoping that the 39th Street District brings a level of professional management to this project each year, where it is sustainable, it can continue to grow, where it is safely managed and done. … The history is on this street, and it's with this board and with this community."
OKC Pride
OKC Pride's theme is Full Spectrum Future. Vendor and parade registration will open in the spring.
Royce said discount codes will be available for those who signed up for Pride on 39th vendor booths or parade entries.
"To me, it's not a bad thing that we said, 'Hey maybe our visions don't match up. Maybe it's just not a good match,'" Royce said. "Yes, it's awkward for both organizations, but I really feel that this speaks volumes to the wants and need for more."
Royce said Pride Alliance wants to grow and evolve OKC Pride and provide resources and visibility for the state's LGBTQ+ community.
"Everybody celebrates Pride differently, and it's OK that things look different this year and they may look different next year," she said. "Our vision will continue to grow and flourish and hopefully have year-round events … where we team up with different organizations that, again, fit into our mission of diversity and inclusion.
"It's my hope that we get to come back and at least celebrate with them in ways that have yet to be discovered on 39th Street because I do think that something should forever always happen there. They say there's nothing like mounting that hill and seeing the [parade] crowd along 39th. But I also feel like there's a new feeling too. Last year, everybody felt it, like 'Holy shit! This is a big deal. My whole city is here, plus some. The mayor and Sam Presti are walking in the parade together.' Last year was monumental. … It's my goal as a leader of this organization to continue to push the needle, to push the envelope, to be seen and be visible."
For volunteering opportunities, visit oklahomacitypride.org.