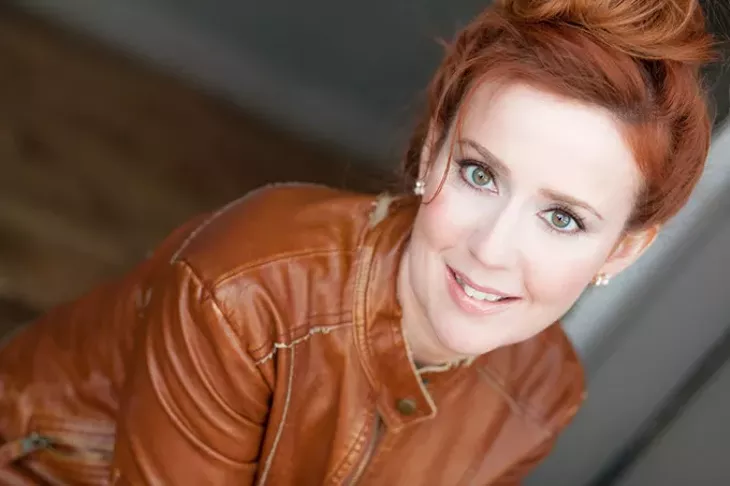 Created by Oklahoma City natives Alison Crane and Todd Faulkner, Uncanny County is a podcast that marries the aesthetic of old-time radio plays with an off-kilter Southwestern sensibility, presenting chilling, funny and thought-provoking tales of humanoid robots, creepy clowns and magic kittens.
What if?
Uncanny County
recently won the award for Best Speculative Fiction Audio Drama (Long Form) at the 2016 Parsec Awards, where Crane and Faulkner also received the award for Best New Speculative Fiction Podcaster/Team.
The podcast deftly reinvents familiar sci-fi and horror tropes while telling relatable, character-centered stories driven by the power of "What if?" Faulkner said.
"[Speculative fiction is] a very welcoming genre," he said. "And because we cover so much ground — horror-comedy, magical realism, supernatural thriller, golden age-sci-fi — it's certainly a good umbrella for our show. … One of the descriptors I like to throw around is Twilight Zone by way of the Coen Brothers, and I think that's pretty apt."
Seeing sounds
Crane, an actress and playwright, saw her first two full-length plays premiere at the prestigious New York International Fringe Festival in 2012 and 2014.
Faulkner has secured recurring roles in a number of popular television series. He currently appears as Agent Loeb on the Emmy Award-winning drama The Americans. Having found success in visual storytelling media, Crane and Faulkner — who share writing, acting and producing duties with a stable of talented collaborators — have embraced the virtues and limitations of the audio podcast format.
"My stage plays tend to include very pivotal visual moments," Crane said. "Writing for audio, I've had to learn to 'see' with sound. And when you're not relying on complicated visual effects, the sky's the limit with the stories you can tell."
Each episode is supplemented with sound effects that help immerse listeners in the world of Uncanny County.
"I had to build a sound effect of a giant octopus coming out of a lake and eating a guy. I won't say which episode it's in, but I'm pretty proud of that one," Crane said.
For the "Coulrophobia" episode, Faulkner "had to create from scratch an army of tiny clowns … one tiny, yet oversized pair of shoes at a time."
Uncanny coincidence
Crane and Faulkner were both active in local theater, albeit some years apart, and shared a number of mutual friends. But it was only after they had each relocated to New York that Crane's search for the perfect ring tone finally brought them together.
"So, about eight years ago, I did a show with our mutual friend William Franke, who is also one of our Uncanny County producers," Crane said. "I was looking for a Doctor Who ringtone, and Bill said, 'My buddy Todd has one. I'll put you in touch.' We decided pretty much then and there that we needed to work together, although it took a few years before we made good on it. And I got a sweet Doctor Who ringtone."
This kind of unlikely, world-shrinking coincidence would not be out of place in Uncanny County, a quintessential American anyplace that, from certain angles, looks a lot like Oklahoma.
"We decided that while the episodes would stand on their own, they would take place in the same universe, with the occasional recurring character, locale or reference," Crane said.
Faulkner said the name is part of the mystery.
"We went with the name Uncanny County because we wanted to have a world that didn't belong to one specific state, a place that is kind of everywhere and nowhere all at the same time," he said.
Oklahoma roots
Crane and Faulkner discovered that their artistic approaches are deeply influenced by their Sooner State upbringings. In particular, Faulkner hopes the podcast's resourceful, down-to-earth characters resonate with Oklahoma listeners.
"In this show, I'm trying to create real people like the ones I knew growing up, good-hearted people who are always doing the best they can," he said. "It's very important to all of us that all of the fantastic creatures and paranormal adventures experienced by our characters are grounded in reality. That reality is very much the world of the good people of the heartland."
Subscribe to Uncanny County via iTunes, Google Play, audioBoom or Stitcher. Individual episodes are available to stream at uncannycounty.com/episodes.
Print headline: Strange tales, Podcast takes listeners on off-kilter radio show adventures.