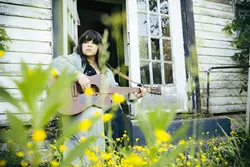 For her fourth studio album, Samantha Crain wanted to create a recording that captures what a band sounds like when they make music live. She has carved out a following by dint of hard work, honest delivery of her deeply personal lyrics and a commitment to the craft of being a singer/songwriter.
The album, Under Branch & Thorn & Tree, was recorded in six days at Tiny Telephone Recording in San Francisco, a legendary studio that has recorded acts like Deerhoof, Death Cab for Cutie, Spoon and Sleater-Kinney. Between recording and mixing, the project took only ten days to complete. Crain calls the new collection of songs protest songs of a sort.
At home
When she is not touring or recording, you will find her waiting tables at metro restaurants. Food service is the lifeblood of college students and artists, at least those who have to make a substantial percentage of their own way in the world. As such, Crain both works within the system as an employee and observes it as an artist.
"I don't write protest songs in the traditional sense," Crain said. "These stories are told from the perspective of the underdog, the 99 percent of us that are working people."
In fact, she does draw her inspiration from the lives of her co-workers, so to say the songs are deeply personal is not to say that they are only about Crain's experience. She tries to capture the feelings, words and experiences of the people she lives and works around.
On the track-by-track liner notes that accompany the new album, she talks about "Moving Day." It's a song about the process — practical, metaphorical and emotional — of moving out of a former lover's house. Crain had just moved her stuff from an ex's house when another server told her the story of her recently ended relationship. In phrasing that is both stark and emotive, Crain wrote, "This song was written between serving customers and rolling silverware."
The contrast is part of the experience of being human that Crain identifies and has the wisdom to call sad and tragic. As a songwriter, she captures snapshots of those terrifying or sadly mundane moments.
"My only goal as a songwriter is to observe the world around me and try to record it as I see it," she said. "Every human experience has already been written about and painted and sculpted and sung; the only thing artists have to set themselves apart is their own unique interpretation and recording of those emotions."
On the road
Crain will turn 29 almost a month after the new album is released on Friday. That means she has been touring for 10 years, and like the other kind of work she does, it provides inspiration for her songs.
"Before I started touring, I had barely been out of the state," she said. "I walked into the whole thing blindly, so it was all a from-scratch experience for me. I wouldn't trade it for anything. I've spent the past ten years seeing much of the world, meeting so many different types of people and gathering many inspirations of writing material."
Early years
Since she was a teenager, Crain has drawn her inspiration from many different sources. Her first album, really an EP, was The Confiscation, and it is subtitled A Musical Novella because the lyrics were short stories Crain had written. The storyteller aspect of her writing is still present lyrically and vocally.
Her voice moves easily between ethereal and earthy, with rich fullness in some places and tremulous vulnerability in others. She is capable of conveying emotion through her tone with great subtlety, and the meaning of her lyrics can vary depending upon her tone. For other artists, she is great to work with because she can rein her powerful voice in and do subtle, beautiful harmonies.
As a multi-instrumentalist — guitar, piano, drums, banjo and bass — her compositions also move between orchestral and folksy. Listening to her perform, it is clear that she could sing within virtually any genre. She is the best kind of singer within the singer/songwriter community — hers is a voice you want to listen to. Some musicians sing as part of their role as artist, and the result can be endurable or marginally pleasant. Hearing Crain sing, you just know hers is a voice that should be recorded.
Beyond the mic
With talent in abundance, it is difficult to imagine what more Crain can possibly do, aside from reap some of the attention she deserves, but the Shawnee native has plans beyond just recording.
"Right now, I just want to play these new songs for people as much as possible," she said in the midst of a recent European tour to support the new album. "Then I'll get to work on the next album. All I ever expect for myself is to keep making albums. The rest is all extra I feel fortunate to do."
Last year, she started working with other artists to produce their albums. It is a natural extension of who Crain is; she is, after all, someone who makes music. One of those artists was local singer/songwriter Kierston White. Crain produced her 2014 project Don't Write Love Songs.
"Samantha is absolutely brilliant as a producer," White said. "She devours records unlike anyone I've ever seen. She dissects what makes a record flow, what makes it unique, what makes it tell a story. You can hear all of that in her new record, too."
Crain said she has not begun writing for her next project but she is toying with another idea.
"I've been playing around with the idea of an album that coincides with a play that I've written," she said. "I'm not sure how that would come together, but I have been thinking about it."
That she is considering quirky, creative outlets for her music should come as no surprise given that she started with a musical novella. That orientation to music and creativity is just who she is.
"I've always wanted to take a page from Neil Young's book and really not try to emulate anyone," Crain said. "The reason he is Neil Young is because he moves at his own pace, says what he wants, plays the type of music he wants. So I do not wish to emulate anyone."
So far, so good.
You can catch Crain live this Thursday night during her album release show with Tallows and Tequilla Songbirds. The doors open at 8 p.m., and the show starts at 9 p.m. at the Opolis, 113 N. Crawford Ave., in Norman. Tickets are $10 and can be purchased at ticketstorm.com.
Print headline: Ethereal entity, With a new album coming out, Samantha Crain works hard to make her own way.