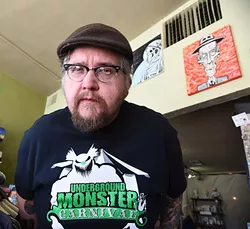 Mark Hancock
Art Sunday thinks you should be scared to come to the Underground Monster Carnival, 2-17-16.
In Art Sunday's experience, a monster festival can become too bloody monstrous.
With the fifth annual Underground Monster Carnival, Sunday said his philosophy is to ensure that fans of horror, sci-fi, fantasy, comics, anime and multiple subgenres have a place at the table, but never let it get so huge that it becomes impersonal.
"We try to keep this as local as we can," said Sunday, who owns urban horror curio store Dig It! in the Plaza District with his wife, Stephanie. "With the Internet, you can get anything you want, but you can't get as much handmade, local stuff."
This includes firsthand, local knowledge about art, film and pop culture.
"So if someone wants to become a writer, an author from Enid can tell them how to do it, or if a young girl wants to learn how to make chain mail, she doesn't have to leave Oklahoma to meet someone who can teach her," he said.
The Sundays designed their cosplay-enriched fun-fest, which runs 1-9 p.m. March 5 in the Hobbies Arts and Crafts Building at State Fair Park, 3001 General Pershing Blvd., as the kind of family-friendly event in which Dad cosplays as Deadpool and he pilots an SUV with Sailor Moon, Amy Pond from Doctor Who and Ash from The Evil Dead.
Turnpike transfer
Underground Monster Carnival started in Tulsa as Underground Horror Fest, and Sunday noticed that a huge number of attendees and exhibitors came in from the Oklahoma City area, prompting the couple to relocate, rethink and retool the event.
In its earliest incarnation, Sunday focused on handcrafted horror items and promoted the carnival as a chance for like-minded horror fans to celebrate their obsessions, but then all kinds of special interests emerged to join the horde. These included live action role-players, furries, steampunks and a large population of science fiction enthusiasts. To engage with all parties, Sunday changed "horror" to "monster" in the event name, covering greater expanses of the nerd universe and keeping things more fun and less phantasmagoric.
"It's funny, because in Tulsa, the word 'horror' would get me no interviews," he said. "People would say, 'Horror? Is this going to be all bloody with zombies?' Of course, this was before The Walking Dead made zombies popular."
The result is an inclusive event at which interesting cultural obsessions receive respect and experts guide neophytes into immersive role-playing and deeper knowledge.
Experts include Dave Richmond, a makeup effects artist who studied under Dawn of the Dead and Creepshow legend Tom Savini; ceramic corset designer Nicole Moan; the staff of New World Comics; and John Ferguson, the legendary WKY announcer best known as horror show host Count Gregore.
In addition, Underground Monster Carnival features panel discussions by local experts in the culture. Film critics Patrick Crain, Eric King and Louis Fowler host Horror Films: A Critical Eye, a deep dive into the genre.
While there is a popular misconception that critics do not respect horror, panel co-hosts examine how filmmaking mastery can result in deep critical appreciation, from Tobe Hooper's The Texas Chain Saw Massacre to Robert Eggers' The Witch.
For those in need of expert assistance in their cosplay, Ashley Shadowheart and The Shinigami Chick return to host their popular Costuming 101 panel, in which they demystify the art of designing the perfect Daredevil gear or fashioning elven ears. The panel includes discussions on proper measuring and how to turn an intimidating Singer sewing machine into a magical cosplay implement.
Participate, observe
No matter what their preferred genre might be, a controlling majority of Underground Monster Carnival attendees come dressed as their favorite characters.
But this is a participatory event where observers are still welcome.
"There might be 400 people who aren't cosplaying and are just walking around, looking and taking photos, but there might be 2,000 or more people there," Sunday said.
Cosplay thrives in an accepting environment, a place where Adventure Time or Gravity Falls is just as valid as Game of Thrones or Guardians of the Galaxy.
Sunday said his carnival encourages all experimentation.
"You might see someone wearing the best Captain America costume you've ever seen and then discover that there's a woman behind the mask," he said. "And that's cool."
Sunday said it's not uncommon for people to wait until they're in their 30s or beyond to attend an event like this, which can be a liberating experience.
"But for young kids, the advantage is that they get to meet these adults and realize that they can write books and draw and create," he said.
Print Headline: Monster mash-up, Art Sunday's creation celebrates its fifth birthday with furry beasts and super creeps.