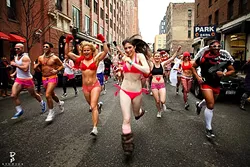 The thought of several hundred people stripping down to their skivvies to run a mile in February in Oklahoma is hard for some to fathom, even if it is for a good cause.
However, with some help, Ryan Doonkeen is making it a (potentially chilly) reality by heading up the City's inaugural Cupid's Undie Run on Valentine's Day at Wormy Dog Saloon in Bricktown, 311 E. Sheridan Ave.
Doonkeen said he learned about the program and was inspired to start up an local version during a trip to Colorado last July, where he met more than 60 passionate, pantsless people who told stories about Children's Tumor Foundation (CTF), the research group that sponsors the run.
These folks in Colorado ran to raise money to fight neurofibromatosis (NF), a set of genetic disorders that causes the growth of tumors anywhere on or in the body, including along various types of nervous tissues.
Doonkeen said his motivation for this risqué event wasn't to rankle locals' sensibilities "I surprisingly ran into little pushback from anyone in Oklahoma City," Doonkeen said.
Doonkeen was more thrown by the effects of NF than the by the thought of hundreds of fellow Okies getting loose and running outside in the middle of winter.
"At the training week for race directors, I met many that were affected by NF, including several that had it themselves," Doonkeen said.
"To hear stories of surgery after surgery, not knowing if doctors got the entire tumor this round, it all overwhelms you and you can't help but want to be involved someday, somehow in ending this fight for so many."
Rarity
Meanwhile, Mannford residents Joe Newby and Jennifer Lawson-Newby have had their hands full since 2008, when Jennifer gave birth to quadruplet boys — Wyatt, Allen, Logan and Cooper — a feat that hadn't happened here since the 1940s. And Allen, Logan and Cooper are identical.
Jennifer said Allen and Cooper looked so much alike at birth that she painted their toenails different colors to tell them apart. But Logan didn't need nail polish because he had what everyone thought was a birthmark.
But at the boys' nine-month checkup, their pediatrician told Joe and Jennifer that Logan's birthmark was actually a café au lait spot, a light-brown birthmark that is a possible precursor for NF, and they were monitoring the boys for similar spots and the potential of testing positive for the disorder. Further tests and a specialist's diagnosis confirmed suspicions: Wyatt was NF-free, but his three brothers had it.
Jennifer said the boys' neurologist laid out the risks, including how NF might impact their cognitive development, speech, sight or hearing. With this shocking news, however, she remained diligent.
"I will not be one of those parents that goes 'off the deep end,'" she said.
Jumping off
However, Oct. 17, 2013, was the day she said everything changed. During a round of routine MRI scans for the identical boys — they get them every six months — doctors discovered Allen had a brain tumor.
Jennifer said she then "became one of those parents." She joined an NF support group in nearby Tulsa, reached out to other NF families and went full-tilt in helping raise money for CTF. Folks from their local church prepared bread, jam and cheesecakes to sell at an NF run in Tulsa.
Jennifer said she and her family don't ask for money or sympathy from others but instead channel their energy and emotion into making others' lives better.
"We just show up and do," she said. "We don't ask permission; we just show up and walk the walk.
Six months after the diagnosis, however, an MRI showed Allen's tumor was gone, a "miracle" Jennifer and Joe attribute to countless prayers on their behalf.
Silly serendipity
Also, that Tulsa CTF event last May put Jennifer in touch with officials from Cupid's Undie Run Association, who wanted to make the boys their featured "Little Heroes" for the inaugural OKC run.
Joe and Jennifer accepted the offer and then told their boys about the run. The rough-and-tumble five-year-olds now say Cupid's Undie Run participants are "being silly" by running in their underwear and raising money "for sick kids and for doctors to be smarter."
Doonkeen had high praise for the Newby family. He clearly sees the silliness the boys see in this run.
"Four hundred people in a bar, in their underwear, taking the streets of Oklahoma City, literally fundraising their pants off ... I can't wait for everyone to come out and have a great time for a great cause," he said.
The Cupid's Undie Run pre-run event is at noon, and the run begins at 2 p.m. Visit cupidsundierun.com.
Print headline: Brief run, Uninhibited Oklahomans make a dash for this national charity event.