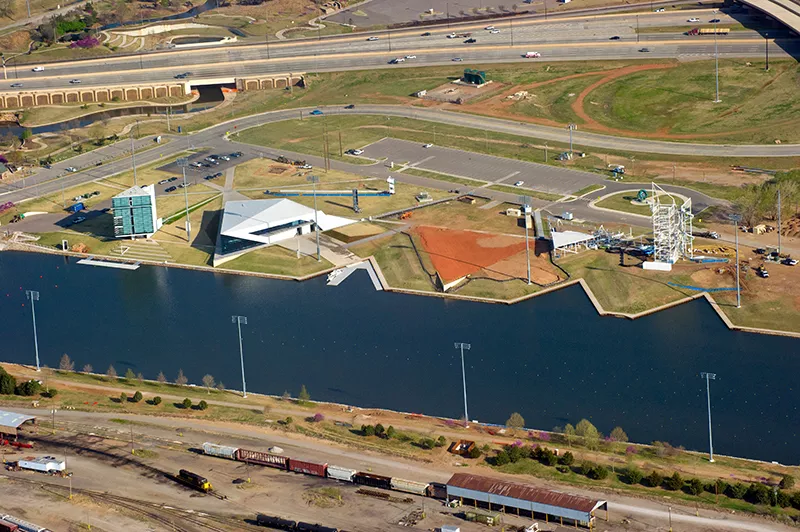 Shannon Cornman
The Boathouse District in OKC has America's tallest slide and an 80-foot free fall for adventure seekers.
There is always something to see or experience in Oklahoma City. From restaurants on the north side to movies and live music on the south side, our sprawling metro has Easter eggs for everyone in each district. So, venture into an area you rarely go, meet new people, see new sights and experience each district's unique offerings.
Automobile Alley
Originally the location of Oklahoma City's bustling car dealerships, the area now houses upscale eateries and shops. Red PrimeSteak, 504 N. Broadway Ave., is ensconced in an original Buick showroom. Order the jumbo shrimp cocktail with the smoked jalapeño cocktail sauce. Then dive in to the "40-day" dry-aged, 18-ounce bone-in strip steak topped with a cracked pepper crust and homemade Worcestershire sauce. Steak heaven.
Plaza District
The Plaza District is an area in which you can people-watch and visit funky shops, galleries and outdoor cafes. Stop by Urban Wineworks, 1749 NW 16th St., for some locally made wine and truffle bacon mac and cheese, and purchase a Damn Fine Wine T-shirt. Order the Mourvèdre; you will be at your coolest just pronouncing it.
Mesta Park and Heritage Hills
Visit the historic Chateauesque-style Overholser Mansion, 405 NW 15th St., built in 1903. Home of Oklahoma businessman Henry Overholser and his wife Anna, it contains all of the original family furnishings, including rare antique dolls and toys. Take an old-fashioned Sunday drive to see this district's beautiful architectural diversity. Or, better yet, park your car and take a stroll down the manicured sidewalks for the best view of the gorgeous homes.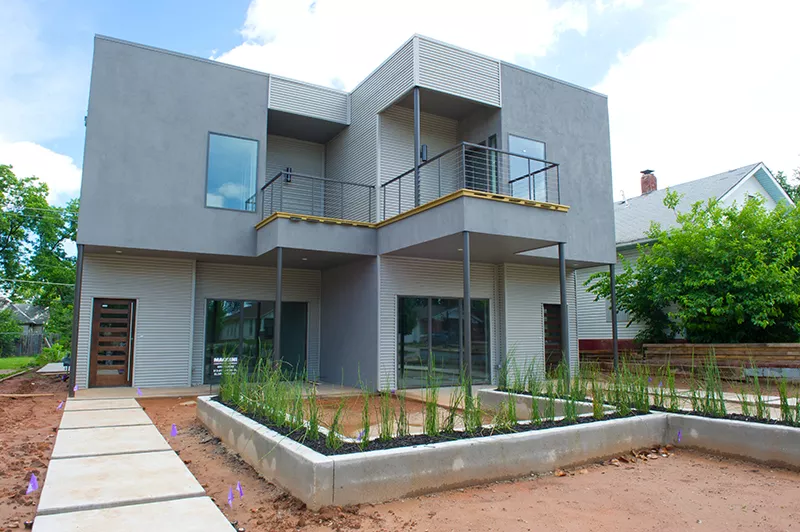 Shannon Cornman
813-815 Nw 8th sits a duplex with comtemporary architecture in the middle of old cottages.Photo/Shannon Cornman
Cottage District
Continue your old-fashioned Sunday drive to see some modern architecture in the Cottage District. Near Classen Blvd, Walker Avenue and NW Sixth and Ninth streets, the architecture here is fast-forward modern. These architectural delights include an assortment of cantilevered houses with large windows and decks. Discover the houses built at amusing angles — they might give you a few seconds of vertigo.
Deep Deuce
Urban Roots, 322 NE Second St., has its roots in the historically African-American, jazz-based Deep Deuce district. Featured recently on Food Network's Restaurant: Impossible, this eatery is housed in one of the area's last original buildings. With open mic poetry night on Tuesdays, improv on Wednesdays and live music on Fridays and Saturdays, you will want to go more than once a week.
The Arts District
See the luxurious orchids and other tropical plants at the popular Myriad Botanical Gardens, 301 W. Reno. Then stroll over to The Park House, 125 Ron Norick Blvd., and order a crisply chilled Chardonnay and the deviled eggs flight. These aren't your grandmother's deviled eggs; they're dressed up for a night on the town, with bacon and blue cheese, lump crab and goat cheese and pesto and mascarpone.
Film Row
During the 1920s and '30s, Film Row was host to film companies such as 20th Century Fox, Warner Brothers, Universal Studios, Metro-Goldwyn-Mayer and Paramount Pictures, and theater owners screened films for their theaters. Relive those days at The Paramount OKC, 701 W. Sheridan Ave., and become a member of The Screening Room. Membership provides access to movie screenings at the historic theater. Grab a sandwich and a beer or a glass of wine as you watch a movie at this "Reel Art, Wine & Coffee" venue.
Shannon Cornman
Pho Ca Dao has excellent Bun, a vermicelli salad bowl.
Asian District
When you see the historic Braum's milk bottle building on N. Classen Blvd., you're entering the Asian District, an enclave of Vietnamese, Chinese, Thai and Japanese restaurants. Stop in Pho Ca Dao, 2431 N. Classen Blvd., a delightful little Vietnamese cafe and the perfect place to sample some bun, or vermicelli salad bowls that can include grilled meat topped with fried shallots. Pho Ca Dao is also one of the few places in OKC where vegans can get their pho fix. Follow this up with a refreshing Saigon-style iced coffee.
The Paseo Arts District
Nestled among the Spanish revival stucco architecture is the historic Paseo Arts District. A must-do in the metro area is the First Friday gallery walk from 6-10 p.m. Galleries open their doors, offer refreshments and showcase their art. Grab a glass of wine and amble amongst the art, a perfect way to spend a Friday evening.
Crown Heights/Edgemere Heights District
Take an indulgent architectural drive through this district, replete with beautiful Tudor-style architecture. There's also Spanish-style with tile roofs; colonial revival; classic revival; and minimal traditional, a style developed in the 1930s with elements of colonial, Tudor and modern architecture.
Western Avenue Corridor
Antique and boutique shops dot Western Avenue, making it a fun Saturday destination for shopping and dining. You can find milagros (Latin-American religious folk charms), beautiful Mexican clothing, Día de los Muertas (Day of the Dead) items and stunningly beautiful Mexican ceramic folk art at Folk.Life, 4411 N. Western Ave.
39th Street Enclave District
This neighborhood features the LGBT- friendly Habana Inn, 2200 NW 40th St. Popular for more than 25 years, the complex includes the sophisticated Gushers restaurant and The Finishline bar.
Boathouse District
Tap into your adventurous side and slide down the 72-foot SandRidge Sky Slide — America's tallest slide — at the Boathouse District, 725 S. Lincoln Blvd. Want more? Try an uber-extreme jumping experience by climbing to the top of the SandRidge Sky Trail for a free-fall, 80-foot Rumble Drop. Don't forget to have someone on the ground take photos!
Capitol Hill
Drive by the colorful Los Arados Taqueria y Mariscos, 2812 S. Western Ave., in this predominantly Hispanic district — you are in Mexico for lunch, no passport necessary. The burrito mojado is a must-order; it's a burrito enchilada style with beef, rice, enchilada sauce, melted cheese, avocado and sour cream. Have a frosty Tecate beer Mexican-style, with lime and salt.
Stockyards City
Langston's Western Wear, 2224 Exchange Ave., has been a supplier of Western wear for generations, but it also has a ghostly past as a hotel. Legend has it there were two "ladies of the evening," sisters, and one was in love with a cowboy. Jealousy overcame the cowboy when discovered her illegal activity, and he shot her. Her grieving sister subsequently hung herself upstairs. Some still claim to hear footsteps from upstairs when no one is there.
Northwest Expressway/Belle Isle Corridor
There's something old-world tweedy about using the rolling ladders to browse the upper bookshelves at Full Circle Bookstore, 1900 Northwest Expressway. The independently owned shop has been around for more than 30 years and is a book-lover's treasure chest.
Quail Springs/Memorial Corridor
Grab your hiking boots and get back to nature on a 2.5-mile nature hike at Martin Park Nature Center, 5000 West Memorial Road. This picturesque 144-acre park is home to foxes, reptiles, deer, owls, armadillos and the occasional coyote. It's an easy place to get away from it all without driving all day.
Adventure District
Visit the National Cowboy & Western Heritage Museum, 1700 NE 63rd St., and spend some time in the Western Performer's Gallery, featuring memorabilia from Western films old and new.
Lincoln Terrace
This historic neighborhood showcases splendid homes and mansions built during the halcyon years of the 1920s. Well-known builder and developer G.A. Nichols created French, Spanish and colonial grand architecture, as well as the Dutch-colonial-style Oklahoma Governor's Mansion on NE 23rd Street, built in 1928. To tour the mansion, call 528-2020 for details.
Meridian Avenue "West End" Corridor
Visit the 99s Museum of Women Pilots, 4300 Amelia Earhart Road, on the grounds of Will Rogers World Airport. This museum covers history of women in aviation, including World War II pilots and women in the NASA space program.
Interstate 240 Corridor
Oklahoma City Community College, 7777 S. May Ave., has many attractions touring through its ever-expanding campus this semester. Enjoy a free screening of Oklahoma! through Sept. 1, or a live broadcast performance of Michael Feldman's Whad'Ya Know? See www.occc.edu for tickets and details.
Southeast
It's summer, time to place a "gone fishing" sign on your office door and head to Lake Stanley Draper, 8301 SE 104th St. for some fine fishing. Fish living in the lake include bass, catfish, trout and crappie. Licenses are sold on-site (a state license and a city permit are needed), in addition to bait, tackle and other fishing items.
Print headline:
Discovering OKC: Find places to eat, shop and hang out one district at a time.