Garett Fisbeck
Chicken fried eggs in Hatch in Oklahoma City, Oct. 18, 2016.
For a meal that gets more ubiquitous by the day, brunch is kind of boring.
Even as Saturday and Sunday morning texts grow increasingly desperate, begging friends to commit themselves to a bleary-eyed quasi breakfast on the town, many brunch menus seem like carbon copies of each other.
There's nothing wrong with eggs Benedict or huevos rancheros. In fact, there's so much not wrong with them that many restaurants open at 11 a.m. Sunday to serve them to hungry patrons along with a pitcher of mimosas or a bloody mary in a tall glass.
Were customers yawning because they are tired or just bored? Oklahoma City restaurateurs are bucking brunch trends with dishes that wake diners up with new flavors and innovative ingredients before getting them so full they need a nap.
Shell raiser
Hatch, 1101 N. Broadway Ave., is the newest eatery from Provision Concepts.
Located just north of another Provision eatery in the same building, Broadway 10 Bar & Chophouse, Hatch is a breakfast and lunch restaurant specializing in "early mood food."
Hatch doesn't shun the old favorites. There are a number of Benedicts available, from the classic with ham to Benedict Johnny with beer-braised pork, chipotle hollandaise, chorizo and red chili sauce over a griddled grit cake. And its pancake list is long and varied, including all sorts of sweet and savory toppings.
But the real innovation comes on the appetizers menu, where Hatch offers a starter of chicken-fried eggs.
Where chicken-fried steaks involve pounding a tasty cut of beef to a perfect, tender texture, this eye-catching preparation begins with de-shelled soft-boiled eggs dipped in batter and flash fried. The result is an egg with a golden crisp batter shell over firm egg white and a still-runny yolk. The dish comes with Cholula ranch and smoked cheddar hollandaise sauces on the side for dipping.
Love that yolk? Consider ordering an English muffin as a side to make sure none of it goes to waste.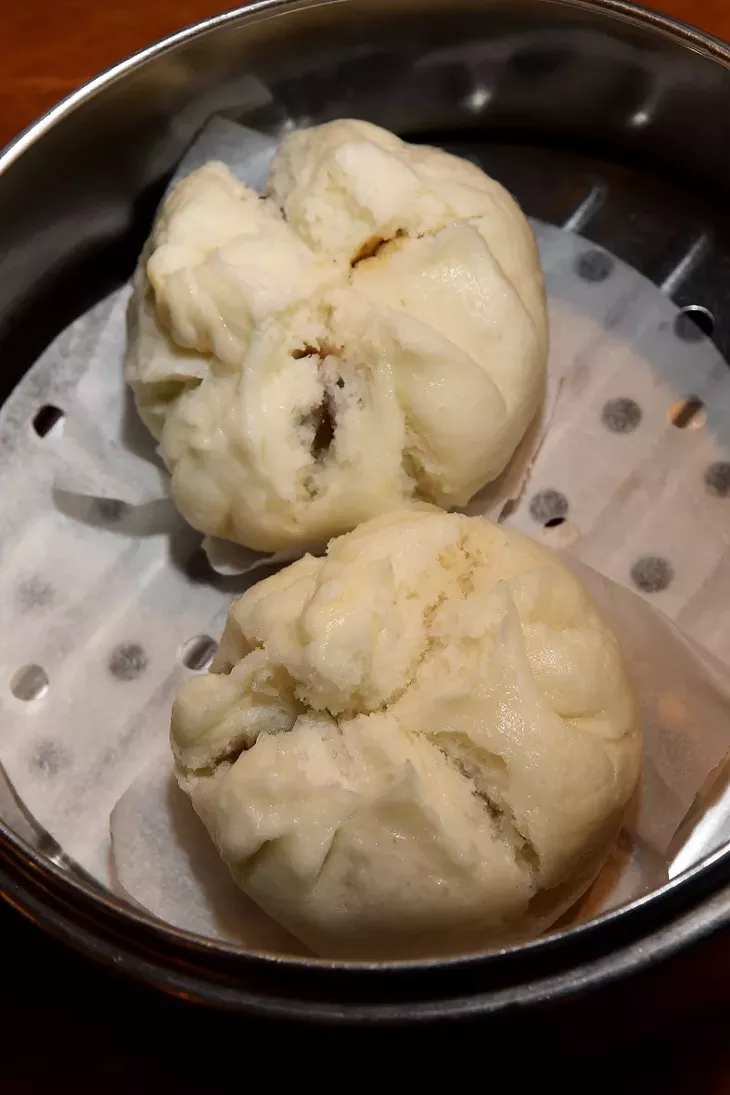 Barbecue pork bun from the dim sum menu, at Fung's Kitchen. mh
Asian persuasion
Is breakfast ever delivered to your table that looks nothing like how the menu described it? The solution to that problem is dim sum, a delightful meal of traditional Chinese small bites that customers order by pointing at the food as it comes by.
Two top spots for dim sum are Fung's Kitchen, 3321 N. Classen Blvd., and Grand House Asian Bistro, 2701 N. Classen Blvd. Served Saturday and Sunday mornings, the Chinese brunch features servers pushing carts covered in plates and steamer baskets.
Be sure to ask if it's hard to tell what the dish is. While curry squid and fried baby octopus are definitely different than the same old brunch, they might not be exactly what you're looking for.
A best bet is to look for savory steamed barbecue pork buns. The slightly chewy, steamed dough easily gives way for big bites of sweet roasted meat.
For another dish that's new to the local brunch game, Guernsey Park, 2418 N. Guernsey Ave., serves okonomiyaki. Pancakes are old hat for most breakfasts, but this savory Japanese version hides a surprise inside: a mix of cabbage, onions and bacon. The egg on top helps round out the dish's flavor by adding the rich, creamy taste of yolk to the mix.
Another traditional food with a twist is five-spice chicken and waffle, combining Guernsey's spicy take on fried chicken with the comfort of syrup and a waffle.
Sweet kick
Adding new toppings is a tried-and-true way to update a classic dish, but The Mule, 1630 N. Blackwelder Ave., starts by adding something new to the base of its candied bacon French toast: jalapeño cornbread.
Boring toast has no place in this dish, which uses the spicy bread as a staging ground for cinnamon whiskey syrup and red pepper candied bacon. It's the perfect pairing for chiliheads with a sweet tooth.
For a more savory option, The Mule also serves an FYDH (for your damn hangover) sandwich on Sunday mornings. A grilled sourdough sandwich is stuffed with creamy avocado and goat cheese, tangy pepperoncini, bacon and an over-easy egg.
Heat is also the watchword in Sunnyside Diner's, 916 NW Sixth St., Eggs in Purgatory. Three eggs are simmered in spicy marinara and topped with Parmesan cheese for an Italian twist on breakfast.
Use the Tuscan toast on the side to soak up more of that hot tomato-based sauce mixed with the delightfully fatty egg yolk.
The restaurant also serves a backwoods beauty of a hash, a dish traditionally made with chopped meat, potatoes and seasonings. Hillbilly Hash uses barbecue pork and sauce from Sunnyside's sister restaurant Hillbilly's, 1 NW Ninth St., with seasoned fried potatoes and a pair of freshly cooked eggs. The final product has a sweet and spicy flavor and is full of tender meat and starchy potatoes that are just as good at any other meal.
Think fast
For a truly thought-provoking early morning bite to eat, head to Cattlemen's Steakhouse, 1309 S. Agnew Ave., and ask yourself, If one is willing to eat a steak with eggs, does that extend to other parts of the cow?
Calf brains and eggs is a dish that is precisely what its name suggests. The staff scramble together gray matter with eggs for a dish that is easier to eat without thinking about what it is. The brains give the dish a slightly mineral taste, but that's easily palatable with a liberal application of hot sauce.
With delicious derivations on favorite brunch dishes popping up all over Oklahoma City, the question isn't if you're going to eat them, but if you can wait for the weekend to get here.
Print headline: Brunching out, Restaurants across the metro are breaking away from brunch basics to give customers a taste of the unexpected.