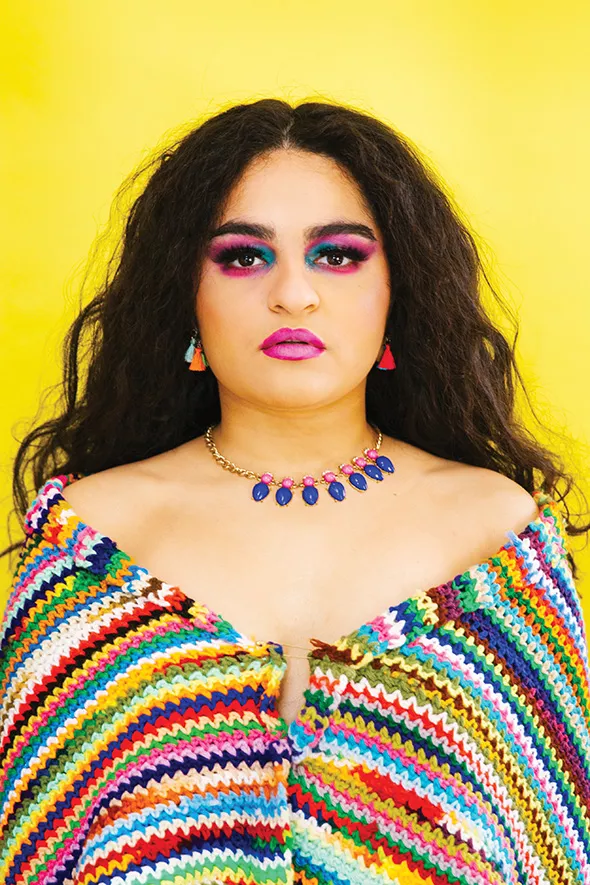 provided
Lincka celebrates the release of her new mini-album Blank Slate of Mind 10 p.m. Friday at Opolis.
Lincka
10 p.m. Friday
Opolis
113 N. Crawford Ave., Norman
opolis.org
405-230-0311
$10
After having a song featured on National Public Radio (NPR) and playing Washington, D.C.'s Kennedy Center, Lincka Elizondo is going wherever she pleases. Recording the follow-up to 2017's Para Ti — which included "Gardenias," listed alongside tracks by Marty Stuart, Beth Ditto and Shabazz Palaces on "NPR's Heavy Rotation: 10 Songs Public Radio Can't Stop Playing" — Elizondo said she initially worried about whether to release a full-length album or an EP until she figured out that she didn't have to conform to outdated industry models.
"I just recently started realizing that it could be whatever we want it to be," said Elizondo of Blank Slate of Mind, her new six-song "mini-album."
Elizondo, known professionally as Lincka, will celebrate the new release 10 p.m. Friday at Opolis, 113 N. Crawford Ave., in Norman with a concert that doubles as a kickoff for her upcoming tour. Her latest album marks an evolution in her creativity, the Oklahoma City-based artist said, but she is used to defying expectations.
"In choir class and things like that, I would always change up songs and put beats on them and stuff," Elizondo said, "and they would always tell me, 'You need to go by the rules. You're disrespecting this music. This is a formula you need to learn.'"
The album's name comes from the freedom she felt hearing the backing tracks created by producer Dan Ashford, who makes music under the name Rat F!nk.
"Our last few projects have been with our full band, but this time around, it was just him and I," Elizondo said. "Whenever those tracks were sent over to me and I heard them for the first time, it's a blank slate in the sense of like, 'I can go anywhere with this. I can write whatever I want on this beautifully produced track.' It was just so inspiring to be able to write on something that's already so beautiful, and it was a challenge because I wanted to make sure my lyricism and my melodies match the quality of the sound of the instrumentation and the samples."
Cultural identity
The expanded musical palette, which Elizondo said contains elements of house, inspired her to explore different lyrical themes, as well, but the topics of heritage and culture frequently discussed on Para Ti and last year's single "Chicana Baby" are still prevalent in her work.
"I'm always pretty open and unapologetic in the fact that I am Latina in all my music, not only just by singing and speaking Spanish, but also in the lyrics," Elizondo said. "I just feel so strongly about that. … Maybe a couple years from now, I'll be wanting to write about something else, but it always ends up being a part of my lyrics. It's just who I am, my identity, I guess I should say. I just always seem to talk about it. I don't know if that's because of the fact that I live here in Oklahoma, but sometimes I feel like I just have to be outwardly vocal about who I am and where I come from and my story … because in Mexico, I'm not Mexican. I'm just a person. We're literally all just Mexican; it's not, like, a topic of conversation. … On this album, I did talk about my identity, but I had to also kind of pause and be like, 'Do I want this to devour every single song, every single word, every single lyric?' I want this message of identity, which is necessary and beautiful and really dope and all these things, but I don't always have to talk about that, so it was a balance this time around."
Though she has previously been reluctant to write love songs, Elizondo said she found new inspiration in the work and life of Juan Gabriel, the acclaimed singer and immigrant rights activist known for his flamboyant style who famously answered a question about his sexuality with "Lo que se ve no se pregunta" ("Don't ask about something that is obvious").
"He was a Mexican singer and icon," Elizondo said. "In those times, he was extremely controversial, especially in Mexico. It's like, so much machismo, but nobody could deny his talent. Nobody can deny how iconic and legendary he was. … He was a very loving person, extremely loving in his music, an incredible songwriter, and he just oozed out love in every performance that he did. So I definitely thought about that, writing a song about love, because love can come in many different ways."
As a songwriter, Elizondo said she wants to incorporate socially conscious lyrics into pop music without forsaking the dance floor to climb on a soapbox.
"The challenge for me has been, How can I integrate what people call the politically charged topics in my music without sounding preachy?" Elizondo said. "I always go back to those classics by Bob Marley or Marvin Gaye. They never sounded preachy, but they found a way to talk about what people were going through, and all kinds of people listen to the music because it's really good."
New traditions
Elizondo, who grew up listening to her grandfather sing traditional Mexican folk songs and play classical guitar "on a good day, whenever his fingers don't hurt," said she has always wanted her music to have a coherent meaning.
"Something that I really admired from that music is that, from beginning to end, there is a full-blown story with a bow on it," she said. "It's just the most eloquently written kind of story. I mean, that's really difficult to do, I think. I find difficulty in completing the message. That's hard for me because I think a lot of the time, our generation, we're just there for the vibes."
She initially drew comparisons to Norah Jones and Amy Winehouse by singing entirely in English because she did not "want to make anybody feel uncomfortable," but she discovered her bilingual background allows her to deliver her message in a hybrid "Spanglish" that poses a creative challenge but allows her to reach a larger audience.
"Some things are just better said in Spanish, or some things are better said in English," she said. "Some words in Spanish are just so beautiful and can be so rhythmic that sometimes, I'm like, 'I need to say this word just because it's so beautiful.'"
She occasionally consults her family members who live in Mexico about dialect and word choices. She deeply respects the musical tradition she came from, but she wants to find her own path moving forward.
"I think my dad and my grandpa were the ones that sparked that curiosity in writing music and singing. That's just always been kind of a part of our family," Elizondo said. "But there's like a stereotype that if you're a Mexican singer, it's mariachi, you know? And that's dope, but there's so many different kinds of artists, and I really want to be one of those different kinds of artists."
Admission is $10. Visit opolis.org.