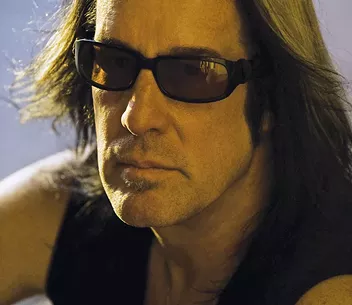 provided
An Unpredictable Evening With Todd Rundgren begins 8 p.m. Sept. 27 at Tower Theatre.
Todd Rundgren's massive discography contains certified hits, cult oddities and classic rock anthems, and when he takes the stage in Oklahoma City on Sept. 27, he might play any or none of them. It's not billed as An Unpredictable Evening With Todd Rundgren for nothing.
"I guess there are still a couple of fans out there who come with expectations and could potentially leave disappointed," Rundgren said, "but I've tried to condition the audience over the years to not have those kinds of expectations. I will make a best attempt to play at least a few songs that I'm pretty sure everybody would recognize, and some nights I might actually play that song that somebody's hoping for, but I would not want to guarantee on any particular night what exactly we would play. … It may not contain the material that everybody expects from the '70s or whatever."
The audience can expect to hear something/anything, but not necessarily anything from Something/Anything?, Rundgren's 1972 critical and commercial breakthrough. Released after two albums of well-constructed pop earning comparisons to Carole King and Paul McCartney, the gold-selling double LP features Rundgren on every instrument for three sides of immaculate ballads ("I Saw the Light"), high-octane rockers ("Little Red Lights") and studio experiments ("The Night the Carousel Burnt Down") while side four finds him leading a full band through a Top 5 Billboard hit ("Hello It's Me") an ode to "gross-out king" "Piss Aaron" and an extended STD pun disguised as a torch song ("You Left Me Sore"). If Rundgren is going to play any of these songs at Tower Theatre, 425 NW 23rd St., he probably doesn't know it yet.
"We don't know which songs we're going to play, and we don't know what order we're going to play them in," Rundgren said. "I give the band the first song, and then after that, we're pulling music off of a list of about 60 or 70 songs. So it's never the same set from night to night. I'll play familiar songs every night, but we also play material with which we're pretty sure the audience is not at all familiar, or at least they haven't heard it in a very long time. … It's an opportunity to kind of go off the usual map and stick in some material that was interesting to me or curious to me or iconic in some way or another but was not being performed anymore."
Rundgren followed Something/Anything? with 1973's A Wizard, A True Star, a psychedelic song collage sequencing Motown mashups and Broadway showtunes alongside proto-metal freakouts and acid-soaked soft rock. Releases in years since include a novelty hit (1982's "Bang the Drum All Day"), an instrument-less exercise in electronic sound manipulation (1985's A Cappella) and, more recently, explorations into EDM and hip-hop-inspired territory. Samples of Rundgren's work can be heard throughout the catalog of iconic producer J Dilla as well as songs by Frank Ocean, Fetty Wop, Royce da 5'9", Ty Dolla $ign, Hot Chip and Neon Indian.
His most recent release, 2017's White Knight, features a long list of guest stars such as Daryl Hall, Donald Fagen, Trent Reznor and Robyn, but Rundgren said some songs still might make an appearance at the Sept. 27 show.
"We, of course, chose mostly the ones where I was the lead singer," he said. "We can and possibly will play [them] in an Unpredictable show, but I couldn't guarantee it 'cause it's unpredictable."
According to crowdsourced archive site setlist.fm, recent Unpredictable Evenings have included covers of songs by Johnny Cash ("Dirty Old Egg-Suckin' Dog") Weezer ("Hash Pipe") and Tony Bennett ("Are You Havin' Any Fun?") alongside Rundgren's hits and fan favorites.
Rundgren — who also famously produced classic albums by The Band, New York Dolls, Meat Loaf, XTC and The Psychedelic Furs — played the role of a monkey's father on The Lemon Twigs' Go to School, released in August. The revivalist rock opera, recorded by brothers Michael and Brian D'Addario in their parents' basement, also features Big Star drummer Jody Stephens and Susan Hall, the Twigs' mother.
"They're really young kids, so I'm not really sure how they discovered me," Rundgren said. "They tend to draw their influences more from the '70s and '60s than they do from anything contemporary, so I think that's part of it … but I did get invited to sit in with them at Coachella last year. That was fun."
Programming music
This spring, Rundgren revisited his own catalog when he reunited with his prog-rock band, Utopia, for a North American tour.
"Since that was a band retrospective, I had to relearn stuff from the early '70s all the way into the '80s because the band went through so many changes," Rundgren said. "So I did have to go back and re-listen to a bunch of old music, but it was really for the purposes of playing it again."
To recreate the elaborate video backgrounds for Utopia's stage show, Rundgren also had to update his knowledge of computer-graphics programming. There's a clear connection between programming computers and playing music, Rundgren said, but the likeness is limited in at least one key way.
"I used to hang out in Silicon Valley at hackers' conferences and Apple computer and some of the other bigger companies down there," Rundgren said. "I discovered that actually many of the programmers are aspiring musicians or they play a musical instrument of some kind, so it became pretty obvious that there's something about music and computer coding that appeals to the mind in similar ways. They're not exactly the same because you can make a song work a number of different ways, but when you're programming computers, there's only certain avenues you can take or else things don't work at all. So it's a particular kind of problem solving that you don't often find in music."
While Rundgren is often credited for his innovation, he said he only adopts new technology when it seems necessary.
"It was never the technology itself, per se," Rundgren said. "I never picked up anything simply because it was the latest technology … I think the difference between me and, perhaps, some other people is it's not so much a fascination with technology as a comfort level. I'm not intimidated by new things. I don't mind reading the manual to find out. A lot of people don't want to read user's manuals and stuff, but I don't mind learning about how to use the particular thing or exploring the possibilities that may not be obvious at first."
Visit towertheatreokc.com.