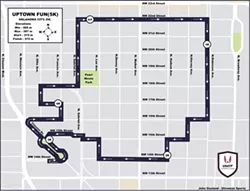 John
The Uptown Funk(5)K run will encircle much of Mesta Park, which is partnering with Uptown 23rd for the race. (Uptown 23rd District / provided)
Oklahoma City runners will be able to try out a scenic new course this fall in Uptown 23rd District Association's inaugural Uptown Fun(5)K run.
The race's route winds through the tree-lined streets of historic Mesta Park and Heritage Hills and along Perle Mesta Park. Its start and finish line is located at NW 22nd Street and Shartel Avenue.
The race is USA Track & Field-certified and chip-timed by Precision Timing Solutions.
The run kicks off 10 a.m. Sunday. After the run, participants can enjoy a brunch special catered at Guyutes, 730 NW 23rd St., and join the festivities at Mesta Festa in the afternoon for a day chock-full of fun and local offerings in the Uptown area.
Amanda de la Torre, executive director of Uptown 23rd, said that the group is excited that a 5K is one of the district's new annual events.
"We have a lot of runners in our community," she explained, citing Oklahoma City University's well-respected athletics program. "This seemed like a natural extension of the work that we do."
Uptown 23rd is a nonprofit that promotes the revitalization of the NW 23rd Street corridor.
The organization hopes the 5K will become one of the district's major fundraising events, raising money to continue Uptown 23rd's revitalization work in the area.
Additionally, a portion of the proceeds goes to the Muscular Dystrophy Association, the district's charity partner.
Keeping it local
The Uptown Fun(5)K is truly a local event.
The race's organizers planned for the event to coincide with Mesta Festa, an afternoon-long celebration featuring food, games and music in Mesta Park.
5K participants have the option of purchasing a ticket to Mesta Festa's beer and wine garden with their race fees and are encouraged to join the party at Mesta Festa.
This is the first time Uptown 23rd, a commercial district, and Mesta Park, a residential district, are partnering on an event.
Torre called it "a fantastic collaboration" to bring the two groups together, especially since their communities are in such close contact.
"In the urban core of our district, they're our lifeblood, they're our customers, they're our neighbors," she said of Mesta Park's residents. "And as business owners in the district, we spend as much time in the area as they do, living there."
Anytime Fitness will be helping runners stretch before the race, COOP Ale Works is offering runners a complimentary beer after they hit the finish line and Guyutes is offering a brunch special for participants hoping to fuel up before heading to Mesta Festa's beer garden.
Torre explained that local talent is what makes the Uptown 23rd district so unique and vibrant.
"Local run, local neighborhood, local beer, local restaurant," she said. "We're very much into promoting Oklahoma City and the talent that is right here where we are."
print headline: Run Uptown, Uptown 23rd District hosts its inaugural 5K run.