Alexa Ace
Pan-seared scallops with Della Terra pappardelle
The void left on the far western side of Uptown 23rd District with the closing of Chae Modern Korean last April has been filled by Social Deck + Dining, where owners Jamie and Jordan Winteroth want to put an emphasis on local ingredients with eclectic menu items and everyday brunch.
The Winteroths are veterans in the restaurant industry but are living their dream of going out on their own. Jordan Winteroth cut his teeth in the industry with Ted's Escondido Café before going to Deep Fork Group, where he met Jamie. The couple went to A Good Egg Dining where Jordan Winteroth helped open both Republic Gastropub locations.
The couple purchased the building at 1933 NE 23rd St. from Daniel Chae in the middle of 2018 and opened Social at the end of December after adding an additional 20 seats inside the restaurant and 40 outside divided between two patios.
"We adore Daniel, and he was really sad to have to close Chae," Jamie Winteroth said. "What a cool way to honor that by buying it from a friend to make sure that it doesn't sit here empty and become something else that wouldn't have the same community impact."
Jordan Winteroth had experience opening a restaurant, but not from the ownership side. He leaned on Robert Black, former corporate chef with Good Egg who now does independent consulting with his wife and their company Springboard, to help design the menu.
"The kitchen didn't have a grill, and he told us that we can execute the menu without it," Jordan Winteroth said. "It's one of those things that we probably would've just bought because every kitchen I've worked in has had a grill."
Black worked with the Winteroths, who designed a menu inspired by their trips to the Pacific Northwest, under the mantra "simple food done well." The restaurant opens daily at 10 a.m. with everyday brunch service that trends to the lunch side but has plenty of breakfast items.
Alexa Ace
Chillaquiles at Social Deck + Dining
Each menu is divided into "let's share" appetizers and "it's all mine" entrees. The brunch menu includes the popular johnnycakes ($7) that are the restaurant's answer to pancakes — cornmeal fritters topped with "cowboy crack," candied jalapeños and served with fresh fruit.
The brunch menu includes familiar items like eggs Benedict with salmon cakes, chilaquiles ($12) and a Dutch baby ($8), but it also has Mediterranean-inspired baked eggs ($14), which are served with lamb kefta, a type of meatball.
"We love going to brunch, and there wasn't always the opportunity," Jordan Winteroth said. "The restaurants offering it are doing a great job and are crazy-busy. They're so busy that a lot of times you can't get in or it's an hour and half wait. We recognize there is still a need and opportunity for other businesses to open up to help get it out to the community."
The restaurant has a limited afternoon transition menu as the kitchen converts to dinner service in the evening. The dinner menu has plenty of international flair. The half chicken ($22) is served with tikka masala; the katsu sandu ($12) is pork cheek served with cabbage and tonkatsu sauce. Pan-seared scallops ($28) are served with local Della Terra pappardella and sweet peas, and the restaurant's answer to steak frites subs the traditional cut of steak with a slow-cooked short rib.
Chef de cuisine Kaci Messerly, formerly of The Pritchard, The George and Belle Kitchen, leads the kitchen on a day-to-day basis.
"It's our take on American fusion," Jamie Winteroth said. "It's international cuisine we've made an American way, so we've made it comfortable for people to try lamb kefta or katsu sandu."
They've partnered with local purveyors like Della Terra and Heritage Grains Bread Co. and will source as many items as possible locally.
"We're not trying to reinvent the wheel; new American cuisine has been around for a long time," Jamie Winteroth said. "We love this neighborhood. We've had people walk and scooter over here even on chilly days because they want something nicer than is offered around here. It's an untapped corner of Uptown 23rd."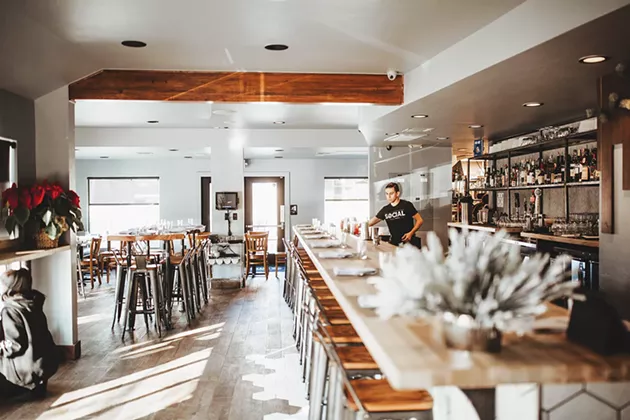 Alexa Ace
Seating inside Social Deck + Dining includes 20 additional seats than what was available at Chae Modern Korean.
Other top sellers in its first few weeks of operation include the ora king salmon ($28), which is a top-of-the-line offering from New Zealand and environmentally sustainable. The garlic shrimp is another favorite, as it comes served with a side of crispy Brussels sprouts with balsamic, lardons and cremini mushrooms. The Frites and Gravy is Social's take on the national dish of Canada — poutine — but replaces lukewarm cheese curds with a deep-fried variety.
The evening cocktail service is centered on classics like the Old Fashioned and the Club Social, but Social puts an emphasis on real ingredients like sugar instead of simple syrup. The breakfast cocktail selection has a lot of "bubbly," champagne and prosecco, coffee cocktails and mimosas. The restaurant uses the tagline "skillets and champagne" because many of the dishes are served in a skillet, like the cassoulet, which has three types of beans, chicken things, short ribs and bacon.
"We like to drink champagne because it makes every day a celebration," Jamie Winteroth said.
The dessert menu includes a wild blueberry cake doughnut, a dark chocolate pie with orange tequila crust, an ice cream sundae and a seasonal fruit crumble.
The Winteroths said they look forward to serving the community and while the building's parking space is limited, guests can park on the street after 6 p.m. They advised brunch customers to go to the back of the building for extra parking spots.
"We've had an outpouring of support on social media and every night have friends and family in," Jamie Winteroth said. "That's what it's about. We want to find ways to support the local school districts, the college and neighborhoods. We want to be here a long time."
Visit besocialokc.com.