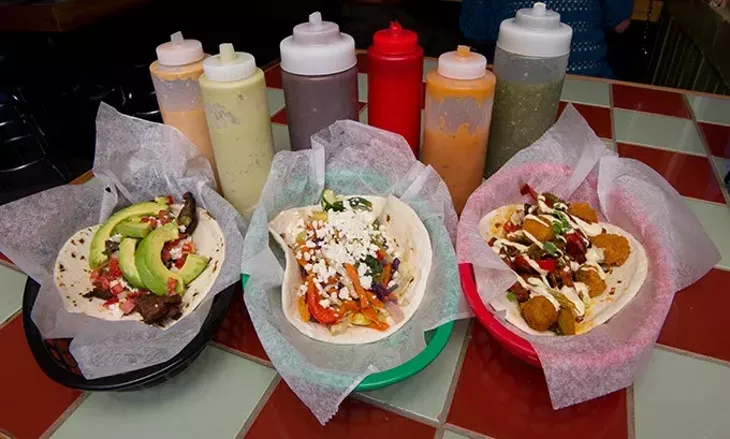 As cars and pickups whizzed by, Kathryn Mathis knew 23rd Street was where she needed to be.
"I remember watching traffic and thinking we'd be crazy if we didn't pick this place," said Mathis, who, with Cally Johnson and Chris Lower, started Big Truck Tacos on 23rd Street in 2009.
Six years later, 23rd Street is experiencing a renaissance, said Uptown 23rd Street Program Director Christina Chicoraske.
The group continues its support of neighborhood-friendly development with its second Uptown Uncorked fundraiser April 2 at Oklahoma History Center.
A food- and beverage-tasting event, Uptown Uncorked showcases the district's restaurants and merchants while raising money to support beautification and programming. The night also includes live music, a silent auction and a raffle.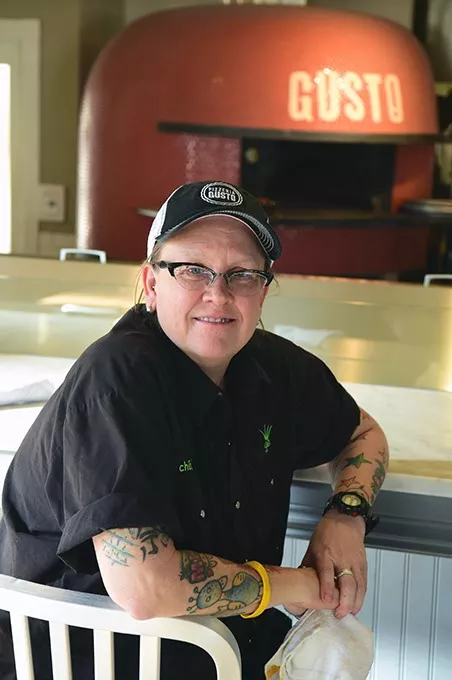 Participating businesses at the event include Byron's Liquor Warehouse, Back Door Barbecue, Big Truck Tacos, Cheever's Cafe, Cuppies & Joe, Guernsey Park, Mutts Amazing Hot Dogs, Nourished Food Co., Pizza23, Pizzeria Gusto, Raising Cane's, Thai House II and Tucker's Onion Burgers.
Matt Tilly, vice president of Gatewood Neighborhood Association, said in the three short years since he moved to the area, the change has been dramatic.
"Cheever's has been there for a while, but with all the new restaurants and now The Rise [shopping center] opening on 23rd, it's been an amazing change," he said. "I'm really excited about what [local real estate developer] Ben Sellers and his group are doing with the Tower Theatre to bring it back to life in the next year."
The spirit of renovation is mirrored in his neighborhood and others nearby, Tilly said. Dumpsters appear in driveways, and young families are moving in and renovating old homes and keeping the blood of the area pumping. "I don't know if it was people living here who drove demand for restaurants and retail or if having something to do here drives people to live here," Tilly said. "However it started, it's snowballing in a really positive way."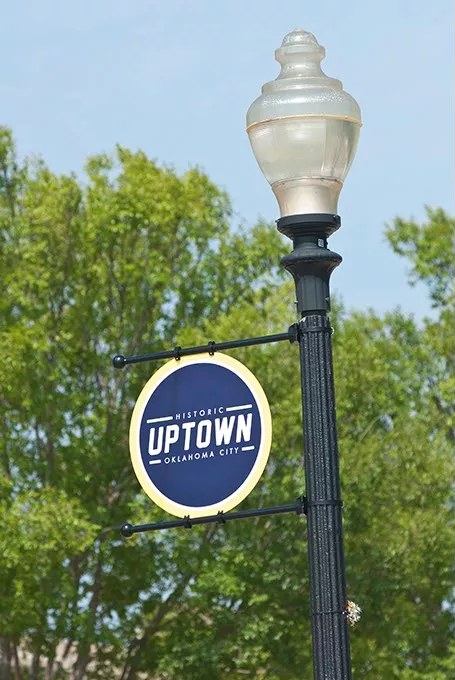 New signs marking the Historic Uptown district were unveiled along NW 23rd Street in Sept. of 2013. mh
Chicoraske agreed. In fact, Heritage Hills Historical Preservation Inc. is the presenting sponsor for the Uptown Uncorked fundraiser.
"We fully believe that with redevelopment in the district, our empty buildings filled, new buildings going up, it makes the neighborhoods safer," she said. "We want it to be more walkable as well. I have a dream of seeing people eating at Tucker's and walking across the street to The Rise for shopping."
Tilly said one reason Uptown 23rd seems poised for further success is its close working relationship with neighborhoods. Rather than fight with residents around them, the district has taken proactive steps to gain input and acceptance.
"They have representatives from every neighborhood that borders the district on their board," he said. "Anytime they have studies that affect the long-term future of 23rd Street, the board invites people from the neighborhoods to take part and discuss. It's a reciprocal thing. The neighborhoods want it to do well and vice versa."
Chicoraske said that's part of what Uptown Uncorked will do — make improvements that benefit everyone.
"In addition to funding events and programs, proceeds from this go to beautification efforts, like upkeep on the medians, which we maintain, and putting up identification signs through the district," she said. "We'd also like to put in pedestrian amenities like trash cans and benches, which will create a cohesive look."
Much like Western Avenue, Uptown 23rd is looking at incorporating public art projects, Chicoraske said. Also on the docket: raising funds to put up Christmas lights and other seasonal decorations throughout the year.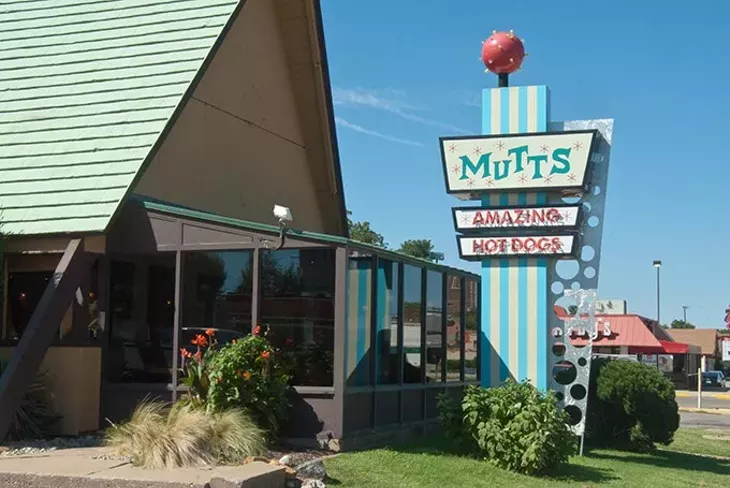 Mathis said the transformation has been breathtaking, not just from when Big Truck Tacos opened, but from her childhood.
"Chris [Lower] remembers it from ... a kid from the panhandle, I remembered 23rd Street as the place you went to shop before Penn Square and Quail Springs Mall started pulling people away. Now it's coming back. It's become the place to be again," she said.
"We absolutely love 23rd Street — what it was and what it is and where it's going in the future. It's really exciting."
---
Uptown Uncorked
6-7 p.m. April 2 (VIP)
7-10 p.m. April 2 (general admission)
Oklahoma History Center
800 Nazih Zuhdi Drive
uptown23rd.com/uptown-uncorked
522-5248
$40-$65
---
Silent auction items include
» An acoustic guitar signed by One Direction » Jim Beam electric guitar » Jack Daniel's guitar » Bacardi mini fridge » Pabst Blue Ribbon bike » Pabst Blue Ribbon cooler scooter » Cîroc golf bag » smoker cabinet » Sobieski pit barrel grill » small gas grill » coolers » Twisted Tea cornhole set
---
Print headline: Toasting 23rd, Uptown Uncorked celebrates more than great libations and edibles as the Uptown 23rd District continues to grow.