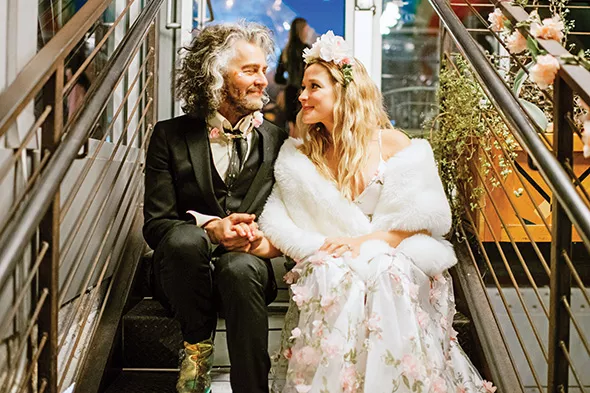 Katie Lane / provided
Katy Weaver and Wayne Coyne were wed Jan. 5 on the roof of Plenty Mercantile in downtown OKC.
Asking The Flaming Lips' Wayne Coyne a question he hasn't heard before seems almost impossible. He has collaborated with Yoko Ono and Kesha and played Madison Square Garden and Beverly Hills, 90210's Peach Pit in his more than 35-year career. But after he and Katy Weaver were married last month on the roof of Plenty Mercantile in downtown OKC, we saw an opportunity to ask newlywed Coyne relationship questions that aren't new but were hopefully new to him, taken from older interviews with other celebrities: Meghan Markle and Prince Harry, Elizabeth Taylor and Richard Burton.
Much like the Lips' music, Coyne's answers used an oddball concept as a launchpad for a multifaceted discussion of life, death, love and more. We discussed pregnancy tests, the Queen of England and the time he was held at gunpoint in an armed robbery while working at Long John Silver's. What follows is a very small portion of that conversation.
Oklahoma Gazette: Can we start with the proposal and the actual moment of your engagement? When did it happen? How did it happen? (taken from a BBC interview with Prince Harry and Meghan Markle, 2017)
Wayne Coyne: I believe Katy and I, we always thought that we would get married, and then her father died a year and a half ago. … It makes you think, "Oh, gosh." This family that we're building or whatever, it has a little bit more meaning to you, or it did to Katy. It started to mean more to Katy. And then, we were not trying to not, how would you say it? Before people take the pill and all that sort of stuff, you're saying, "We're not trying to get pregnant." Well, we weren't trying or not trying, and the second she got off the pill, she got pregnant. We kind of thought, "Well, that was part of the deal." That was a couple of days or a week or so, and we thought, "Well, let's see if that's real or whatever." You're kind of in a shock. … So on the way to Hawaii, we stop at — this is tabloid — Miley Cyrus' house, but she wasn't there; she was in somewhere. We spent the night there … and while we were in her big bathroom, we did a double test because we are starting to think, "Let's see if this is real." She took about 20, I think. ... It started to seem like that was really going to happen, and she started to have signs of that.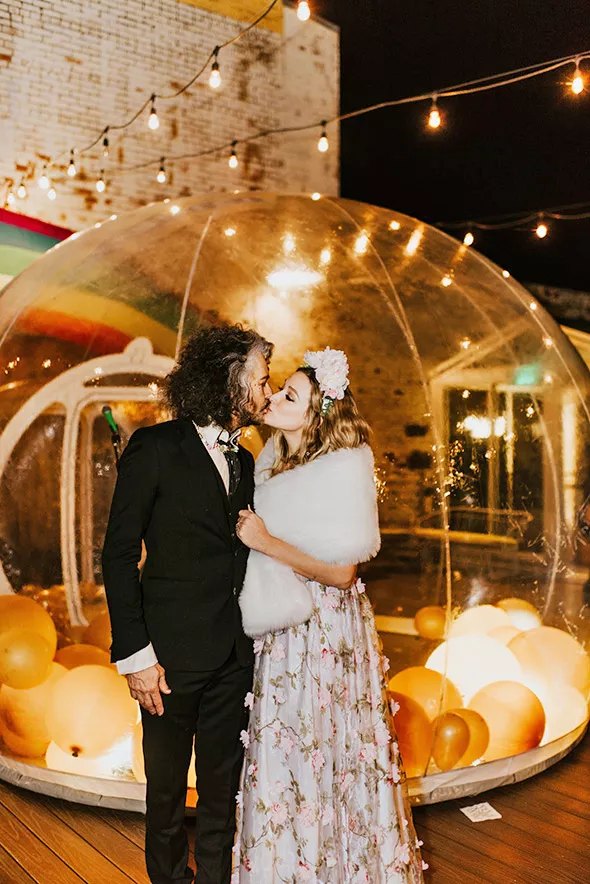 Katie Lane / provided
Coyne posted a wedding photo to his Instagram with the hashtag #ihavethegreatestlifethatcaneverbelivedandiamtheluckiesthumantoeverbeonearthmyfamilyisfirstmymusicissecondiamthird.
Then I just sort of pick a day in the Hawaiian Islands where I thought it could be a surprise and it could work. So it was quite exotic. There's a little area on the side of one of the beaches there called the Queen's Bath, and it's a rocky, romantic thing and water comes in and floods you. … It's big, jagged rocks and then a very powerful ocean full of turtles and dolphins. It's beautiful, but it's hazardous as well. I mean, luckily, we had been there a couple of times, so we kind of knew how not to get killed. And I knew that she really loved the place. We had a little bit of an internal ceremony for her father when we were there the year before because he had just died. So it had a kind of a deep meaning and a fun meaning and a romantic meaning. And it worked out that we were going to be there on a day, and the day was beautiful. And it just all came together. I very nervously picked some flowers and got a few things together. … Because, you know, you don't know. Nobody knows it's happening. Except for you. And, you know, you want the universe to cooperate. And you want it to be a surprise. … We were both on the same page. I was going to propose, and she was going to say, "Of course," or whatever, and then it did. It went well, yeah.
OKG: Have you met the queen?
Coyne: It depends on who you consider the queen. I mean, to some people, Miley Cyrus is the queen, so yeah, I've met her. Is that what you mean? No, you mean the Queen of England. … I've never met the queen, but I don't know if I will. I mean, I'm not trying to. I think if I wrote a letter every day and said, "It's my last dying wish," I'm sure, she would, but I'm not. … I don't want to make it seem like I've tried and failed or that she even knows that I exist. We're indifferent to each other.
OKG: You two are parents. What do you think about the problems of this modern world and all the changes that it's bringing to children? Is there something wrong with the younger generation? (60 Minutes interview with Elizabeth Taylor and Richard Burton, 1970)
Coyne: I'm always encouraging people to, "Do your thing. Do your thing." And while you're young, do your thing, because my life was kick-started. I was working in Long John Silver's, and I already had this wonderful life with my older brothers and my older sister and my parents, who were all great and encouraging and all that, but nothing kick-started my life like thinking I was going to get killed when I laid on the floor up there at the Long John Silver's on 30th [Street] and Classen [Boulevard]. I walked out of there, like, "Oh my god! I'm alive." I never realized that I was alive. ... I think that really helped me when I was young to say I wanted to play music. I wanted to do art. And I did, and I didn't really care what other people thought of it. … I do get annoyed some older people that just simply think they know everything and they have no energy. … What can you say? You can't even reason with them. They already know everything. They've already done everything. There's nothing new. Everything that happens is stupid now.