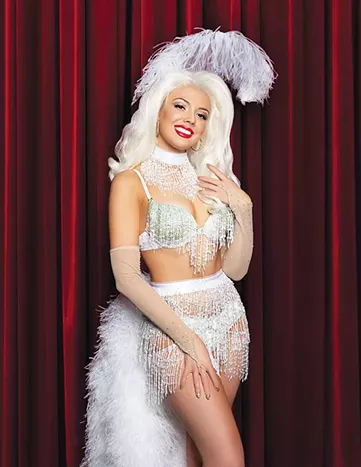 Carrie Strong / provided
Adèle Wolf's 7th Annual Valentine's Affair is Saturday at Oklahoma Contemporary Arts Center.
Celebrate the "good, the bad and the ugly of love and romance" with Valentine's Affair presented by Adèle Wolf's Burlesque and Variety Show 9 p.m. Saturday.
"We work hard to make our events inclusive for a diverse audience, and the Valentine's Affair is no different," Wolf said in an e-mail interview with Oklahoma Gazette. "We have many couples and groups of friends coming to enjoy a night out or celebrate a special occasion. We've even had a couple get engaged at one of our shows!"
Every burlesque show is different, Wolf said, but the focus of her show from the beginning has been to showcase the top talent in burlesque and variety entertainment.
Adèle Wolf / provided
Ayperi Al Jawahir from Aalim Dance Academy in Oklahoma City belly dances in Valentine's Affair.
"Our motto is, 'You don't have to go to Vegas to see an amazing showgirl revue!' because we believe that Oklahoma City deserves world-class entertainment," Wolf said. "Our rotating cast features entertainers from Absinthe Las Vegas, Dita Von Teese tours, the Burlesque Hall of Fame and more. All of our shows feature a variety of performance genres and styles ranging from classic to modern, always with a good dose of comedy."
Like each holiday production, Wolf said, the Valentine's show incorporates the holiday into its theme. But don't feel like you must be in love to enjoy a Valentine's show.
"Our Valentine's Affair in particular is a celebration of the good, the bad and the ugly of love and romance with something for everyone to relate to regardless of their sexual orientation or relationship status," Wolf said. "We will have burlesque, aerial arts, belly dance and hooping acts in addition to Valentine's-themed audience participation games, cocktails and a photo booth."
Bringing in well-regarded special guests is a noted aspect of Wolf's variety shows.
"This show, we have an international headliner, Sweetpea from Minneapolis, who has been performing burlesque for 15 years," Wolf said. "She has won more awards than I can count from the world's top competitions in our industry, including Most Dazzling and first runner-up for Miss Exotic World/Queen of Burlesque at the Burlesque Hall of Fame."
Other performers have backgrounds as aerialists, professional cheerleaders and belly dancers.
"We have aerialist Emma D'Lemma from Dallas whose choreographed works have been presented at the American College Dance Festival, the Burlesque Hall of Fame in Las Vegas, Club Méditerranée and The Petite Palace Circus Tent Show, to name a few," Wolf said. "And we have the award-winning Raven Rose from Hot Springs, who came to burlesque from professional cheerleading. I'll be performing as local support as well as Ayperi Al Jawahir from Aalim Dance Academy; their organization holds several major awards under their collective shimmy belts."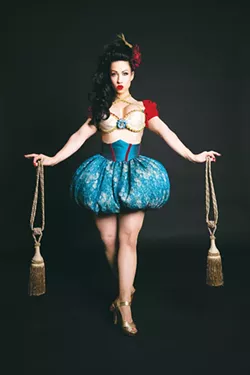 Dennis Driscoll / provided
Sweetpea, an internationally headlining burlesque dancer based in Minneapolis, has been performing burlesque for 15 years and performs in Valentine's Affair on Saturday.
Burlesque school
Special guest workshops are held Sunday at Oklahoma School of Burlesque, 2520 N. Meridian Ave., in conjunction with Valentine's Affair. Emma D'Lemma is offering a Splits Clinic, and Sweetpea is offering Floorwork for Burlesque.
Access to noted burlesque instructors in Oklahoma City wasn't available when Wolf first became interested in the art form.
"My interest in burlesque started much before the current revival really took hold. And by the time I started performing, there were still very few burlesque schools," Wolf said. "There certainly wasn't one in Oklahoma City, which is why I later founded the Oklahoma School of Burlesque. So I was mostly teaching myself from classic burlesque reels and The Burlesque Handbook by Jo Weldon."
Wolf began taking workshops on her travels, training with many top names; she now also teaches at many of the same institutions, including The New York School of Burlesque, the first neo-burlesque school in the world, founded by Weldon.
Adèle Wolf / provided
Raven Rose is an award-winning burlesque performer who began her career in burlesque after transitioning from professional cheerleading.
"That was such a dream to instruct there and really felt full-circle," Wolf said. "My personal style is very classic, with a specialty in 1940- to '60s-style burlesque, and I keep those Old Hollywood aesthetics and movement style whether I'm dancing to big band tunes from the era or to rock 'n' roll."
Rock 'n' roll is a main inspiration behind another upcoming show in Oklahoma City.
"After the show, I'll be popping back over to Berlin for some performances and production planning," Wolf said. "I'll be back just in time to debut a new production that reflects my love of rock 'n' roll and icons like Bowie at The Boom on March 22-23."
David Bowie has long been an influence of Wolf in ways that go beyond his music.
"David Bowie has been my idol since I was 6 years old, and I wouldn't be the person or the artist I am today without that influence. Although he is mostly known for his music, he was a true renaissance man with his hands in so many art forms, which I can greatly relate to as a multimedia artist myself: music, dance, theatre/film, visual arts," Wolf said. "His various experiences and training in performing and visual arts informed his music, live performances and aesthetic."
Much like Bowie was meticulously involved in every detail of his work from album covers to music videos and concert sets, Wolf said she is always trying to push herself to learn new skills and stay "very involved in every aspect of [her] production company, from the design of promotional materials, artistic direction and curation of the shows, to designing and often even fabricating set pieces [herself]."
Wolf said one particular Bowie quote reflects how he motivates her in her artistic life.
"One of my favorite quotes from Bowie in regards to being a working artist that can really summarize how I try to use his influence in my life is, 'If you feel safe in the area you're working in, you're not working in the right area. Always go a little further into the water than you feel you're capable of being in. Go a little bit out of your depth. And when you don't feel that your feet are quite touching the bottom, you're just about in the right place to do something exciting.'"
Also coming up later this year for Wolf is the seventh annual Oklahoma City Burlesque Festival June 21-22 at Tower Theatre.
Wolf said about 40 percent of the audience at her shows are regulars who attend multiple productions. But even if you've seen each show, the content changes each year.
"Every show is completely different than last, even within the same theme, as we have a different cast presenting acts that have never been seen in Oklahoma City," Wolf said. "Audiences always have a fresh experience to look forward to with us."
Visit adelewolf.com.