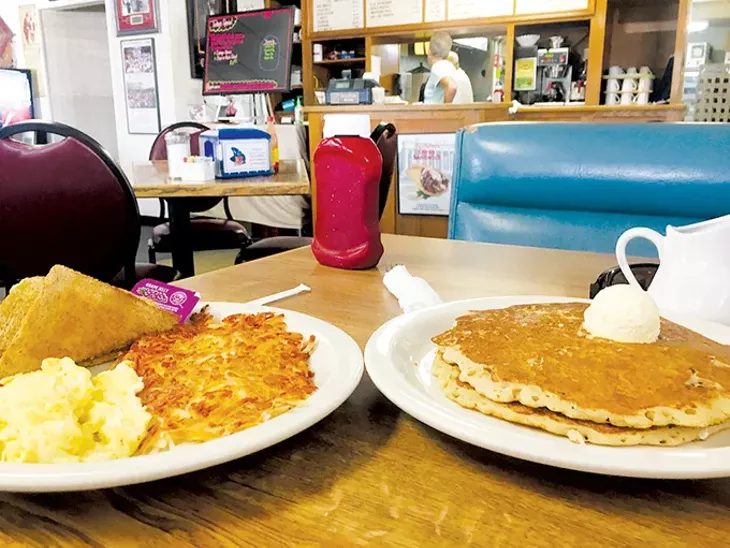 Jacob Threadgill
Pecan-filled pancakes are joined by excellent hash browns, eggs and toast.
We've probably all heard the adage "Don't judge a book by its cover" so many times that we judge anyone who uses it. I know I've been guilty of it in the past, but I kept thinking about it as it pertains to the venerable Choice Cafe, 5205 S. Shields Blvd.
The top comment on its Yelp page includes the dog-whistle statement from Matt M., describing its location as a "scary part of town" in a five-star review. It made me want to seek out the restaurant even more, especially when I realized that most of its Yelp reviews were extremely positive. The only ones below four stars were one placed by someone who meant to review a restaurant in Florida and a one-star review complaining that they haven't actually been able to eat there because of its hours.
For a restaurant that is only open 7 a.m.-3 p.m. weekdays, I understand the final complaint, but a user shouldn't try to impact a business' score just because it is a family restaurant that doesn't keep long hours.
Owner Saum (Sunny) Seraj is a former petroleum engineer-turned-cook who opened Choice Cafe in 1997. Sunny still dutifully mans the kitchen while an attentive waitress knows the name of regulars and will ask you what brought you in on your first visit.
Upon my first trip to the cafe, I didn't really understand the "scary part of town" comment. It's located on a busy thoroughfare next to Tyler Media's Outdoor Advertising firm and a large recreational facility filled with softball and soccer fields. I guess there were a few motels nearby that looked like they charged by the hour, but I managed to pull into the parking lot without having to dodge any solicitation.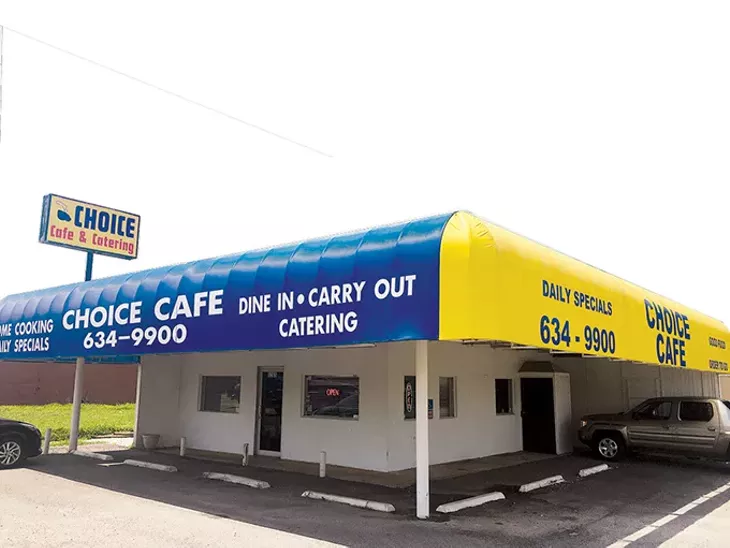 Jacob Threadgill
Choice Cafe is located at 5205 S. Shields Blvd.
With Choice Cafe's large blue-and-yellow awnings, I was expecting to find a restaurant that favored speed and convenience over a comfortable environment where customers could stay awhile and chat over an extra cup of coffee.
I couldn't have been more wrong. Choice Cafe is very clearly a converted house that features about eight booths on the walls and a few tables between them. The walls are lined with Oklahoma football memorabilia (Seraj is apparently a big Sooners fan), and it was a delightful way to spend a meal, especially since dining out has become so dominated by counter service and sleek décor.
A diner feels like a diner, but this felt like eating at a bed and breakfast or an estranged great aunt's house. Its menu is decidedly diner-esque. The breakfast menu (served all day) is centered on the classics. Pancakes are topped with whipped cream and powdered sugar and can have pecans or almonds added. A choice of two eggs can be joined by ham, bacon, sausage, corned beef hash and chicken-fried steak.
There are eight large omelets ($6.95-$7.95) that include Mediterranean (bell peppers, onion, mushrooms, tomatoes, black olives and feta), Spanish (jalapeños, onions, tomatoes, topped with cheese and served with salsa) and gyro (seasoned gyro meat, sautéed onions and fresh tomatoes covered in feta).
For lunch, the cafe offers five salads, a soup of the day and nine entrée platters featuring the usual suspects: hamburger steak, chicken-fried chicken and steak, grilled tilapia, fried shrimp and grilled chicken.
The menu gets slightly more adventurous on the second page by offering gyros in pita or as a platter and offering four kinds of stuffed baked potatoes.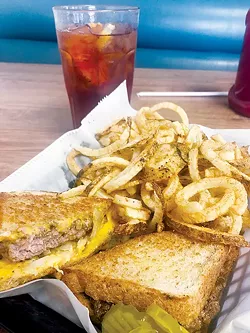 Jacob Threadgill
Fresh hamburger is the star of the patty melt, and fresh french fries are topped with seasoning salt.
As good as the gyro plate looked, I was drawn to the patty melt ($4.75, with fries for an additional $1.95). I was glad to see they used wheat bread rather than the (sometimes) traditional rye bread, which I think overpowers the burger with caraway seed as opposed to enhancing a Reuben sandwich.
I could immediately tell that the hamburger was fresh, not frozen, and the onions were cooked in some Worcestershire sauce for added flavor. I would've preferred the onions to be a little more caramelized, and it seemed as if the bread slices were toasted individually, rather than getting crispy on the flattop with butter like a grilled cheese.
The fresh burger at its price was a welcome treat, and the semi-curly fries were fresh and soft, but by no means soggy. They were doused in seasoning salt for extra kick.
During a morning visit to Choice Cafe, its relaxed and open floor plan promoted lively conversation between guests about the implementation of SQ788 without a special session. It showed that people were comfortable talking about anything.
I ordered a short stack ($3.50, plus 50 cents for pecans) and two scrambled eggs with toast, jelly and hash browns ($3.65). The pancakes were large and clearly not traditional buttermilk. They looked like buckwheat flour, but I couldn't get it confirmed from the waitress or kitchen. The pancakes weren't overly sweet, which was very nice, with a crispy edge.
The hash browns were hands-down the standout of my two meals. The hash browns were cooked on both sides to crisp the edges, and the fresh potatoes had almost a mashed potato quality on the interior. They were excellent, and it's worth a trip to the cafe for the hash browns alone.
Perception is something the restaurant is dealing with. The waitress told me that she has heard from many people who have driven down busy Shields Boulevard but have never thought to stop in for a meal.
I hope more people stop into Choice Cafe. It holds its own against other excellent diners like Ray's Cafe, Sherri's Diner and The Hungry Frog Restaurant.