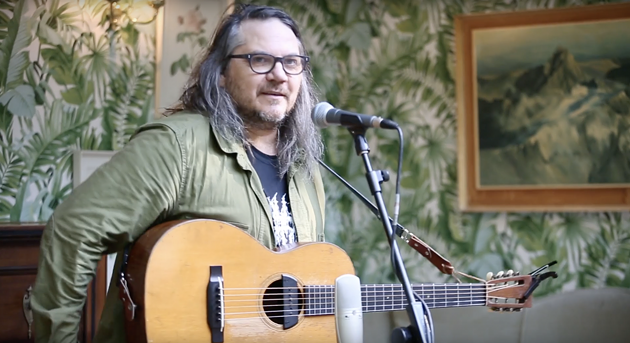 Wilcoworld.net / provided
Wilco singer/songwriter Jeff Tweedy will perform at The Auditorium at The Douglass in a March 2019 show produced by The Jones Assembly.
A partnership between The Jones Assembly and The Auditorium at The Douglass is set to bring Wilco's Jeff Tweedy to the former high school auditorium in March.
"I'm personally just an enormous Wilco fan, and we're, of course, always begging for a Wilco show to come to Oklahoma City," said Graham Colton, a partner at The Jones Assembly. "We were subsequently asked to put on a show for Jeff Tweedy. After some dialogue about the vibe of the event, we at The Jones Assembly had the idea to bring it to The Douglass. Even though we think The Jones would be a great environment also, we just thought it was a very picturesque, intimate space. … This one just felt like a perfect collaboration."
Tweedy, singer/songwriter for alt-rock act Wilco, is currently touring North America in support of
Warm
, which will be released Friday.
The Auditorium, 600 N. High Ave., once served as an assembly space for Frederick Douglass High School, an all-black high school opened in 1933, later renamed Page Woodson School. After the school closed in 1994, it sat vacant for nearly 20 years. The building was added to the National Register of Historic Places in 2007, and in 2017, 60 apartments were constructed in the former high school. According to a press release from The Social Order, a dining collective that includes The Jones Assembly, recent renovations to the auditorium's 723-seat performance space include installing a high-fidelity sound system and LED lighting on a stage that once hosted legendary musicians such as Charlie Christian and Duke Ellington as well as Olympic athletes and historic figures including Supreme Court Justice Thurgood Marshall.
Colton said he rediscovered the auditorium when Page Woodson won Urban Land Institute Oklahoma's Impact Award for Large Scale Rehab and Restoration in 2017, an honor for which The Jones Assembly was also nominated. Hosting Tweedy's show at the auditorium will offer "a great impression for Oklahoma City as a whole," he said.
"We have such a respect for that project and what it represents in our community," Colton said. "It just felt like a really great environment for this type of show — really intimate, all seated. … A place that historic and that beautiful always fills a niche. There's always a need for an amazing space like that."
While the concert is scheduled to take place March 1 at the auditorium, Colton said The Jones Assembly will be running the show, so concertgoers can anticipate similar accommodations to those at Jones.
"Guests can really expect the same experience that they get at The Jones Assembly … because we will be operating the entire venue that night," Colton said. "It's going to be really cool."
While no official business partnership between the venues has been announced, Colton said he would like to collaborate to bring similar shows to the auditorium in the future.
"I could see The Jones Assembly doing more things at The Douglass because it's a little bit of a different flavor," Colton said. "It's definitely a great space for the city for different types of acts and music. … Maybe the way to communicate it is The Jones Assembly is excited about the relationship that we've formed with the auditorium at The Douglass, and we look forward to bringing more stuff in there. We don't have a deal in place, and there's nothing formal, but we definitely support what they're doing, and we think it's important for our city to support great projects like Page Woodson and The Auditorium at the Douglass."
The Social Order / provided
The Auditorium at The Douglass served Frederick Douglass High School and was recently renovated as part of the Page Woodson restoration.