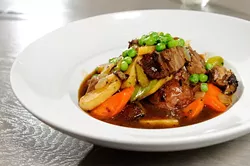 Garett Fisbeck
Beef bourguignon at Viceroy Grill in Oklahoma City, Tuesday, Jan. 20, 2015.
One perk of Oklahoma City's recent hotel revival is the introduction of that rarest of beasts: the worthwhile hotel restaurant.
Room service, however luxurious an idea, does not always mean that the price you pay will be matched by the quality of the food.
And sometimes, you pay a little extra just to eat at a fancy hotel, whether or not you get to nap there.
Which is why I was so pleased when I sat down in the intimate and comfortably posh Viceroy Grille in the Ambassador Hotel, 1200 N. Walker Ave. O Bar upstairs — try the apple flip — has many fans, but the ground-floor Viceroy remains a bit of a mystery, which is a shame because this menu deserves exploration.
For those on a budget, lunch prices are quite reasonable. The best place to start, especially if you've got a table to feed, is the house potato chips ($6). Some consider chips a banal indulgence, but freshly fried potatoes are an entirely other edible. These are delicate and crisp, lightly salted and pair wonderfully with sour cream and onion dipping sauce.
The Alaskan King Salmon Nugget Salad ($16) is light, fresh and mildly sweet. The salad itself is dressed in a lemon vinaigrette with a great crunch. The salmon pieces are each cooked perfectly — slightly rare and flaky — and glazed in maple bourbon sauce.
The roasted chicken pot pie ($13), with a unique and eye-catching appearance, is heavier and heartier. Similar to chicken stew, it includes tender peas and carrots and is topped with a big, buttery biscuit.
The beef bourguignon ($17) is incredibly filling. These are fall-apart chunks of beef cooked in a lovely sauce with sautéed peppers and served over slightly chewy spaetzle (dumplings). After a lunch like this, you'll definitely need a room in which to crash.
As a sandwich, I was pleased with the pork schnitzel ($11), which came on a soft bun and with plenty of breaded, buttery crunch. My personal favorite is still the wiener schnitzel at Ingrid's Kitchen, but this was a worthy competitor and quite satisfying.
The prices go up at dinner, but so do the portion sizes and the complexity of dishes. As a starter, I thought the pan-fried chicken livers ($12) tasted like home even though my mom never cooked chicken livers. These rich, tender bites melt on the tongue.
The grilled Caesar salad ($8) won me over with the addition of white anchovies ($3). The baby romaine lettuce held a good charred flavor, and the anchovies, which scare away too many, were mild and fresh.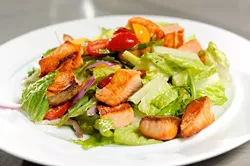 Garett Fisbeck
Salmon nugget salad at Viceroy Grill in Oklahoma City, Tuesday, Jan. 20, 2015.
I used to think all French onion soups ($9) were the same, but I've come to appreciate chefs who think not only about taste but also how the guest eats the meal. A version with too much or too heavy a cheese is nearly impossible to eat without making a mess. Onions that aren't cooked enough will slop out over a spoon and splash soup everywhere. The Viceroy's version was the best of both worlds — the soup itself was flavorful, and the onions were cooked to melting. On top, there was enough cheese to flavor the soup and the bread but not so much I had to dig through it with a shovel.
And here I'd like to talk a bit about the role of the server because he was invaluable to me during dinner. Whether it was suggesting a nice glass of wine on a budget or steering me toward a few of his favorite dishes, it was clear he took as much pride in the food coming out of the kitchen as the chef. A top-notch waiter can't replace great food, but he can create an experience that also lets you enjoy the meal.
For instance, I likely would have skipped the short rib sauerbraten ($34), had he not suggested it. What came out of the kitchen was more than I could have hoped for. The giant, meaty short ribs required only a gentle nudge of my fork to come away from the bone.
I am not one for sauerkraut, but if the Granny Smith apple and red cabbage kraut they served on this plate was the norm, I'd eat it on everything. It had a big, beefy flavor, chewy spaetzle underneath and a texture that disintegrated on the tongue. The slightly sweet, slightly sour flavor of the cabbage accentuated each bite.
For fans of a hearty sauce, the roasted chicken alla Puttanesca ($26) is a treat. While everything was cooked well, the olive-heavy sauce was a bit more pungent than I prefer. And, frankly, it suffered by comparison to the short rib. And, like the short rib, this chicken comes on-the-bone, so keep that in mind, weirdos who refuse to eat meat off bones.
Desserts are made fresh daily, and it shows. The berry tiramisu was not overly sweet, but the texture was spot-on — a bit of bite in the ladyfingers and a creamy texture throughout.
OKC has quickly become a place to visit, not just because your family is here but because there are so many things to do and see. And for those lucky travelers who bed down at the Ambassador, there's a wonderful restaurant hidden downstairs. For the rest of us, it's not so hidden anymore.
Print Headline: Found treasure, Viceroy Grille boasts intimate indulgences, from savory entrées to exceptional service.