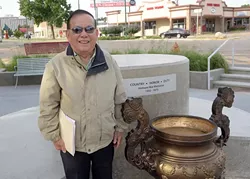 Garett Fisbeck
Vinh Nguyen at the location of the American Community Vietnam Monument at Military Park, Tuesday, June 27, 2017.
When Vinh Nguyen looks at Oklahoma City's Military Park, he envisions Americans and Vietnamese-Americans filling the urban green space, visiting to remember, reflect and honor the tremendous sacrifice of service members for years to come.
"I feel very much pride," Nguyen said while seated on a bench in the park. "The reason we built this is to remember the Vietnamese soldiers and the U.S. troops — servicemen and servicewomen — who died in the war."
Almost 2 million South Vietnamese were killed during the two-decade war between Communist-ruled North Vietnam and anticommunist South Vietnam following France's withdrawal as colonial ruler. After the Fall of Saigon — marking the end of the war on April 30, 1975 — more than 58,000 U.S. military personnel had lost their lives. As Nguyen shared the numbers, he reflected not just on death, but the sacrifice given willingly for freedom.
Oklahoma City's Vietnamese-American Memorial Monument, to be installed Thursday, will stand as a symbol of honor and recognition of the men and women who served and sacrificed their lives, said Nguyen, who served as a lieutenant colonel in the South Vietnamese army during the war.
The Vietnamese-American Community of Oklahoma City and Metropolitan Areas unveils Thomas Jay Warren's Brothers in Arms, a bronze statue depicting an American and South Vietnamese soldier standing back-to-back, during an inauguration ceremony 3 p.m. Saturday at Military Park, 1200 NW 24th St. The public ceremony features remarks by local government officials, Vietnamese-American leaders and Vietnam veterans and highlights Vietnamese culture with a dragon dance and firecrackers.
Coming together
As Nguyen looked at the monument's future home, he said the Vietnamese community wanted a Vietnam War monument in OKC, which is home to a large Vietnamese population.
Once the organization joined with the city's Office of Arts and Cultural Affairs, the proposal gained momentum. Three years ago, Oklahoma City Council passed a resolution supporting a memorial at Military Park and vowed to work with the Vietnamese-American group on the project. Nguyen, serving as chairperson, began a fundraising campaign to raise $210,000 for a monument and flag plaza.
Nguyen smiled and said that his appeal for funds exceeded expectations; they raised nearly $250,000 for the project.
Nguyen wants the monument and Military Park to be a gathering spot for Vietnamese community members hosting events like T?t Trung Thu, a well-known autumn children's festival, and an annual April 30 Vietnam War memorial event.
The monument, which will be prominently placed for visibility along Classen Boulevard, will attract visitors to remember the fallen.
"I hope it will last for a long, long time," he said. "I want mine and your children and grandchildren to see it to remember the war and show honor."
Print headline: Timely tribute, OKC's Vietnamese community shares a monument to commemorate the service of soldiers during the Vietnam War.