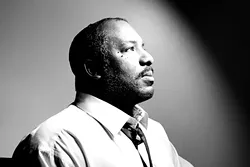 The irony of staging The Mountaintop, Katori Hall's 2011 fictional and fanciful account of the last night of Dr. Martin Luther King Jr.'s life, in the only state where Barack Obama didn't carry a single county in two elections is about enough to knock anyone over.
However, Oklahoma City Repertory Theatre (CityRep), Pollard Theatre Company and The Poteet Theatre jointly produced this play, which very well could sell out its three-week run, first at Freede Little Theatre and then at Pollard Theatre. Almost all of the Freede's 286 seats were filled at the reviewed performance.
Set in Room 306 of the Lorraine Motel in Memphis on April 3, 1968, the play is hagiography, but it's also a provocative, 90-minute synopsis of events from the fateful night of King's death to the present.
In this two-hander directed by René Moreno, W. Jerome Stevenson plays King and actress JuNene K. plays Camae, a black motel maid. Both give fine performances.
The play opens with King shouting from the motel's balcony for Ralph Abernathy to bring him a pack of Pall Malls, his preferred smoke. Then King enters his modest room, authentically depicted by Ben Hall's scenic design right down to the bedspreads and rotary-dial telephone.
Soon, Camae brings King room-service coffee and tests him in multiple ways. She admits, "I cuss worser than a sailor with the clap." Later, she dons King's suit jacket and dress shoes and delivers a sermon.
Hall humanizes King. He's vain about aging and whether he should shave his mustache. His multiple fears include isolation and frustration with others who question his motives and actions.
Hall also stresses the differences between King and Camae. He's a highly educated PhD; she's a composite character representing the working class championed by King.
At one point, Hall takes off in a flight of fantasy that reveals more about the playwright than about King or the common people represented by the motel maid. Camae knows an extraordinary amount of personal information about King. She forces him into crushing self-examination.
The Mountaintop is a thought-provoking work that challenges the audience to confront issues and history that disturbs and inspires. I would like to see more young people in the audience. Maybe you know someone you could treat to an evening of theater that's as relevant today as it would have been in 1968.
Print headline: Humanizing King, A three-week production of The Mountaintop brings together a trio of local theater companies.