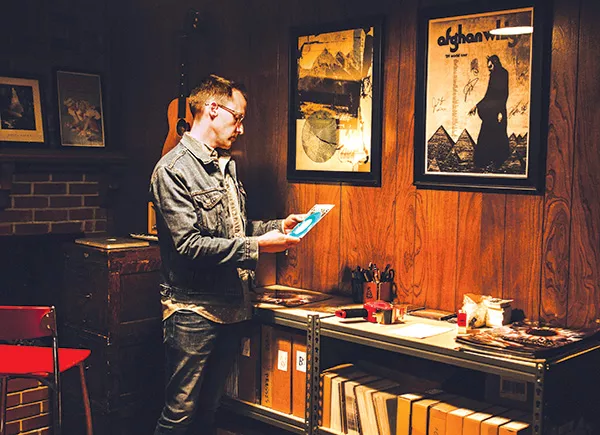 Alexa Ace
Chris Stellman relaunched Oklahoma City record label Clerestory AV in 2017 after a 10-year hiatus.
When he's not working as a family medicine physician, Chris Stellman is trying to help remedy an issue he has diagnosed in Oklahoma's music scene: underexposure.
"I don't think people in general buy music as much as they did 10 years ago," said Stellman, owner of Oklahoma City-based record label Clerestory AV. "With Spotify and everything else, a lot of people in Oklahoma don't realize yet what a great music scene we've got. It's kind of like if no one knew who Russell Westbrook was — best player in the country and no one even knows about it. That's kind of how I feel about our music scene. I think people are starting to wake up to the depth of talent that's around here."
Stellman's label, which he runs out of his guesthouse, began releasing the OKAY vinyl series, 7-inch split singles featuring local and regional artists, in September in an attempt to introduce more people to their music. The first volume in the series featured one track each from singer-songwriters Samantha Crain and John Calvin Abney, and the second paired indie rock acts Tallows and Husbands. The third, featuring songs from Beau Jennings & The Tigers and Doug Burr, is slated for a Friday release with a Dec. 6 show at Tower Theatre, 425 NW 23rd St., to follow.
"The series seemed like a fun way to work with a bunch of different artists who I admire," Stellman said. "It would be a lot more difficult to do a full-length album individually with each of those bands. This has been a cool way to work with bands I admire and get to know them a little bit and be involved with them."
Burr, who lives in Denton, Texas, is the first artist in the OKAY series from outside the state. Stellman plans to release a fourth volume featuring Austin-based, Oklahoma-formed band Lord Buffalo in 2019. Last year, Stellman relaunched the label after a 10-year hiatus to release Lord Buffalo's full-length self-titled album.
"We started when I was an undergrad and did about six records, and then I went to med school and it was impossible to do both," Stellman said. "I put things on hold and kind of had not planned on doing anything again. … This time around, I have more of a focus on bands with Oklahoma connections or bands with local roots. Whereas before, we had been working with bands in New York and Baltimore and kind of all over the place, but we're really trying to be more involved in the local scene. Honestly, I think the local scene is a bit more exciting than it was 10 years ago. There's a lot of cool things going on right now. There's all these great artists and bands making really wonderful music."
Though there are many artists Stellman would like to include, he said he isn't sure if the OKAY series will have a fifth installment.
"I'd love to keep going with it, but we have to see how many of these I can sell," Stellman said. "It's something that's really been rewarding and really a lot of fun. And people who have bought a record have really enjoyed it. … It's been a little slow catching on, but I think the more people hear about it and the more records we do in the series, hopefully it will pick up a little bit."
All the songs in the series so far have been recorded by Scott Johnson and Dustin Ragland at Stowaway Recording in the Deep Deuce district. Instead of a front and back indicating an A and B side for the records, the album jacket art features both artists, one on each side, in black-and-white photos taken by Ryan Magnani. Each album is pressed on colored vinyl.
"I'm really proud of how all these have turned out," Stellman said. "We're trying to make a product that looks and sounds as good as any record you'd buy from any label … quality pressings and they look really cool."
Stellman said vinyl singles have always been a significant format to him personally as a music fan.
Alexa Ace
Clerestory AV launched the OKAY vinyl series in September. Artists featured on the 7-inch split singles have included John Calvin Abney, Samantha Crain, Tallows, Husbands and Beau Jennings & The Tigers.
"I love 7-inches because they're two songs, easy to digest, and you can buy a 7-inch and you're not taking the same risk as buying a full LP," Stellman said. "I think a 7-inch is a great fun way to discover new music. It's how I discovered a lot of the bands I really love right now, from picking up 7-inches at the record shop."
While Stellman has worked to pair likeminded musicians on each release, he said the main connection between the artists is the quality of their songs.
"There's not a set genre within the series," Stellman said. "All the bands are a little bit different. … The biggest thing, I think, the most important thing, is that they're making good music and doing something that's exciting, but also good people and nice folks and easy to work with. There's a lot of ego and attitude sometimes in the music community, and I think life's too short to work with people like that, so everyone I've worked with has been really good people, nice, genuine. They all show enthusiasm for the growing Oklahoma scene."
Several of the artists also contributed to the label's Cheyenne Songs, a digital download accompanying Clerestory AV's vinyl rerelease of 2005's I Am Haunted, I Am Alive, the debut album from Jennings' previous band Cheyenne. The bonus album features 27 covers of Cheyenne's songs by Crain, Tallows, Husbands and other acts including Kyle Reid, Student Film and Broncho. A debut full-length from Beau Jennings & The Tigers is scheduled for a future release. Ester Drang's EP The Appearances, released in October, is Clerestory's bestselling album to date. Though music is increasingly streamed online, Stellman said he thinks releasing albums on vinyl remains important for listeners and artists because the physical format can facilitate a deeper appreciation for the music itself.
"When you put on a record, put it on the turntable, it kind of demands your attention more than when you have Spotify going in the background or in your car," Stellman said. "You're a bit more mindful of what's playing and experience the music a little more, so in my mind, there's still value to that."
Each record in the OKAY vinyl series is $10, and a subscription including all four planned releases is $36. Visit clerestoryav.com.