The continually exploding guitar effects pedal industry – which has something of a surprising epicenter in Oklahoma City with some of the world's biggest and most respected manufacturers based here – has a long and lucrative history of major artist collaborations. Superstar guitarists and aficionado heroes alike regularly partner with pedal builders to create loads of little stompboxes that help players to dial in their signature sounds and guitar tones, with even locals like Keeley Electronics producing fan-favorite artist collab pedals with the likes of Andy Timmons and Ariel Posen.
But the one thing that connects all of these signature guitar pedals is that they're normally done with, well, guitarists.
OKC's Old Blood Noise Endeavors (OBNE), already known and beloved for their insistence on doing things way outside the box, are rethinking the signature effects pedal with their first ever artist collab project, the Screen Violence, created alongside the decidedly not guitar-oriented CHVRCHES. The pedal is on sale now.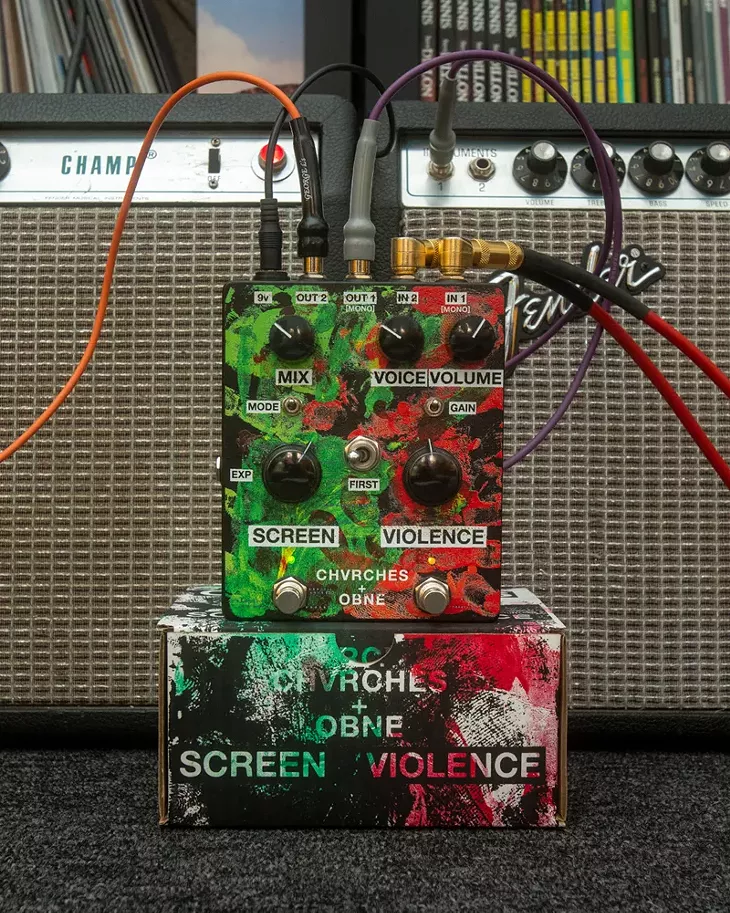 Photo provided
The Screen Violence
Known for their wild, glittery, sometimes sinister synth-pop and electronics, CHVRCHES are definitely the kind of sonic explorers that are always searching for newer, crazier textures, but though they do employ some guitars in their sound, they're far from the kind of six-string virtuosos or bluesmen normally associated with signature guitar tech.
So how did this new Screen Violence pedal (named after the band's 2021 album) find its way into the world?
"They actually reached out to us in the first part of 2020," said Brady Smith, founder and co-owner of Old Blood. "Quarantining had already started, and I know that Martin [Doherty, multi-instrumentalist for the band] had started working on the music that would become their new album. He had apparently been using a lot of our pedals and he'd actually been getting into building his own DIY pedals, just like as a little downtime hobby. So I think he just had the idea that they could do a pedal project for their album release, so they reached out."
Having never done a collaborative pedal with a major musical artist, the decision to partner for their very first with an act like CHVRCHES seems very "Old Blood," seemingly intentionally turning the concept of the signature guitar pedal on its head.
Or maybe not?
"I don't think it was as intentional as that, but I like it," Smith said. "Internally, we were just like 'let's try, and if we're going to do this, let's do it with somebody that's unexpected, that's, you know, not guitar-oriented.'"
You'd never know by his chill, relaxed demeanor that Smith helped create and oversee a company building technologies used by world-class musicians all over the globe. The crew of OBNE love being the outsiders, nonchalantly exploring their whims and curiosities and turning them into some of the coolest, and in some cases weirdest, little effects boxes on the market.
The Screen Violence itself, for example, is an oddity no matter what instrument is running through it. The "Violence" footswitch controls a gnarly, fuzzy distortion, perfect for adding some serious sharp edges to a synth line. The other footswitch, the "Screen," activates a "modulation engine," whereby turning a single knob creates a wide range of unexpected echoes, reverberations, and swirling, psychedelic effects. The ability to stack and manipulate the two effects means its possibilities are nearly endless, with countless online reviewers exploring its capabilities with guitar, keyboards, vocals, and even drum treatments.
Whether their work with CHVRCHES is a signal of a new, larger-scale era for the company, or a harbinger of more artist collaborations to come, Smith's answer equally mysterious as the sounds the company creates.
"Maybe," he said easily. "It would depend on the artist and on the idea."
Even with the company's success, and even with the rousing reception for the Screen Violence, Smith's vision for Old Blood Noise Endeavors remains focused more on creativity and experimentation than on expansion or chasing the market.
Even now, still hot on the heels of the high-profile, international collaboration that spawned the Screen Violence, the company is already working on some new pedals that will push the limits of weird, wild effects even further.
"From the beginning of Old Blood, it's been very much like we get something done, we do it, and we go," Smith said. "We don't think too much about it. It's not precious."
Visit oldbloodnoise.com