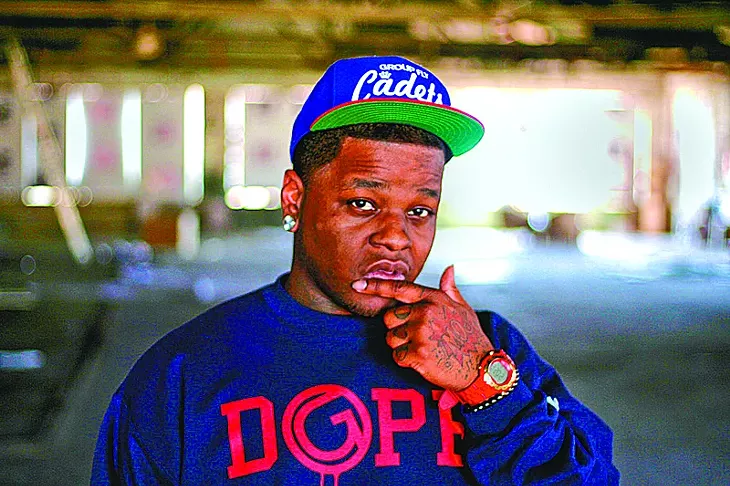 Provided
Jabee
Local musician Jabee, a constant in the Oklahoma City hip-hop scene, is now an Emmy Award winner.
The OKC-based artist won an Emmy along with Funnel Design Group, an Oklahoma City marketing firm, for their project "What If?," a marketing campaign for Science Museum Oklahoma that went viral through social media and local sporting events earlier this year. "I still can't believe it," Jabee said. "I'm just a guy from east-side OKC. I feel blessed. This award will be with me forever, even if I never win anything else in my life."
Emmy Awards are given for excellence in the television industry, which makes this award for a nonprofit science museum's viral ad — hosted by a hip-artist, no less — unique.
Jabee has been a part of the Oklahoma music scene since the age of 15 (he wrote his first rap at age 7) and has been making waves ever since.
But he never imagined himself winning an Emmy.
"People work their entire life trying to win an Emmy, and some never get it. But I have one?" he said.
Jabee's tireless work in the hip-hop community earned him an award with worldwide recognition, which he believes helps show the world that OKC is more than just a tour stopover city.
"I think it shows that Oklahoma has a lot going on, we are diverse. For the hip-hop scene, it shows that we are expanding past just being the underground scene here that nobody knows about," Jabee said.
The musician hopes that his work with Funnel Design Group will provide similar opportunities in the future.
Weeks ago, he also appeared in the new Nike X KD commercial (part of which shows him thumbing through albums at locally owned Trolly Stop Record Shop). He also hopes to start a new album soon. His latest album, Everything Was Beautiful and Nothing Hurt dropped last December. He has also been touring, but he's not into making predictions about his future.
"I'm taking it one day at time," Jabee said, "just stay prepared and dependable."
For Funnel Design Group, the Emmy is validation of the firm's work on the "What If?" campaign as well as validation of the state.
"We are extremely excited. To be recognized for that level of award, not just from Oklahoma but the Heartland region, is really overwhelming," said Bryan Ellison, Funnel Design Group's chief visionary officer.
"Everyone is excited about being involved in a state with so much to offer and so much potential. Art and science have always gone hand in hand, and when Science Museum Oklahoma executives were receptive to a very poetic, passionate approach to educating about 'science' and not just 'their museum,' we knew they were sincere in their mission and were behind the entire project."
Word of the Emmy Award came Saturday evening, streaming live online and then posting early Sunday morning.
"Jabee is amazing," Ellision said. "We worked very early in the morning with him, which I'm sure was very different than his working career on stage, but he just dove in and did what he does best."
The design firm also launched the OKC Energy Football Club campaign and is currently working with the Oklahoma State Fair, gearing up for this year's event, Ellison said.
Science Museum of Oklahoma "What If?" :75sec from Steve Jones on Vimeo.