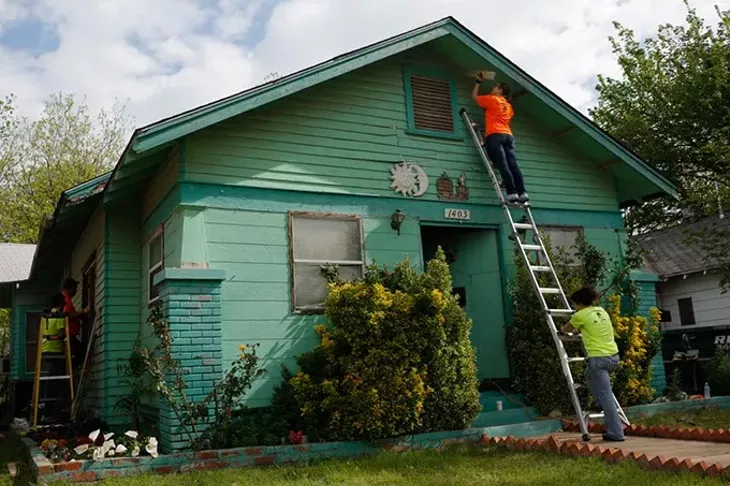 Garett Fisbeck
Volunteers work during Rebuilding Day in the Classen Ten Penn neighborhood in Oklahoma City, Saturday, April 18, 2015.
Editor's note: This story is part of a monthlong series that explores the neighborhoods in urban Oklahoma City. Pick up next week's Oklahoma Gazette for more coverage.
It is a sight more commonly seen following a natural disaster: thousands of Oklahomans descending on a neighborhood, pausing from their own lives to help rebuild a community.
But this block in west Oklahoma City is like many in and around our city's core. Its plight has less to do with Mother Nature's fury than with the wear and tear of time, including decades of apathy from residents and the city.
"I have my house back," said Roberta Romero, a longtime resident of the Classen Ten Penn neighborhood.
Her kitchen lacked walls and a sink, and weeds grew through the floorboards. On Saturday, a team of volunteers put up drywall, rewired the home's electrical system and built new countertops.
The volunteers were part of a 1,000-person-strong army that coordinated Rebuilding Day with the nonprofit group Rebuilding Together OKC. The organization has performed hundreds of home improvements across the region and hosted its first blockwide event Saturday.
Volunteers were scattered across the city that day, but hundreds were sent to one stretch of 14th Street, into a block filled with disrepair.
Quality of life
"This is our first time ever to do a big block build, but we are hoping it has a big impact for the community around this block," said program director Jonathan Merrick, speaking loudly over the bangs and roars of hammers and electric saws as volunteers got to work.
Garett Fisbeck
Jonathan Merrick during Rebuilding Day in the Classen Ten Penn neighborhood in Oklahoma City, Saturday, April 18, 2015.
One of several neighborhoods developed along the Classen streetcar line in the early 20th century, Classen Ten Penn is a raw, eclectic neighborhood that has benefited in recent years from an involved neighborhood association.
The city has also funneled funds into the community to build sidewalks and offer code compliance assistance. There are several homes priced above average that have undergone extensive revitalization, modest bungalows that are home to working-class families and homes that need basic maintenance, like Romero's.
It's not uncommon to see nonprofit or city-backed projects that assist in repairs to a single home, but Saturday's Rebuilding Day effort was unique in its size and scope and pumped in tens of thousands of dollars to help rehab a single city block.
"This is going to beautify this part of the city," said Mark Cisneros, one of 40 Boeing employees who volunteered. "Attacking one whole street that is pretty old and rundown ... it will look nice and allow these people to stay in their homes for a few more years."
The rehabilitation serves several purposes, including improving aesthetic, increasing overall property values and making the area more attractive to new homebuyers. Perhaps most importantly, though, it also enhances the residents' quality of life.
Garett Fisbeck
Volunteers work during Rebuilding Day in the Classen Ten Penn neighborhood in Oklahoma City, Saturday, April 18, 2015.
"I normally just stay in my room," said Romero as she explained that the rest of her house was in too much of a state of disrepair to be comfortable. "But now, I will have my whole house and will be able to cook and walk around. It really is like I am getting a new house. I just think these people are wonderful."
Romero's home is also getting a new front porch, which she said she plans to enjoy in the evening.
"I've seen several neighbors in houses we aren't working on coming out to help," Merrick said.
Rebuilding Day had an atmosphere like a block party, with hundreds of people in the street and music and free hamburgers and hotdogs. Ward 6 Councilwoman Meg Salyer walked along 14th Street and said she was excited to see this type of revitalization happening in her ward.
"When I parked my car this morning, all I could hear was the sound of hammers. It was like music," Salyer said. "It is so exciting to see this many volunteers really focusing their efforts on one street and one block. I think the concept of a block build is really a great one."
The city has adopted a similar program that focuses neighborhood services in specific communities, including Classen Ten Penn, which is one of three Strategic Neighborhood Initiative communities.
"When you concentrate your resources in a smaller footprint, you really see bigger results faster and you hope it will spin off," she said.
Print headline: Better blocks, Volunteers descend on a west OKC neighborhood to make needed repairs to 10 homes.