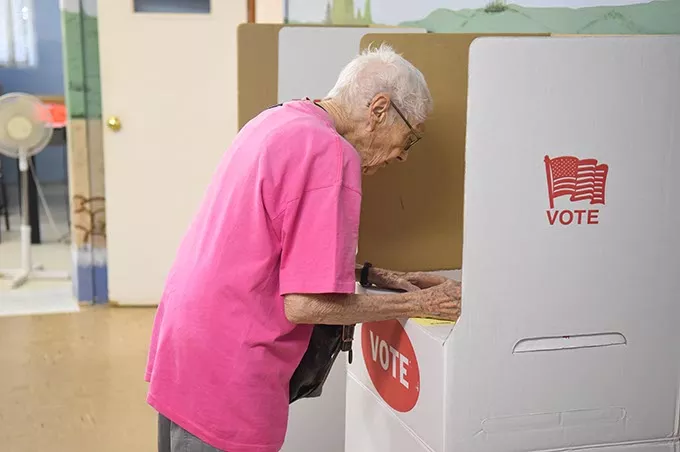 Elderly voter at Crown Heights Church of the Nazarene on 7-14-15. mh
A wave of young adults flocking to Oklahoma City in recent years has impacted the local culinary scene, boosted attendance at street festivals and helped put a renewed emphasis on urban planning methods. But it hasn't had any real impact on the ballot box, at least not according to the most recent data on voting trends.
Young adults, often referred to as millennials, don't vote in large numbers in nearly any part of the country, according to various reports. But local races have an especially dismal record of drawing young voters.
Oklahoma Gazette analysis of voter data provided by the Oklahoma County Election Board from this year's city council elections showed the average age of voters in three ward races was well over 50.
In Ward 8, where Mark Stonecipher won election, the average voting age was 65.9 years old.
In Ward 2, where Ed Shadid won reelection, the average age was 62.1.
Even in Ward 6, which includes neighborhoods downtown and in Midtown, the average voter age was 57.9.
Low voter turnout for young adults was highlighted by Tulsa World last month after analysis by the newspaper showed voter registration among 18- to 24-year-olds in Oklahoma had dramatically declined over the past 10 years.
Since 2005, the number of registered voters in that age range in Oklahoma has declined by 40 percent, reported Tulsa World in July.
The same analysis of voter registration data found that young adult registration for each party had also dropped, including by as much as 50 percent for Democrats.
But it's not just young adults who are opting out of the democratic compact; various turnout statistics show that eligible voters in nearly every age bracket, ethnicity and region are posting lower turnout rates than at any time in modern history.
Some see the solution as making the voting process easier. But while voting trends show that the poor and disenfranchised vote at a lower rate, even affluent populations are experiencing declines in turnout.
"We certainly can do better to reach out to potential voters, especially young adults," said Forrest Bennett, a college government teacher and candidate for House District 92 in south Oklahoma City. "But at the end of the day, you can lead a horse to water, but you can't make him drink, right?"
Increase turnout
Last year, Oklahoma Policy Institute published a series of proposed reforms for state adoption with the hope of increasing voter participation. Some of the reform proposals included allowing same-day voter registration, extending early voting periods, allowing post-incarcerated felony offenders to vote and easing the requirements for allowing political parties beyond the big two to appear on the ballot.
"Policymakers and opinion leaders should acknowledge the serious problem of declining political participation in Oklahoma," Oklahoma Policy Institute Executive Director David Blatt said at the release of the proposed reforms. "Unless we can find a way to reinvigorate our democracy, we will have little chance of solving the great challenges we face as a state."
This year, Oklahoma lawmakers did approve two bills designed to increase voter participation; one allows for online voter registration, and the other consolidates local elections to a date in either the spring or fall. Both bills were two of several introduced by Sen. David Holt, R-Oklahoma City, that seek modernization of various voting processes, including the option for all-mail ballots.
"Our plunging levels of civic participation are reaching crisis levels," Holt warned when he introduced the legislation earlier this year.
National trends
Voter turnout is low across the country, and not just among young adults. Voter turnout data reported last month by the U.S. Census showed 41.9 percent of Americans registered to vote did so in the 2014 national midterm elections.
Just two years earlier, the turnout rate across the nation was 45.5, and two years before that, in 2010, the turnout rate was 47.8.
When broken down by age, the voter turnout data showed much higher percentages for older adults than young adults, even though they, too, had seen declines in recent years.
"In recent congressional elections, we've seen low levels of engagement among young people and the opposite for older Americans," Thom File, a Census Bureau sociologist and the report's author, said at the time of the report's release in July. "These age differences cut across racial and ethnic groups as well. Regardless of whether we're looking at non-Hispanic whites, non-Hispanic blacks or Hispanics, voting rates tend to increase significantly with age."
However, while young adults both locally and nationally have much lower turnout rates than older adults, that is not a new trend. The same census report showed the age bracket of 18- to 34-year-olds consistently turning out in much lower numbers than older age groups. In fact, the older the group, the higher the turnout. But nearly all age groups have seen turnout rates decline over the past 40 years.
Adults age 45 to 64 turned out at a rate of 49.6 percent in 2014, compared to 53.7 percent in 1978.
Adults age 35 to 44 voted at a rate of 37.8 percent in 2014, which was a sizable drop from 53.7 percent in 1978.
The only age group to not see a decrease was 65 and older, which is voting at the same rate today as in 1978: 59.4 percent.
Other trends
Caucasians, who are the largest portion of the electorate, have seen their voter turnout rate drop from 50.6 percent in 1978 to 45.8 percent in 2014.
Hispanic voter turnout declined from 1978 to 2014, dropping from 35 percent to 27 percent.
Eligible voters who are married with a spouse living in the household had a 50.9 percent turnout in 2014, compared to 25.9 percent for those who had never been married.
The top tier of the voting rate distribution included those with advanced degrees (62.0 percent), those who had lived in their current home for five years or longer (57.2 percent), government workers (56.5 percent) and military veterans (54.2 percent).
Engaged nonvoter
It's tough to gauge how civically involved young adults in Oklahoma City are beyond election turnout numbers. The city's growing millennial population has seen leaders emerge in the areas of neighborhood development, entrepreneurship and culture, which has an important impact on the city, even if those who show up for the Plaza District's monthly street festival do not necessarily pay attention to local elections.
"When I look at [young adults] here, I see many who are involved and looking to make an impact," said Steve Hill, chief of staff for Mayor Mick Cornett. "But there are many ways to accomplish the kind of things they want to besides just voting."
Hill doesn't believe a low turnout for young adults on election day necessarily means young adults are disengaged from local affairs.
He also doesn't believe today's younger generation is all that different from those who came before.
"I'd say they are very engaged, but not always at city hall," Hill said. "There are a lot of young people who have an active interest in shaping the world around them, and it kind of depends on how big they consider that world in what they get involved in. For some people, their world is Classen Ten Penn; for some people, it's the city; for some people, it's the state."
Hill, who also worked for President Barack Obama's campaign in 2008 in Colorado, said he can see why some young adults, and all adults for that matter, would be uninspired by the current voting process.
"If you want to see change right now, then voting isn't always the way you see that change taking place," Hill said. "You look at how elections are run and it's very mechanical and its processed; there is some gamesmanship involved, there is some silliness involved and sometimes it's easy to look at that and say, 'That doesn't help me improve my neighborhood.'"
Of course, Hill sees voting as an important part in bringing change, just as much as other forms of community involvement.
At age 25, Bennett is not only an engaged voter but is running for state office.
"When I think about my peers and increasing [voter turnout], I do think it's important to bring the voting process into the 21st century a little bit," Bennett said.
Bennett said he would like to see more technology incorporated in the voting process and praised some of Sen. Holt's measures to modernize voting in the state. Bennett also said it's important for candidates to find issues that appeal to younger voters.
"I think it's finding what issues hit people specifically and reframing the argument that way," Bennett said. "A lot of people, not just those who are young, think that government is not working for them, and they choose to end their relationship with government and politics. But the real reality is that when things aren't going your way, you need to double down and get more involved."
Print headline: The decline, Voter turnout has decreased for almost every age in every region of the state.