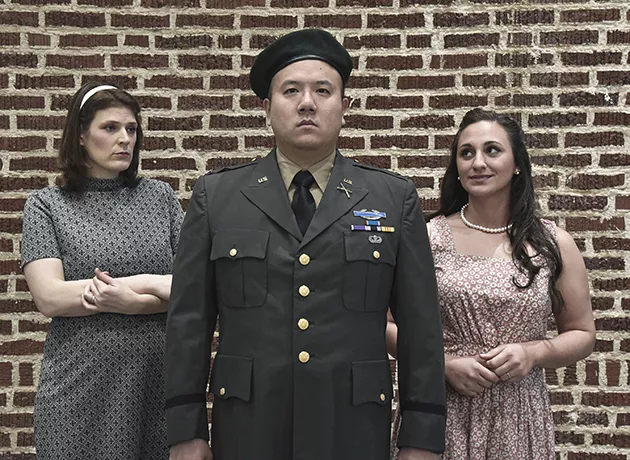 provided
Painted Sky Opera presents Tom Cipullo's Glory Denied 7:30 p.m. Jan. 31, 2 p.m. Feb. 2 and 7:30 p.m. Feb. 7 in Freede Little Theatre at Civic Center Music Hall.
Painted Sky Opera presents Glory Denied
7:30 p.m. Jan. 31, 2 p.m. Feb. 2 and 7:30 p.m. Feb. 7
Freede Little Theatre Civic Center Music Hall
1 201 N. Walker Ave.
paintedskyopera.org
405-594-8300
$35-$50
In 1964, Green Beret Jim Thompson's plane was shot down in Vietnam, and he was captured by the Viet Cong. His wife, Alyce, upon hearing the news, went into early labor delivering their fourth child. After nearly nine years of physical and mental torture, Thompson, the longest held prisoner of war in U.S. history, was released to find that his family, thinking him dead, had attempted to move on and the world had changed.
Glory Denied, Tom Cipullo's opera based on the oral history of these events, is presented by Painted Sky Opera 7:30 p.m. Jan. 31, 2 p.m. Feb. 2 and 7:30 p.m. Feb. 7 in Freede Little Theatre at Civic Center Music Hall, 201 N. Walker Ave.
Painted Sky artistic director Rob Glaubitz said he wanted to stage Glory Denied because of its powerful relevance to the present day.
"A lot of times we hear about opera being a historical piece — something that's only relevant to people who are interested in what happened 100, 150 years ago — but this is something about our society, what we're dealing with right now," Glaubitz said. "We have veterans dealing with [post-traumatic stress disorder] and difficulty reentering into American culture that has changed since they went on their tour of duty, and that is a huge issue that we face every day with the various conflicts we have around the world. … It's about a person who was captured in 1964, and he didn't come back until 1972, and the world was completely different at that point and his family also had to figure out how to be without him and then when he came back had to figure out how to be with him again."
In the opera's English lyrics, often taken from quotes from interviews, past and present versions of Alyce and Jim convey their sides of the story and confront past and present trauma. Soprano Saira Frank, who plays the older version of Alyce, said the opera's unconventional structure represents the characters' inner turmoil.
"It's almost confusing," Frank said. "The parts are overlapping and intertwining. You're going back and forth between present and past, and you really feel this anxiety. … It's not until later in the opera when that kind of sorts itself out and each character gets to share their moments with the audience and become a little more of like an individualized person instead of this figure woven into this horrible story of anger and betrayal. I think Alyce in particular probably spent a lot of years very confused about how she should feel and whether or not the choices she was making were the right choices. In my view, at least, by the time Jim comes home, she's had some resolution, and now it's been thrown up in the air again. … I think there is a key moment where she does kind of sort it out again and sees that she did what she could. She did exactly what she had to do."
Glaubitz said the older and younger versions of Jim and Alyce are essentially "four different characters."
"The younger version of his wife is not actually what his wife was," Glaubitz said. "She's is the idealized version of what Jim Thompson remembered his wife to be, so she's almost not a real person. He forgot about all the hard times that they endured. Through these nine years of captivity, he keeps on recounting all the wonderful things and building her up into this person that she wasn't really. She was a real person and sometimes was happy and sometimes was upset and had her faults, but he's idealized her. And likewise the younger version of himself is this person who's undergoing this horrible torment in captivity. … When he comes back, he's trying to be this normal person again, but it's almost like he keeps on getting sucked back to that younger version of himself. The older version of his wife is just really realistic and raw and expressing the whole feelings of the family."
The opera is "probably the most difficult musical thing" Painted Sky Opera has attempted, Glaubitz said.
"If you listen to some of the music, some of it is very jagged sounding," Glaubitz said. "As [Cipullo] is trying to depict these really complex and hard emotions, he writes music to match the emotions, so it's not all beautiful and gorgeous. … There's some really gorgeous moments, too."
Baritone André Chiang, who plays older Jim, said the opera's complicated music and overlapping vocals articulate the conflicted and complex feelings behind the lyrics.
"My particular character goes through a lot of changes in emotion on a dime," Chiang said. "He's very angry; he's very confused; he's very sad. It's really well represented by the changes in the pitches and how high or how low and how intense they are."
Due to the "very triggering" nature of the opera's themes, Glaubitz said a therapist from Veterans Affairs will discuss post-traumatic stress disorder before the performances.
"We see this performance is an opportunity to increase awareness of what veterans go through," Glaubitz said. "I'm not sure that this show is really for veterans, although we would love to see them there if they choose to come, but really for those of us who aren't veterans so we can understand what they go through, have a window into it at least. We're never really going to understand."
Tickets are $35-$50. Call 405-594-8300 or visit paintedskyopera.org.