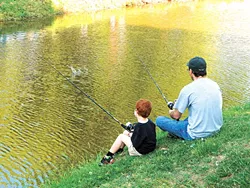 A series of events designed to get people outside and active in various ways has been planned in Midwest City, and it's all free or moderately priced. A Splash 'n Dash is Friday, Aug. 28; Doggie Paddle is Sept. 7; and Kids Fishing Clinic is Sept. 12.
First up is the first Splash 'n Dash, which is open to kids ages 7-12 and takes place in stages or waves that will launch every half hour according to age group. The fun starts 6:30 p.m. Friday at Reno Swim & Slide and Joe B. Barnes Regional Park. Children must be able to swim on their own but do not need prior race experience.
"We strongly encourage people to register in advance online for this event," said Nicole Berkley, special events and recreation assistant for the City of Midwest City Parks & Recreation Department.
The event is essentially a biathlon consisting of a fun run followed by a swim and allows boys and girls to explore multisport activities. This event is limited to 150 entries, and forms must be completed and turned in by Thursday. Forms and age-group details are available at midwestcityok.org/parks-and-recreation.
Reno Swim & Slide goes to the dogs 6:30-8 p.m. Sept. 7 for its third annual Doggie Paddle.
"This is the last night of swimming for the summer," Berkley said. "It's summer's last hurrah."
More than 100 dogs and their humans participate each year, but there is a limit. Capacity tops out at 150 pooches.
It's $5 per pet, which must have current vaccinations. Also, leashes are required when the dogs aren't getting their splash on. Tickets can be purchased in advance 9 a.m.-4 p.m. Monday-Friday at Nick Harroz Midwest City Community Center, 200 N. Midwest Blvd. They can also be bought at the event.
The Kids Fishing Clinic is co-hosted by the Kiwanis Club and is a three-hour combination of educational presentations and hands-on fishing. It runs 8-11 a.m. at Soldier Creek in Joe B. Barnes Regional Park. Skills taught include catfish biology, knot tying, casting and outdoor ethics and gutting and cleaning fish. It is open to kids ages 6-15, and about 40 fishing poles are available for children who don't own their own.
"The Wildlife Department is helping us out and is stocking Soldier Creek with catfish for the event," Berkley said.
Parents with proper licenses also are welcome to stay and fish while their children participate in the clinic.
The Midwest City Parks & Recreation Department organizes free and low-cost public events year-round. From 6:30-8:30 p.m. each Thursday in September. Learn more at midwestcity.org.
Print Headline: Midwest fun, Splash, dog paddle, dash and non-Internet catfish in Midwest City.