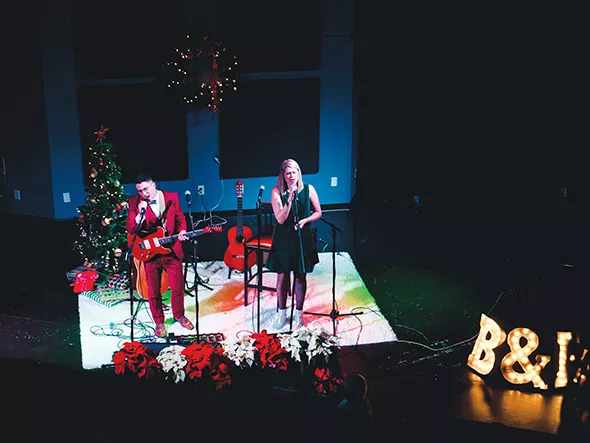 provided
Bryce and Bethany Merritt's Christmas With the Mrs. holiday concerts are scheduled 8 p.m. Thursday and Friday at University of Central Oklahoma's Jazz Lab, 100 E. Fifth St., in Edmond.
Married musicians Bryce and Bethany Merritt have known each other since first grade, but they grew up celebrating Christmas differently. The two Will Rogers Elementary School alums will return to Edmond from their Nashville home for their fourth annual holiday-themed duo show, Christmas With the Mrs., 8 p.m. Thursday and Friday at University of Central Oklahoma's Jazz Lab, 100 E. Fifth St., in Edmond, but only Bethany Merritt was raised to be a Christmas caroler.
"I grew up in a very musical family," she said. "All my siblings and my parents are all musicians, and so that was definitely kind of a year-round thing for me growing up, but me and my family have always gone Christmas caroling in probably a little more intense way than most people casually Christmas carol. … We would probably rehearse for caroling. Whereas most people might just say, 'OK, everybody sing, "Let It Snow" or "Jingle Bells,"' we are reading music for, like, four-part harmonies and dividing up the roles, and it's a whole other style of thing."
Her husband, who has seen the caroling rehearsals in person, elaborated.
"They give each other notes, so, like, 'OK, you need to be louder here, softer here and blending more here,'" Bryce Merritt said. "It's a lot more involved than …"
Bethany interrupted.
"We're just trying to provide the best possible listening experience for whoever's doorstep we're standing on," she said.
Bryce Merritt's family, meanwhile, was less musically inclined.
"We had the complete opposite," he said. "I can't remember singing any Christmas songs with my family outside of being forced to sing next to each other in church."
The Merritts dated off and on while attending Edmond Memorial High School, but "officially started and didn't stop in 2012," Bethany Merritt said, which was when they reconnected as students at Belmont University in Tennessee. They married in 2015, the inaugural year of their Christmas With the Mrs. holiday shows. Bryce Merritt typically makes soul-inspired pop songs while Bethany Merritt performs with a jazz trio, and Christmastime offers them the chance to blend their preferred genres without compromising their individual creative identities.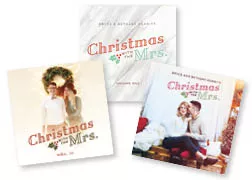 provided
The Merritts have released three volumes of Christmas With the Mrs. albums to date.
"We both have our separate styles that we, for the most part, like to really focus on," Bethany Merritt said, "but we love singing together, so we decided to make Christmas the one time of year intentionally where we really do a duo thing. … Christmas felt right, and we have the time to travel around together."
Some of the couple's favorite Christmas albums — Ella Fitzgerald's Swinging Christmas, Vince Guaraldi Trio's A Charlie Brown Christmas, John Legend's A Legendary Christmas and Ingrid Michaelson's Songs for the Season — combine elements of both of the Merritts' chosen musical styles.
"When I think about the classic Christmas songs, like 'Have Yourself a Merry Little Christmas' and 'Let It Snow,'" Bryce Merritt said, "I feel like all of the forms of those songs and the harmony are written as jazz songs, and then in the past 10 or 20 years, the pop world has, like, stolen them and turned them into pop songs. So I think that's why Christmas provides a perfect place for us to both kind of do our thing because we can do them the straight-ahead jazz standard way, or we can come up with a little bit more modern feel or something in the middle, but I think it's harder to do that in any other genre."
However, the Merritts' preparations for their annual holiday shows are much closer to Bethany's family's caroling rehearsals.
"Because we are both professional musicians and because this show, and really anything we put out, is kind of like our musical baby, it's definitely pretty intense," Bryce Merritt said. "We try to have everything arranged the way we like it, and we have everything rehearsed to what we think will sound best and translate the best to the audience. So it's definitely not like, 'Show up, and we'll play some Christmas songs and have a good time.' We definitely try and make it as presentable as possible."
The first three years of Christmas concerts were accompanied by Christmas With the Mrs. EPs, but this year, the amount of energy and time spent on Bryce Merritt's solo album Chroma: III, released in October, made recording a fourth volume in the holiday series too difficult. They plan to release another Christmas album next year with a full band and at least one original holiday song, but taking a year off helped them spend more time celebrating the season.
"This has been the first year that we've been able to decorate our own place for Christmas because usually we don't even bother," Bryce Merritt said.
The break has also allowed them to enjoy other musician's seasonal songs without worrying about recording their own.
"In the past, if I was listening to Christmas music, it was usually research," Bethany Merritt said. "You know, 'What arrangements can I get ideas from?' and trying to check out what other people have done."
But even without a new album to record, hearing holiday favorites still sparks concerns about giving the audience the best possible listening experience.
"We have to make sure that we're providing something both familiar and unique and special and memorable and not too serious," Bryce Merritt said. "It's a hard balance. I was thinking about it today, actually, as we were listening to some Christmas music. Because either you do a Christmas song that everybody has heard a million times before, which is good because they'll know it, but then you're fighting against every other artist's version of that same song because every song has been done so many times, or you can kind of put something new on the table that nobody's ever heard before so there's nobody to compare it against, but then people don't know it. So it's finding that right balance of sprinkling in your own thing while also giving people the traditions that they like."
In the past three years, Bethany Merritt said the Christmas With the Mrs. shows have become an annual institution for some concertgoers.
"It's become a part of some people's Christmas traditions," she said. "When someone tells me that, it feels like, 'OK, there's a big weight because I have a responsibility now.'"
They might feel the pressure of audience expectations and struggle to balance the commitments of their individual music careers with their annual duo act, but the Merritts, whose families both still live in Edmond, can count on at least one certainty at the end of their holiday tour.
"We'll spend Christmas with our families," Bryce Merritt said. "That's the nice part about finishing the show in Oklahoma, that as soon as we're done, we're already home."
Tickets are $20. Visit ucojazzlab.com.