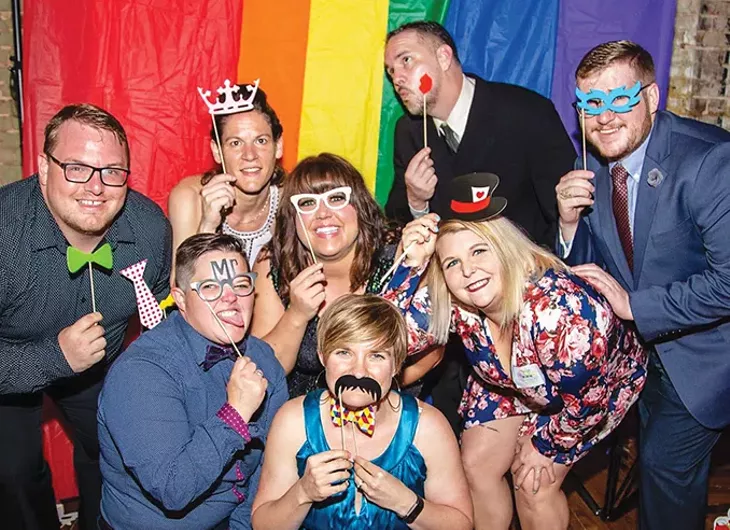 provided
The board of Norman Pride includes president Andrew Coulter (upper right corner).
When planning for Norman's first LGBTQ+ Pride Festival began, organizers intentionally eschewed a traditional June date during national Pride month because a majority of University of Oklahoma (OU) students are not in session.
This weekend's activities for Norman Pride Festival will follow the first week of the fall semester at OU.
Festival activities begin 4 p.m. Friday with music, food and drink for a kickoff party at TOLY Park. The festivities continue on Saturday with all-day activities at the Gray Street parking lot, 115 Gray St., and surrounding locations, including Red Brick Bar, 311 E. Main St. The festivities are capped on Sunday with a Main Street parade beginning at 7 p.m. All of the Pride Festival events are free.
"We want it to be family-friendly and to show a different side of Norman than what people think of it as a party town because the gay culture hasn't been prevalent before," said Andrew Coulter, president of Norman Pride, a nonprofit established to promote awareness of the LGBTQ+ community in the city. "This is the first time that we've gotten on the forefront and let people know that the LBGT community does exist."
Coulter said Norman Pride and its board members worked with the City of Norman to find a good location for the event and a weekend free of other activities when students are back in session.
"It gives students an opportunity to be part of the festivities, and Normanites, people from Oklahoma City, Dallas and all over can come for the weekend and enjoy," Coulter said.
Saturday's events include a morning Zumba lesson at 10 a.m., live music, live art, belly dancing lessons, a dance and fitness class and a drag show hosted by Keosha Simone beginning at 10 p.m.
Sunday's parade starts at 4 p.m. with a pre-party at TOLY Park, and the parade will line up outside The Depot, 200 S. Jones Ave., and begin at 7 p.m. It will go east on Main Street, south on Crawford Avenue and west on Comanche Street before ending at 8:30 p.m. TOLY Park will also host an after-party from 8:30 p.m. to 10 p.m.
"I'm excited that a Pride parade is finally happening here," said Joshua Boydston, associate director of Norman Arts Council. "I'm glad it's happening in a prominent manner and that it will be part of an ongoing tradition going forward. I like that they're doing it at the start of the school year and think about students coming from Oklahoma and beyond that will be injected into this community knowing that you will be accepted for who you are. That's what Norman prides itself on; we're inclusive and want to build a community as diverse as the people who live in it."


"I think it's a wonderful thing for our community and it shows the city's diversity," TOLY Park general manager Sammie Richardson said. "Norman Pride has been doing fundraisers all over the town, and it gets businesses involved, and it's why we're happy to be involved. It goes to show how much Norman is expanding."
Accepting community
Coulter moved to Norman about five years ago from Lawton, where he attended Cameron University after his parents moved to Norman and told him that he'd like the city.
"I came down for a weekend and I fell in love with Norman right away because there is a lot to do, but it doesn't have a big-town feeling to it," Coulter said. "You get to know everyone, and it's super friendly. It has big-town city life and small-town charm."
As much as he enjoyed the city, he noticed there were no LGBTQ+ events or safe meeting places for large groups. Coulter started hosting LGBTQ+ nights at Louie's Grill & Bar on Campus Corner, and the event outgrew the space and moved to Bison Witches Bar & Deli on Main Street.
"Living in a college town, you kind of have to be more on your toes and on the lookout for things because you never know what you're going to be faced with as far as people accepting it," Coulter said. "The world is changing a lot now as it is. I thought that if we could have a night to show that there was a safe place to go that it might change things a little bit."
Norman Pride has hosted a series of fundraisers for Pride weekend festivities and raised about $12,000, Coulter said, but it has only been in the works for about four months. He said fundraising for the 2019 Pride Festival will be in earnest not long after this weekend's events.
"It's been stressful; it's a lot of pressure," Coulter said. "It's something completely different for Norman, and I can't guarantee how people will react to it because it's never happened before. The reaction on Facebook has been good, and all of the events that we've had has been amazing."
Visit facebook.com/normanpridelgbt.