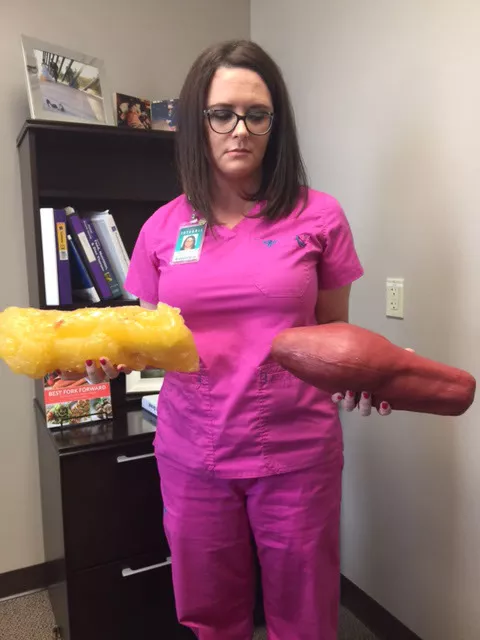 Terre Cooke Chaffin
Dietician Tiffany Poe holds fat in one hand and muscle, which is more efficient at burning calories, in the other.
Editor's note: Weighed Down is an Oklahoma Gazette series about health, weight loss, treatments, behaviors and the paths and challenges of sustainable success.
An online search in the Oklahoma City area turns up a half-dozen clinics specializing in weight loss surgery. Two out of three Americans are overweight, and half of those are morbidly obese.
The high sugar content of processed foods, 24/7 access to that food, constant light exposure in a round-the-clock world, stress, inactivity, poor eating habits often originating in childhood and medications that cause weight gain create obesity's perfect storm.
Once a person is overweight, the sense of failure that ensues at attempting to lose, often armed with misinformation in the first place, leads to yo-yo dieting that destroys the body's ability to set a healthy metabolic rate.
Bariatric specialists maintain that it takes a shock to the system to embed a change.
Dr. Laure DeMattia specializes in the medicine of weight loss surgery and said it is the most effective tool known to achieve weight loss by resetting the body's metabolic rate.
"It's a mystery still as to what that set point will be after surgery or how long it will last," she said. "For a long time, we thought, 'Oh, we are making the stomach smaller, restricting food, and that's the mechanism.' And that's not it. It's a hormonal cascade that has shifted; it tells the brain, 'I'm full.'"
DeMattia said the body's reaction is different for a nonsurgical patient.
"A person who goes on a very low calorie diet at 800 calories, there are a lot of hormonal shifts that try to tell your body, 'Oh, there is something wrong here,'" she said. "If you are intentionally trying to limit caloric intake, your body is going to slow its metabolism down and it's going to increase your hunger. The gut has hormones that are being released that are communicating with the brain. Ghrelin is one of the hormones that changes with surgery. It goes down. Patients become less hungry."
New habits
"I tried everything. I've always been overweight," said Malisa Osborne, a patient at an Edmond bariatric center. "I was working out with a trainer last year. She wanted me in the gym two hours a day, and I had to spend all kinds of time on meal prep. It was too expensive … and I didn't have the time. I'm a single parent. I work full-time as a hair stylist, and I just couldn't do it. I had horrible eating habits and skipped meals only to over-eat when I found a moment to sit down. For me, weight loss surgery has been a lifesaver."
When Osborne went for a consultation, she weighed 288 pounds and then lost 20 before her Aug. 2 surgery date. Three weeks out, she was down to 250 pounds and hopes to lose another 100 in the next year.
"When you're a larger person and have been for a long time, portion control is a big lesson to learn," she said. "Having the small stomach helps enormously with that because I get sick if I eat what I shouldn't or over-eat at all. We've been taught to utilize the small space we do have for nutritious food, not junk."
Terre Cooke Chaffin / for the Gazette
A typical snack for a post-op bariatric patient often consists of small servings of fruit and cheese.
New diet
"My focus is on weight loss and how to help people take advantage of the first year or 18-month window they have when their weight will drop rapidly. We recommend a low-carb, low-sugar diet. It works. People feel full. They feel satisfied," said Tiffany Poe, a registered dietician at Integris Weight Loss Center. "Our biggest job as nutritionists is to try and change the way people are thinking because most of our patients that have come here for weight loss surgery have tried every diet. We are tying to undo things they thought were right."
A common misconception is that a healthy meal is a protein, corn, mac and cheese and bread; doctors and dietitians work to reverse the idea that the steak has to have the baked potato or one needs to clean their plate. Generally, when people have their stomachs altered, they must eat 3-ounce meals three times a day that include a source of protein and a veggie, no starch. Two snacks are added to the daily diet once an ideal weight is achieved.
DeMattia said statistics show that for the first time in recent history, our children will not have the life expectancy of their parents because of obesity. When kids don't learn about healthy food early, they aren't likely to be healthy adults, DeMattia said. Fat cells in the body develop for life from the time we are born to puberty; after that, no matter what, those cells are there and ready to grow heavy people.
Obesity is a declared epidemic, but not in the sense of polio or small pox as an infectious agent. Obesity is widespread like a pandemic and presents a cascade of disease processes in response to a variety of factors that have initiated weight gain and an unnecessary storing of fat in more and more people.
"I'm just so happy to have my daughter back," said Sandra Davis, mother of Shelly Stillwell, who had the bariatric sleeve procedure.
Stillwell is down more than 100 pounds one year after surgery. She and her mother agree most of the women in their family have been overweight. Food is what they do together. Stillwell began to slowly add on weight after marriage in her early 30s. She said the hectic pace of a military life led to poor eating habits. She watched her weight climb from 200 pounds to 235 pounds, and then debilitating migraines set in. She became less active, as she became short of breath due to weight. She said she tried dieting but couldn't stick to it and emotionally gave up as her weight rose to 297 pounds.
"I had so many health problems that were piling on top of each other and creating new ones. It just all seemed insurmountable, and I had to do something," Stillwell said. "Today, my stomach is the size of a small banana, straight up and down. It holds 3 ounces. It was the size of a small football before. Once food gets to my stomach, it doesn't stay long before it's rerouted around part of my intestines. I know what to do and what not to do. I've seen the nutritionist many times, and I attend support group meetings. We talk about emotional triggers for eating, what works and what doesn't. It's very helpful to remain accountable."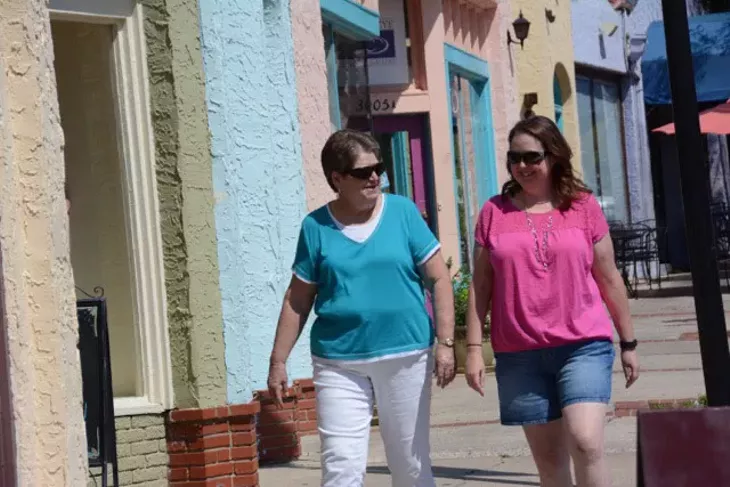 Terre Cooke Chaffin / for the Gazette
Sandra Davis, Shelly Stillwell's mother, said she's happy with the results of her daughter's bariatric surgery. |
New education
"Bariatric surgery is not an easy way out," said Dr. Hamilton Le, a surgeon with Integris Weight Loss Center. "If you're looking for a quick fix, I wouldn't encourage it. Even when my patients get to a weight where they feel healthy, their health problems have improved, that weight is not an automatic. If they fall back into old habits, not physically active for instance, snacking or trying to drink their calories, they can put that weight back on.
"We know people who are obese as children and adolescents are more likely to be obese adults. Not only because they carry that on, they've got habits, but also their metabolism. They are starting to train their metabolisms early to store weight."
The key to this discussion is education. We've gotten so far away from normal food, imbibing on sweet coffee concoctions and sports drinks and eating meals loaded with fat and sugar around the clock. While the law of thermodynamics influences the obesity process, dictating the more we eat, the more we must burn, bariatric specialists say there's more to it than that.
Obesity is a health problem of its own linked to genetics and lifestyle, but professionals working in the field wonder if there is something at play they don't yet understand. There is agreement that the problem began in the '80s, as Americans were encouraged to lower cholesterol by reducing fat and substituting more carbs in their place. Possibly, there are new influences such as gut bacteria or additives fed to livestock.
Obesity medicine researchers say we are just beginning to understand and unravel what has caused the explosion of weight gain. Increasing numbers of people aren't willing to wait for the research, as they've grown weary of the fight. They've opted for a surgically induced reset.
Coming up: The Weighed Down series continues next week with a look at habitual behaviors some people find themselves practicing in efforts to control weight.
About the author: Terre Cooke Chaffin is an Oklahoma City journalist, producer, writer and photographer. She specializes in physical and mental health, creativity and stories of personal growth. Her work encompasses her philosophy "Live Well Today."
Print headline: Weighed down, Life after bariatric surgergy isn't easy; patients must change their habits to see results.