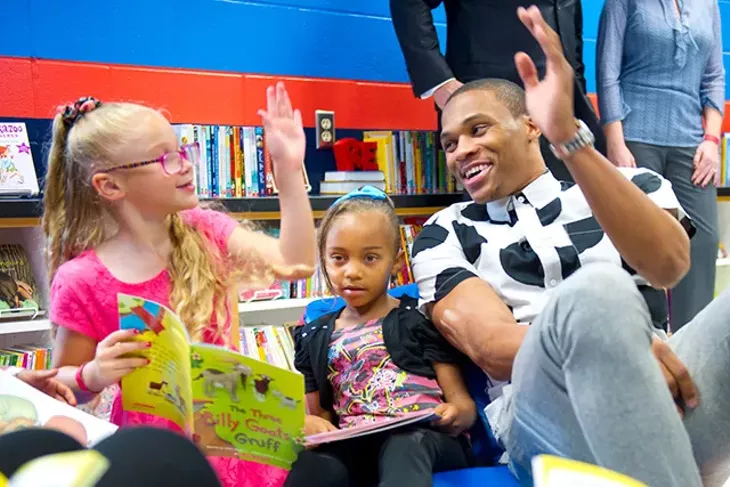 Russell Westbrook stops into "Russell's Reading Room" to read books with children at North Highland Elementary.Photo/Shannon Cornman girls are Lillian left, and Ayana, right.
Students saw a NBA superstar, the superintendent saw 1,200 new books for an underprivileged school and the principal was in tears as she thought about the impact the new Russell Westbrook Reading Room would have at North Highland Elementary in Oklahoma City.
"That's the kind of excitement you want to see from kids at school," Westbrook said about the reaction from a handful of students who were waiting for him in the new reading room Monday afternoon.
The students were excited to see Westbrook, but they seemed equally excited when they were told they could start exploring the new reading room, its hundreds of books and various lounge areas to read in.
Okay, maybe not equally as excited.
"I really, really, really, really wanted to meet Russell Westbrook," fourth-grader Olivia Lambert said. "My hands started shaking [when I saw him]. It was mind blowing."
But Lambert said she was also excited about the new reading room, which is painted in Thunder colors and features life-size pictures of Westbrook on many of the walls.
The reading room was donated through Westbrook's Why Not Foundation, which also sponsors the Russell's Reading Challenge in partnership with Scholastic.
Principal Anita Jones as nearly in tears at the unveiling of the new reading room. Partly because of the excitement of having one of basketballs' biggest stars visit her school, but mostly because she understands the impact improved literacy could have.
"It's emotional because I want so much for my students and reading is an area that they really struggle in," Jones said. "We have a library, but for them to know that Russell Westbrook donated a room for them, I think that's really going to motivate them and encourage them. It's just special. We are in a high-poverty area and it just means a lot."
Nearly a third of OKC Public School third-grade students scored unsatisfactory on this year's reading test issued by the state as literacy continues to be a challenge not just in local schools, but across the state. As education and government leaders continue to debate ways to improve reading skills in students, increasing access to books and creating a fun environment to read in could be one solution at North Highland and the other schools Westbrook says he hopes to create reading rooms at.
"We now have more books that these students have access to," Superintendent Robert Neu said. "It's a beautiful room and it has such a significant meaning that a NBA superstar was here to give this gift to these kids. It's a huge message."
[gallery columns="4" ids="71326,71325,71324,71327"]