On May 13, the Centers for Disease Control and Prevention announced that fully vaccinated adults can resume indoor and outdoor activities without a mask or social distancing. After 15 months of closures, restrictions and mask mandates, Oklahoma City is already barreling towards what is hoped to be post-pandemic life.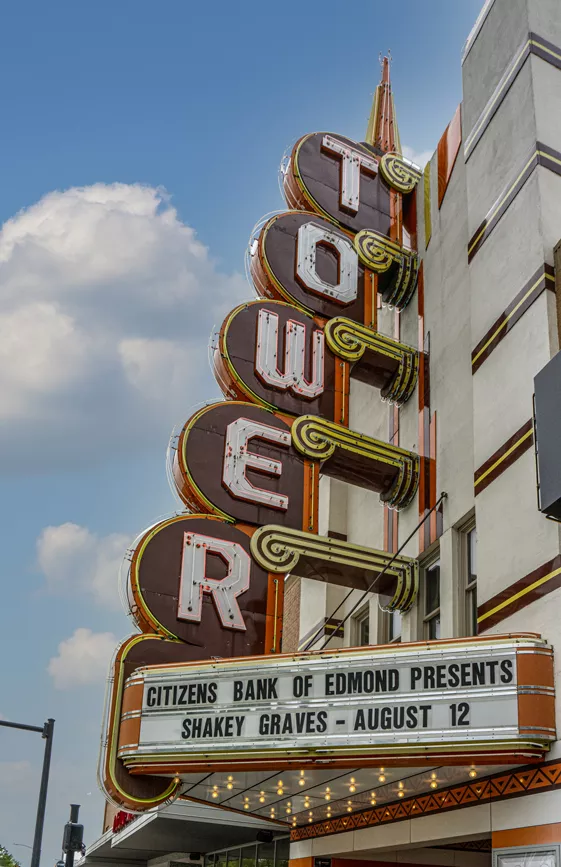 Phil Danner
Tower Theatre's first full-capacity concert post-pandemic will be August 12.
One of the first things to go was live music. Packed venues suddenly went dark. Most festivals, even those held outdoors, were canceled. A hectic schedule for the Tower Theatre in spring 2020 quickly became a blank slate.
"We were so optimistic for 2020. It was going to be our third year and we've kind of broken out of that slump of getting our name out there," Stephen Tyler, managing partner, said.
The venue recently announced its first concert at full capacity for August, which also happens to be Tower Theatre's fourth anniversary.
Without various coronavirus relief measures, the Tower might never have reopened its doors.
"Honestly, I can tell you, there's still this little bit of fear that we aren't going to pull through because these programs keep coming literally down to the wire," he said.
"The reality is not a secret and it's not something that we've done wrong. We've tried really hard to manage our expenses and keep our people, keep our core team so that we're ready to hit this ramp up when it comes and now here we are. We've successfully kept our team and we feel really great about everything moving forward but we're still waiting on Save Our Stages money. Ponyboy is waiting on restaurant relief funds money. We expended a lot of our own cash reserves … We still haven't had enough funding from any of these things collectively to make up what we've lost."
But Tyler said he is optimistic and plans are continuing to move forward on Beer City, a 500-capacity all-ages venue expected to open later this year.
In the meantime, Tower has managed to keep its movie screen going and used the pandemic to forge relationships with larger art house film distributors like A24 Films.
"When [the studios] started wanting to come back, they wanted screenings and we opened a little earlier than the megaplexes, so I was suddenly talking to studios and booking films on a level that we hadn't been able to get to yet… One studio that I've been able to kind of work on is A24, because we ran Lady Bird last Oscar season and did really well with that. We ran Minari so much. It was the first time I had a studio asking us for dates. I pretty much leveraged it at one point, like 'Yeah, we've got a great market here. People are loving what we're doing with movies. We're connected to the industry here in a big way, so we really have this ability to reach people in the film communities in Oklahoma City, so if you'll give me the films, I will run them and we will sell tickets. A24 has a couple of hot ones coming out this summer," Tyler said.
Beyond Tower, Beer City and his other endeavors, he is excited for the future of Oklahoma City as a whole.
"Don't sleep on us. The next couple of years are gonna be wild, as long as we get through this, and get through it safely and actually put an end to it."


Jared Kinley of Lightbox Studio
Tabatha Carr, owner of Good Girl Chocolates
Retail and especially small, independent retailers also took a heavy hit, but while the pandemic may have thrown Good Girl Chocolate's schedule off by a year (with a Suez Canal blockage on top to set it back another month and some change), but it hasn't derailed Tabatha Carr's vision.
"It really started about 10-12 years ago when I went on a raw diet to lose weight. And, of course, being on a raw diet, you can't eat meat or dairy products or things like that so I started making raw chocolate," she said. "I started making chocolate from raw cacao and raw virgin coconut oil and raw agave. I needed something sweet to eat to satisfy my craving."
By the time she was 30, Carr was on three different blood pressure medications. But when she started having blood sugar and hormonal issues, that was the wake-up call.
"I changed my relationship with food and I went back to school to study naturopathy and became a naturopathic doctor. And I decided, 'Hey, you know what? I'm gonna bring my chocolate to market. I'm going to try it out on a few people. I presented it to QVC at the Texas Women's Conference and the food buyer there loved it and that was kind of my confirmation that, hey, I have some great chocolate here. And I went on to be in the Grammy talent suite, so all of the performers and presenters at the Grammys, not last year, because last year was COVID, but the year before last, received my chocolate. I was in select Oscar nominee gift bags. Gosh, we just won the Beyonce grant in November. So we've just kind of been plugging away and now we are getting ready to open the first black-owned permanent store in Penn Square Mall," Carr said.
What began as a mall kiosk before COVID-19 struck has evolved into a storefront in which all of Good Girl's chocolate will be made on site.
"A lot of chocolate companies, they buy their chocolate, or they buy cocoa powder to make the chocolate or they buy cocoa liquor, which is the liquid form, but our chocolate is like farm-to-table. We actually grind the cocoa beans into the chocolate, which is a four-day process. So we're bringing in equipment from Italy, and machines to actually make chocolate and then we'll be molding the chocolate right there in the back of the store," Carr said.
Good Girl Chocolate is GMO-free, gluten-free, dairy-free naturally sweetened, vegan and paleo-friendly. Flavors include brownie batter, caramel cake, chocolate fudge, coconut pecan Scotchie and 70% dark chocolate with more on the way.
Carr did provide a hint about what she's working on next: "It's all about nuts, honey."
Good Girl Chocolate opens its shop on July 3.
For more information, visit www.goodgirlchocolate.com.
Bars, clubs and restaurants not only took an enormous hit during the pan- demic, but also had to contend with shifting guidelines, requirements and mandates about capacity and spacing while trying to keep staff safe and doors open for business.
In the midst of all this, Jeff Rogers managed to not only launch a new taco concept, but turn it into a rapidly expanding chain.
At the beginning of the pandemic, Rogers Concepts employed about 200 people. During the worst period, jobs were slashed to about 30. Now, they employ about 350 people and expect that number to hit 500 before the end of the year.
"We tried to keep as many people employed as we possibly could," Rogers said. "The biggest thing was the fear for everyone. No one had any idea what was really going on, when it was going to end, what's going to happen. Do we have jobs? Can we eat this week? Can we keep our light bill paid? Also, we were in the middle of opening three or four new projects at the same time and those get put on hold. It's hard to open a business, and then you've been open for three days and you get shut down," Rogers said.
Not only did business disappear but all of the businesses that benefit from the service industry ecosystem suffered from it as well.
"It costs you $15,000 to $18,000 or $20,000 a week to operate and you're doing 500 bucks a day in sales after you've exhausted almost all of your money to get this place open. The bars are the exact opposite because they're already open. Bar people, those guys live shift-to-shift or week-to-week because they're putting all their money back into the economy every week. They're out partying and drinking and eating and watching movies and all that stuff. They make $300, they probably spent $200. So you have all these kids, all these places, and now they don't have any money," he said.
In October, Rogers opened the first Yo! Pablo Tacos & Tequila, 6728 N Olie Ave.
"You're getting up every day and try to continue to grind and stay positive and do these things when you don't know what's going on. ... And you exhaust so much money, and time and effort into creating some concept that you think is pretty cool. It's got a cool little brand. The food's good, the drinks are good. But here we are and so you're
in a pandemic, you can't go out, you can't stay out past a certain time, you only have this many people in your place. No one's making money because no one's working, so you literally have to do everything in your power to be creative to drive traffic," he said.
And drive traffic he did. With a second location, 12305 N. Rockwell Ave., already open, the third and fourth are on their way and there are plans for more locations. Additionally, Rogers Concepts opened and was able to keep open a barbecue joint (The Pig & The Butcher), a Western-themed nightclub (Cowboy Ranch) and a bar (Friends of Friends). A Tex-Mex restaurant along the Bricktown Canal, Chico Blanco, is set to open soon and an upscale steak- house shortly after that.
"Whether you work at 7-Eleven or you have 7,000 employees, that shit was depressing. I know for me, there were some days where it's like, you just don't know and it's hard to get through those days, man, but I feel like we all made it. Seeing the [Bricktown Family Fun Fair] this weekend, seeing all those people out there, seeing the crowds out at the clubs enjoying themselves, seeing the sports come back. The Dodgers are back to playing. The NBA finals are playing
with fans now. OU football is gonna be at full capacity. Seeing all these things, man. I feel like we're there. That's the exciting part for me."
For more information, visit www.rchgokc.com.