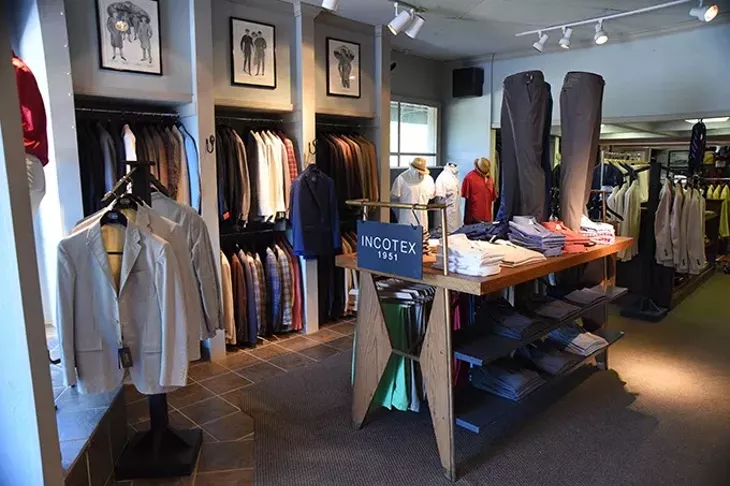 Spencer Stone Company in Nichols Hills Plaza. mh
When buying dad the proverbial necktie for Father's Day, what kind of purchase do you make, a trendy, knit job like the ones that were popular when Madonna first hit the charts or the more traditional style he can wear for many years to come?
Experts say that's the real trick — knowing the difference between traditional versus trendy — and it doesn't just apply to neckwear.
"Traditional means your style remains the same over an extended period of time," said Spencer Stone, proprietor of Spencer Stone Company, a high-end men's store in Nichols Hills Plaza. "Trendy — a word I don't like — means that which is happening right now and may not last. I prefer to dress in traditional styles with a trendy fit."
For example, Stone said what was considered traditional in the 1950s would be trendy by today's standards.
"Pants that are slim with little or no break at the hem are considered to be trendy in traditional stores that are selling fuller, pleated pants that break at the cuff," he said. "However, in the '50s, pants were slimmer with no break. Today, most traditional stores have more of a 1980s feel, with fuller fits. So it's generational."
Some might be comfortable in a pair of shorts and flip-flops and think a nice pair of jeans is dressing up.
But Stone said every man needs a few basic necessities in his wardrobe. Even for those on a limited budget, he said, a modest investment will go a long way.
Stone said a navy blazer with a flattering fit and one good-quality suit that can be worn on any occasion is a good place to start.
"In Italy, young men appreciate the artisanal quality of a garment more so than most Americans," Stone said. "They will spend more on a high-quality suit or jacket than on a few low-quality garments. Then, they will wear it exclusively. Being of a high quality, it will stand up to the wearing."
Spencer Stone is wearing a deconstructed blazer made of silk and wool by Isaia, next to mannequins wearing slim pants with little to no break in the hem by Incotex, at his Nichols Hills Plaza store Spencer Stone Company. mh
Just like choosing the right basics, choosing the right store can help a man develop his own personal style.
"When you go to the tire store, most likely, you trust the technician to see that the right tires go on your vehicle," he said. "It should be the same with clothing. The store you shop in should be telling you no as often as they are making suggestions for you."
This ensures that they have your best interests at heart, Stone said. He likes his patrons to step out of their comfort zone and take his advice on a new look. He said they will generally get a good response from their audience and expand their comfort zone to include more fashion.
With Father's Day on Sunday there are a number of options for dear old Dad, and Stone urges customers to think outside the box.
"The perfect gift really depends on the dad," he said. "If we know them, it's easy to choose something we know he would like. But in general, I suggest filling his sock drawer! Having a drawer full of new socks is a pleasure."
And one final tip: choose a store where you feel comfortable.
"Service, service, service," Stone said. "Styles come and go, but service is constant."
---
Print Headline: Fatherly fashion, There are plenty of clothing items you can get your patriarch for his special day, but there are also some to avoid.