Bigstockphoto
Oklahoma City will experience 85 percent totality during the upcoming solar eclipse.
A majority of residents in the United States have never seen a solar eclipse. The last total eclipse to cross the country from coast to coast occurred in 1918.
The upcoming Aug. 21 eclipse will be seen in totality from Oregon all the way to South Carolina, and there's a good chance it will have a profound emotional impact on many first-timers.
Tom Arnold, director of Science Museum Oklahoma's planetarium, experienced his first total eclipse on a scientific expedition to southern Mexico in 1970. At seven minutes of totality, Arnold witnessed the longest eclipse of the 20th century. The next longest one won't happen until the 22nd century.
"I'll never forget it as long as live," Arnold said. "The instant the 'diamond ring' occurred just before totality, the theme from 2001: A Space Odyssey was going off in my head. I was shaking for seven minutes. There is no amount of preparation that can prepare you for this. It doesn't matter how much you've studied it and how much you know it is going to happen; it is a visceral and emotional experience the first time you see it."
No totality, no problem
Oklahoma City will not be in the path of totality; the moon will reach its peak coverage of 85 percent of the sun at 1:05 p.m. Science Museum Oklahoma and Myriad Botanical Gardens both will have events and supplies needed to enjoy what will be many residents' first solar eclipse.
The science museum, 2020 Remington Place, will have special telescopes equipped for solar viewing outside the entrance, and inside, closed-circuit televisions will display images from a hydrogen alpha telescope allowing viewers to see the colors of hydrogen on the sun. The telescope images will be split-screened with images from NASA cameras all along the path of totality.
Kirkpatrick Planetarium will also show special eclipse-inspired shows at the top and bottom of each hour on the 21st.
Arnold said the eclipse will cause plenty of visual oddities throughout the day.
"The more the moon encroaches on the sun, you're going to see strange, curved shadows," Arnold said. "Shadows from a tree or flagpole that are normally vertical are going to be bent at the exact angle of the hump that is taken out of the sun.
"Light flow from the sun is getting cut off in such a dramatic fashion that it is going to increase the contrast that we see around us. Colors will become more vivid. It's going to be as though everything you're looking at will appear Photoshopped."
For those working downtown or who want to see the eclipse's impact on colors of flowers and plant life, Myriad Botanical Gardens secured over 1,700 eclipse viewing glasses from sponsors Dean McGee Eye Institute and Leadership Square Eyecare, available with a small donation to the gardens.
Peak color change can be seen from 11:37 a.m. to 2:34 p.m., according to Maureen Heffernan, Myriad Botanical Gardens executive director.
"You can't just pop your head out the window to say you saw [the eclipse]," Heffernan said. "You want to be out there for at least an hour to see the arc of it."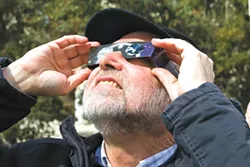 Bigstockphoto.com
Special glasses will protect people's eyes when they view the Aug. 21 solar eclipse.
Solar addiction
Those who have seen a solar eclipse will sometimes become so emotionally moved that they will do anything to see the next one. According to Mental Floss, Hopkinsville, Kentucky, the site of the longest totality of the Aug. 21 eclipse, has been preparing for a decade for the more than 100,000 people expected to descend into a town of just over 31,000 residents.
Eclipse chaser and psychologist Kate Russo described the brain's response to a solar eclipse in her book Total Addiction: The Life of an Eclipse Chaser: "Our logical minds understand what is happening, but our basic primitive warning systems go into overdrive."
"There are people who are not rich by any stretch of the imagination that will take every nickel they've got to buy a ticket in the middle of nowhere just to photograph and be present at a total eclipse," Arnold said. "This is quite common actually."
print headline: Eclipse watch, Even though OKC won't get a full solar eclipse Aug. 21, it will have an impact