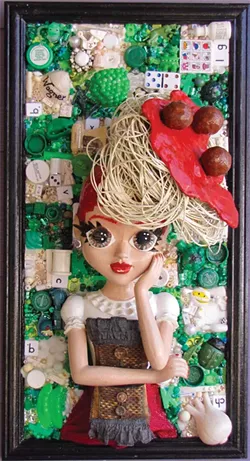 Shel Wagner's art is a cryptic love letter to Oklahoma. She likes to make portraits of people that don't exist from discarded items.
Her first solo exhibition, Oklahoma Found, runs until the end of the month at The Project Box, 3003 Paseo St., which also hosts a closing reception 6-8 p.m. Sept. 24.
For eight years, Wagner traveled across Oklahoma as a producer for the television show Discover Oklahoma and began thinking of the towns and landmarks of our great state as characters, each with a story to tell.
Part assemblage, part clay mosaic and part I Spy, Wagner's work engulfs the viewer with whimsical charm, a product of the number of objects she uses to create the artwork. The 12 pieces in this show illustrate Oklahoma towns and places that hold meaning for the artist.
"Krebs," for example, is a portrait. If Krebs were a person, Wagner imagines she would look a little like a large-eyed Disney princess wearing a sassy beret made of spaghetti and meatballs. Behind her is a checkerboard pattern of alternating green and white blocks composed of tiny items. Plastic snow peas, beads, a domino, soda lids, games and thread spools live happily next to one another, behind Ms. Krebs.
"Pink, Oklahoma" is a large pink Oklahoma on a silvery gray background built from hundreds, possibly thousands, of tiny objects. Wagner's art is intricate and imaginative.
"Antlers" is a portrait of a young maiden with a bird in one hand and a rabbit in the other. All of them are adorned with antlers. The work is executed in warm neutrals with rich browns in the background and in the maiden's hair. She gazes calmly at the viewer with giant green eyes.
For the closing reception, Wagner brings a new character to The Project Box. Winifred is a life-sized horse made of junk that stands 14 hands high.
The horse is also a central character in the novel Wagner has been working on for several years. Fictional Winifred was created by a little girl named Clover on the banks of Lake Optima, the real lake that was dug but could not be filled in the Oklahoma panhandle.
"My hope is that my art makes people proud of where they come from and helps them see the uniqueness of place in Oklahoma," Wagner said.
A fifth-generation Oklahoman living in Kingfisher with her husband and two children, Wagner reestablished her life here after an 18-year sojourn in Los Angeles, her husband's hometown.
The pair chose to settle down in Kingfisher for romanticized reasons.
"We decided to come back to Oklahoma to raise our family," Wagner said. "We were obsessed with small-town life, specifically towns with fewer than 5,000 people in them."
Print Headline: Endearing state, Shel Wagner's art will make you fall in love with Oklahoma.