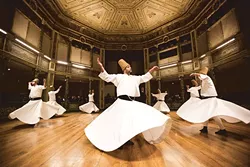 Provided
Whirling Dervishes
In the world of sport broadcasting clichés, a whirling dervish might be a Sooner-state tailback bouncing off tacklers and spinning toward the end zone.
Friday at Oklahoma City Community College (OCCC) Visual and Performing Arts Center, however, audience members will experience the term's origin and the real thing: devout men whose vows of poverty and ritualistic performances are filled with spiritual and sociological significance.
"The Whirling Dervishes of Rumi is a tradition that started 800 years ago," said Ersin Demirci, executive director of the Dialogue Institute of Oklahoma City, which is the lead sponsor bringing the group to Oklahoma. "It is a spiritual performance that showcases the celebration of existence and mutual understanding."
The Whirling Dervishes of Rumi are members of the Sufi Order, which was founded in the Turkish city of Konya during the 13th century. Rumi was a poet and theologian whose teachings often focused on universality and spirituality, and some of his poems will be read before the performance.
"Sufism emphasizes universal love and peace and acceptance of various spiritual texts," Demirci said. "In a time like this where hatred is causing so many problems, (I hope) the voice of peace (will) be heard through this rare performance in Oklahoma City."
Those sentiments were echoed by Louisa McCune-Elmore, executive director of the Kirkpatrick Foundation.
"The dervishes bring to life the rich cultural traditions of Central Asia and Sufism, which have a deep and beautiful perspective on God and love," McCune-Elmore said.
Two university scholars will also be a part of Friday's show in an attempt to provide even more insight into the Whirling Dervishes, their performance and the history of Rumi and Sufism.
Dann May with Oklahoma City University will recite some of Rumi's poetry. In addition, Ori Z. Soltes will discuss Sufism and provide insight on its rich history. Soltes is a professor of theology, philosophy and art history at Georgetown University.
Demirci said this will be the Whirling Dervishes' second performance in Oklahoma, after traveling here previously in 2004.
"The Whirling Dervishes don't normally come to the United States, so it is rare," he said. "And when they do come, it's usually sold out with big crowds."
The Dialogue Institute joined the Kirkpatrick Foundation, Raindrop Turkish House and other sponsors to bring the Whirling Dervishes of Rumi to Oklahoma from Turkey at a total cost of about $13,000. The dervishes will be here for about 10 days, with shows in Texas, Arkansas, Louisiana and New Mexico.
Print headline: Cultural traditions, Whirling Dervishes of Rumi showcase the celebration of existence at an OCCC performance.