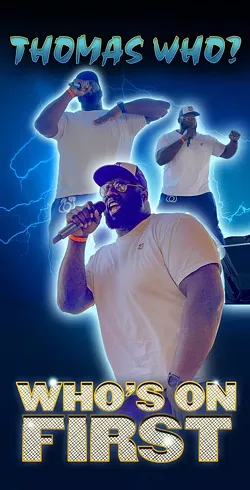 Thomas Who? raps better than you. Is it a bold claim? Yes, but it doubles as an even bolder dare.
As a rising cornerstone of Oklahoma City hip-hop's next decade, Thomas Who? has plenty of mindbending, dexterous verses in his catalog to substantiate his place on the leaderboard. However, when he boasts his catchphrase — literally "I rap better than you" — it isn't for the ego trip. On the contrary, it plays as a sincere challenge to inspire healthy competition in the scene. If a wordsmith can go toe-to-toe with him, he wants to meet them. After all, iron sharpens iron.
At well over six feet, the deep-toned rapper wears a commanding physical presence that matches the heft of his lyrical bars. He's more than proud to flaunt his seemingly effortless rhyme schemes and creative twists of phrase to rap circles around most, yet outside of the recording booth, he is just as likely to champion the work of his growing network of local and regional colleagues.
Thomas Who?'s hunger for collaboration has manifested in a multitude of 2021 developments. His new year-long singles project boasts a dream team of features with which he is thrilled to share the spotlight. He is one of the few OKC residents to hold down a treasured spot on Tulsa's Motown-signed commemorative multimedia hip-hop project Fire in Little Africa. He has a new album slated for Thanksgiving Day on which he will share top billing with DJ/producer Dr. View. And he has taken up a mantle or two at reputed hip-hop venue Hubbly Bubbly Hookah & Cafe, where he flexes his papa bear brawn to mentor newcomers in the scene.
"It gives me a chance to learn from my peers," Thomas Who? said of his cooperative instincts. "It gives me a chance to be in the room with people who see nothing and then decide to make something out of it. Artists are crazy, but we are not isolated. We needed our Danger Room; I tried to Professor X some shit."
Next Thursday, October 21st, Thomas Who? will host Heart of Hip Hop, a long-running third-Thursday pillar of Hubbly Bubbly's calendar of monthly events. With DJ Shaheed Ali behind the booth, the event will feature performers BonezFlow, ItsDoc, Savion, Queso Bobbie, and Chris Savage. The special guest of the night will be King Energy himself, Soufwessdes.
"I was blessed with an opportunity to become a partner, and I seized that opportunity," said Who? regarding his newfound leadership at the hookah lounge. "This gives me an opportunity to foster our culture from a grassroots level. I think that place is special. It was before I had anything to do with it. I think that we can push to make it as legendary as it feels."
Hubbly Bubbly's artistic communion, which has drawn the likes of Shaquille O'Neal and Russell Westbrook over the years, is a natural way to rub shoulders with key members of the artistic community, but Thomas Who? is also a draw of his own.
Take his ongoing 2021 singles project, which has been dropping a new track every Tuesday (dubbed "Who'sDay") since January and will run through December. His roster of features includes established emcees like Jabee and Huckwheat as well as rising stars such as K.O., Nayborhood Barbie, and producer Sun Deep. While delectable selections like "Nu-Tang" and "2K" find Who? riding the track solo, a new Who'sDay release is more likely to pass the mic, as on collab jams "No Way" and "Hoely Smoke."
Thomas Who? will be the first to point out that his singles project is not the first of its kind, however. In 2019, Lawton emcee Jacobi Ryan set a high bar with his #52in365 release schedule, which pioneered the concept. Ryan also put out a new track every week, but with an ac- companying music video and podcast episode for each one. Where this could cause a rift over marked territories in some local circles, though, neither Ryan nor Who? saw 2021's Who'sDay series as anything more than a token of respect in pursuit of inspired art.
"Jacobi was my inspiration to begin this series," Thomas Who? said. "He did it on a level in which I wouldn't be able. However, I learned from him and in- quired about how I should do it. That's my nigga forever, and I'm grateful for his brotherhood."
Though the format is similar, the Who'sDay series has an entirely different flavor than Ryan's #52in365 series because, naturally, Thomas Who? has
a style of his own. It's one that encompasses such a broad spectrum of hip-hop influences in such a relaxed blend that it helps explain how his collaborators fit into his world so seamlessly.
"I'm The Lounge God," Who? said. "I don't make club music. I make music you sit and smoke hookah and weed to. I make music you road trip to. I make music that makes you consider various sides of life. I make music that lets hip hop know what it means to me. I make music from the 80s and the babies. I am fervently pursuing being timeless, leaving my DNA on the landscape of hip-hop in this city and state."
Part of that DNA is already taking root in the young artists with whom he works and mentors, and he credits this as much to his willingness to check his ego for the grander picture as to his own accomplishments.
"We have so much talent in this place," Who? said. "Oklahoma has a hip-hop culture. It's flavored with Oklahoma City, Tulsa, Lawton, and all of the influences that we have by way of being in the middle of the country. If we plan on making the country take us seriously, it cannot be about whose name is bigger on the fucking flyer. It has to be about who is willing to create the most objectively dope thing possible."
In this light, Thomas Who?'s challenging catchphrase (the one that says he raps better than you) prisms out to reveal its hidden humility. Leadership is not about who sits on the throne but about the legacy one creates, whether through oneself or through others.
Or as Thomas Who? puts it: "When ego dies, art flourishes."